What would your internet marketing newbie audience do with an "Essential Guide 21-Day Action Plan to Make Money Online?"
How about snag it for a sweet deal, and start putting those valuable internet marketing lessons to work making them money immediately?
Do Your Online Business Clients and Subscribers Want to...


Increase Their Blog Traffic?
Send Their Online Sales Soaring?
Make Money From Affiliate Commissions?


Sell Their Own Products?
Earn Money from Advertising or CPA?
We have the pre-written internet marketing challenge content to get them (and you!) on the fast track to online selling success
Your online business audience has got the basics down. Most know what an affiliate is and the difference between PPC and CPA. Maybe they've created their own info product or set up a blog.
Now, what they're really struggling with is what to do and when to do it to start making money online.
That's why The "Essential Guide 21 Day Action Plan to Make Money Online" was created. This is PLR Content that You Can Teach and Learn From at the Same Time
Do your readers (or you) struggle with hit and miss online marketing techniques?
Your internet marketing newbie audience has 21 days and a budget of less than $150 to start making money on the Internet and now you'll have ALL the content to show them exactly how. Here are some great ideas on what to do with this prewritten content that's smartly packaged up into a 21-day internet marketing crash course for newbies.
Make money and help others by sharing this PLR internet marketing ecourse content
| | |
| --- | --- |
| | Work this course into your existing business coaching materials - you can edit and brand as your own |
| | Add your affiliate links and start earning passive income |
| | Turn this into a 21-day internet marketing challenge to host privately on Facebook or your blog |
| | Run this as a free or paid autoresponder ecourse that people receive via email |
| | Share Amazon links to related internet marketing books to earn passively from |
| | Include this as part of a more comprehensive ebook or ecourse on how to make money online |
Here's What's Included in The Essential Guide 21-Day Action Plan to Making Money Online PLR Pack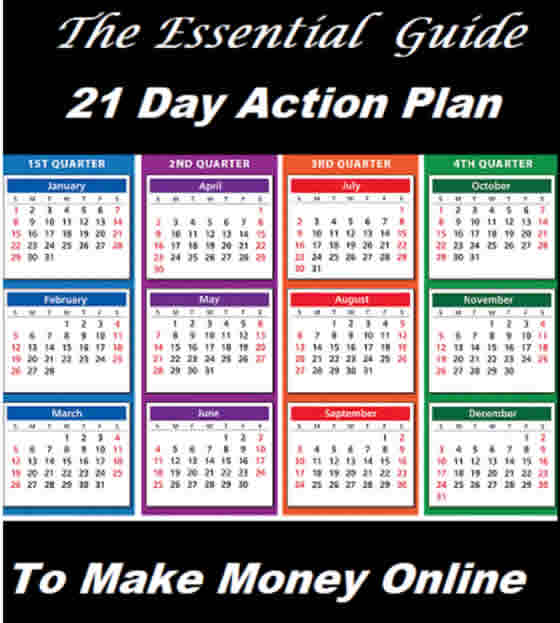 This online marketing PLR content pack was written by Dee Power, professional writer and business expert. It contains a total of 4,050 words. Content includes:
Day 1 Keywords Unlock Your Niche -- But First, PayPal
Day 2 Set Up a Blog for Your Niche
Day 3 It's the Right Time to Hire A Writer and to Choose Your Products
Day 4 Start Your Blog Engine
Day 5 Posting PLR and Pinging the Day Away
Day 6 Get Going on Your List
Day 7 Let the Search Engines Know About Your Blog
Day 8 It's Facebook Time
Day 9 Join Facebook Groups
Day 10 Google Me
Day 11 Double Duty for Those Articles
Day 12 Find Some Forums
Day 13 Guest Blogging and Commenting
Day 14 Twitter and Tweets
Day 15 Time for Pinterest
Day 16 Keep It Going
Day 17 Almost Done
Day 18 Near the Finish Line
Day 19 Review
Day 20 Almost There
Day 21 CONGRATULATIONS! You Made It
Here's a sample of the content that's included in this pack: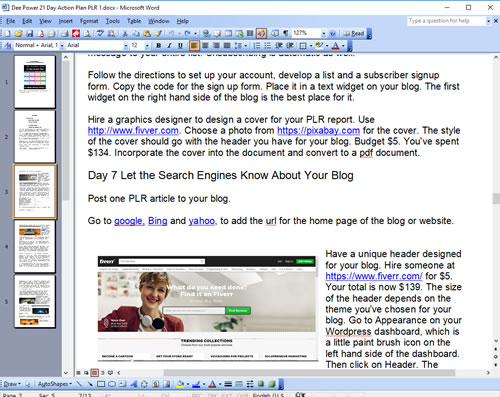 This PLR ecourse content will provide you with the perfect method of teaching internet marketing skills to newbies who may also be on a limited budget.
Give your internet newbie audience a course on how to make money online - and one that they can purchase without guilt!
If the person who puts this advice into action does the writing themselves, they can pull off this challenge for less than $50. Encourage your people to jump on this opportunity, and succeed with their very first taste of making money online!
NOW $12

How to Access Your PLR Ecourse:
Once you click BUY NOW, you will be prompted to make a purchase selection and input payment details. After your order processes, please check your email. You will receive an email from Wordfeeder that contains an MS Word file with all of the lessons inside it. Please save this file to your computer. Additionally, you will have received a login to the member area of our site. Each time you log in, you can access your content file right from your user account.
If you have any questions, please contact us via email. Thanks for supporting my freelance business! CHEERS to you in yours.
Even More Great Business PLR Articles & Ecourse Content