"Amember Tips and Hints" Crash Course from Wordfeeder PLR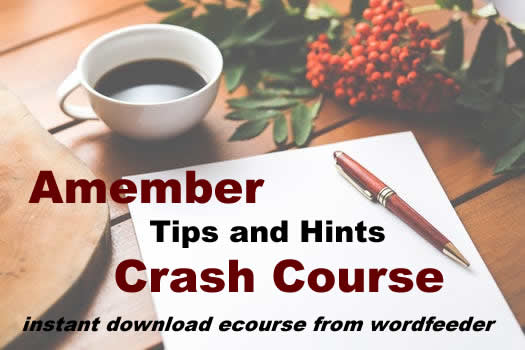 Would you like to make more money via your website, yet save your customers tons in the process? One excellent way to do this is by offering your readers a membership that they can sign up for.
Why a website membership?
A membership typically costs much less than a paid service, which your customers will really appreciate.
A membership allows you to offer extra freebies, perks and benefits that your customers wouldn't get if only ordering a single product for download.
A membership will help you convert more sales because a satisfied customer is more likely to buy again and again.
A membership offers online privacy, which people generally prefer, and this builds trust with your customers.
A membership can help you generate more affiliate sales. This helps you AND the affiliates who promote your products and memberships.
If you're feeling frustrated that more customers aren't buying from you, or if you'd like to embrace a selling platform that offers more freedom and flexibility, then a membership option could be the way to go.
I have the perfect online membership solution for you: Amember Software.
My name is Dina, and I sell private label rights content via Amember on my website. I learned the hard way how to navigate Amember's online membership hosting platform. I think this platform is brilliant - complex in its guts, yet simple and inuitive to the end user.
Amember is totally user friendly, yet it does have a learning curve and that's what may be stopping you from moving forward with membership creation.
My "Amember Tips and Hints" Crash Course can help with that.
When I learn my lessons, I learn them well. So after fumbling around with this software for about a year, I'm ready to share with you some of the ins and outs of Amember. Learn how to put this amazing software to use making money with your website while saving your customers a huge chunk that they would have ordinarily spent on ala carte services.
Traditional services such as graphic design, ghostwriting, copywriting, coaching, business mentoring, counseling, teaching, training, VA services, and much more can be packaged into affordably priced, easy-upgrade or downgrade membership options with multiple levels and tons of bonuses, perks and incentives - to hit every rung on the ladder of your target market.
If you, too, would like to jump into the exciting world of online memberships, grow your list and provide private access to exceptional information products, content, and special privileges to your customers with tiered membership level options, get ready for my Amember Tutorial.
What types of memberships can you offer your customers?
PLR content memberships

Resource libraries and private discussion groups

Exclusive mastermind memberships

Self Improvement and Motivational Memberships

Self Help Memberships (think weight loss, divorce survival, addiction counseling, many others)

Special interest club memberships (dog or cat ownership, knitting, crocheting or craft clubs, gardening groups, much more)

Information Product Memberships


Here's what you'll get in my Amember Member Software Crash Course:
Overview of Amember and your uses for the software

Basics of how to set up a product to sell and market in Amember from start to finish

How to set up freebies in Amember and why freebies are a very good thing

Ideas for setting up memberships for full functionality that the end user will appreciate

Explanations of why certain features exist and how you can make the best use of them

How to reduce customer peeve factor by customizing your Amember database in a way that makes your products, files, links, emails and signup forms easy to understand from the member's perspective

Tips for leveraging the affiliate area and features in Amember

Workarounds for common Amember challenges

How to set up a JV (joint venture) in Amember

Paying your affiliates via Amember

Amember refunds

How to run sales reports in Amember
If you're a writer, coach, or expert of any kind, who is seriously considering adding a membership to your website to increase trust, communication, and of course sales, while saving your customers tons of money compared to what they'd pay in comparable service fees, then check out Wordfeeder's Amember Tutorial!
Here are some final ideas for how people can use Amember to enhance their customer experience on their website:
Coaches can offer multi-tiered membership options. Basic members can sign up for free and access a limited amount of free resources. Tier 1 members can sign up to receive X amount of coaching hours at a monthly flat rate, with the free resources included as a bonus. Tier 2 members can receive X amount of coaching hours, plus the free resources, plus the option to enter the Inner Mastermind Circle where they get to connect and commune with like-minded business owners.
Content creators can offer the option to buy the private label rights to pre-written articles, social media posts, and images to edit and publish in their own blogs, ebooks, ecourses, email newsletters, social media posts, webinars, videos, and more. Content memberships might include: the initial free membership, level 1 which could be X number of new content packs per month, level 2 which might be a greater number of content packs, some of which are also exclusive to the higher-paying group of customers.
If you'd like to be notified of when the "Amember Tips and Hints" Crash Course from Wordfeeder is ready, just drop your details in the sign-up box below!


copyright 2018 wordfeeder. all rights reserved worldwide.