Article Selling Secrets
Wordfeeder's E-Course that Teaches How a Stay-at-Home Mom Can Earn Thousands in a Single Month Writing and Selling Articles Online
Wondering how you can contribute to the household income while still being there for your kids?
Wishing for that ideal career where you can make your own hours doing what you love?
Thinking you'd like to earn a living putting your researching and writing skills to practical use?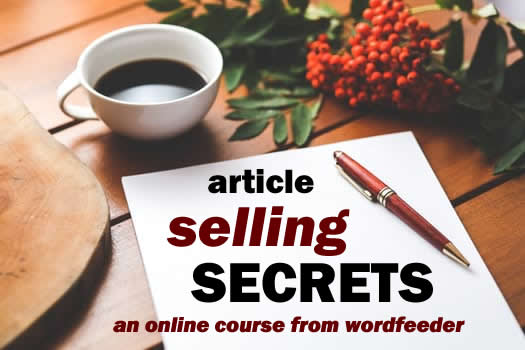 My name is Dina, and I'm a seasoned copywriter who now sells articles online. I work from home and divide my day between being the best mom I can be, and creating and selling awesome web article content. I'd love to show you how to do what I do so that you can contribute to your family's household income and become a raging success on the web!
In "Article Selling Secrets" you'll learn:
The 5 hallmarks of an excellent quality web article
A foolproof, step by step process for writing one web article
Essential elements of a web article (also good to know you're a blogger or website publisher)
How to tighten up your writing skills to make your web articles more readable
Writing on speed: how to produce articles in a fraction of the time that it normally takes
What makes an article "web friendly?"
Where to get good and accurate information to include in your web articles
The types of online sources to stay away from if you're writing informative articles
How to retrain your brain to write in the third person instead of the first person blogger perspective
Article writing for the web might be a good fit for you if...
You possess an innate love of learning
You live to share information
You write long emails and social media posts that most people tend to "glaze over"
You've always enjoyed writing, whether it was keeping a diary in your early days, tackling book reports for school, writing papers in college, taking on writing assignments at your job

In this e-course that will conveniently arrive in your email inbox for you to practice and learn from as you go...
You'll receive comprehensive training so you can get started earning from article writing ASAP
Plus, you'll also get INSIDER TIPS from a Seasoned Copywriter and Online Business Nerd such as...
Wordfeeder's "articles on speed" formula for hammering out FIVE articles in one sitting
How to search engine optimize a set of articles that all relate to a single topic
How to make a single article get found by online web searchers without resorting to complex and unnecessary SEO calculations
What's the critical aspect of web selling that you MUST have if you want to make your article sales go through the roof
What are the main online platforms you'll need for pitching your articles for sale
What relatively small online investments you MUST make if you want to create an online business selling articles (and how you can eventually earn that money back on the web)
Five "be seen" spots for getting your articles seen online
Why list building is critical for your article selling success and how to kick it off right
The secret weapon for pushing low priced articles into the high income earning range
This and more will be covered in our upcoming e-course, "Article Selling Secrets"
To be one of the first to hear when it's ready, and to grab introductory pricing on the e-course, sign up using the online form below.
I can't wait to share with you all that I've learned about how to make a living writing articles for the web!

---