Attitude of Gratitude 30-Day Challenge PLR - Buy It on Wordfeeder, Launch as Soon as TODAY!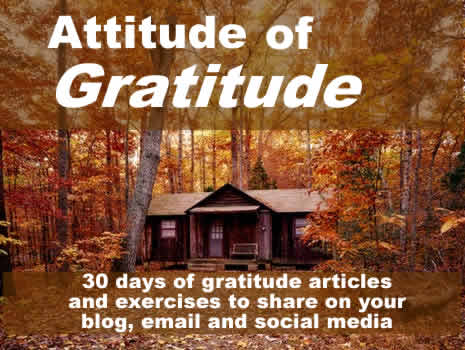 Here's a list of questions and answers about this content:
Woo hoo! I had a lot of fun creating this inspiring 30-day gratitude series for you to share. Yes, I finished the fifth and final pack of gratitude articles and exercises at about 11:30 pm on November 1st. I think I will show some gratitude myself this year! Our family and friends will be creating/writing Christmas cards to express our thanks to those in the military who must spend their holidays away from loved ones.

Answers to some questions I've received about the 30-day gratitude challenge:

Q: What should I do with this content? A: Create a Facebook group and post each article along with an inspiring graphic, every day for 30 days. Invite members to join for a low one-time fee, or offer this challenge for free. Set up the same content in a 30-day autoresponder series to release via email. Put a landing page up with subscriber form so people can join. Post each article on your blog if you plan to offer the event for free. Announce the event to your email list, blog readers and social media followers.
Q: Other ideas? Make this a group blogging or group journaling event. Each person who joins can blog along with the daily exercises. Members can post what they're grateful inside of your FB group, too.
Q: Do I have to order all five of the PLR packs? A: No. You can pick and choose the ones you like, and add your own series of articles.
Q: Does this have to be a full, 30-day event? A: No. You can order one or two packs and make it a week-long or 2-week event.
Q: What if I can't get this content up during November? A: Then run your 30 Day Challenge in December, or halfway between, using your own timeline that works for you. If it's an autresponder series, you don't even need to set dates. Just rig the emails to send over 30 days from the time a person signs up.
Q: What should I call this if I run it in December? A: You could turn it into a 24 Days of Advent Event, call it 30 Days Blessed This Christmas, or 30 Days of Happiness for the Holidays... up to you!
Q: What if I only ordered some of the packs and now I want more. Can I get the coupon? A: Sure. :) Use this link to order, and type in 30DAYS in the coupon area before checking out.
Q: Where do I get pretty images to post along with these daily articles and exercises? A: I'm working on rounding up a list of image packs that my talented friends have created. Be on the lookout for an email about this later today.
Q: When should I start setting this up? A: Now ;)
Once more - the page to read what's included in ALL FIVE of the Attitude of Gratitude PLR packs is right here. Don't forget to enter your coupon code 30DAYS when you check out, to enjoy $5 off!
Thank you for following along with Wordfeeder PLR.
I appreciate your business. Cheers to you in yours!
Dina at Wordfeeder PLR
Ready to grab ALL 30 Attitude of Gratitude articles & exercises, and launch this right now?
don't forget your coupon code, 30DAYS, at checkout!
As always, if you have any trouble with your order, please contact me via email. Thanks so much for supporting my freelance business! I love what I do. Does it show?
PS: If you'd like to Try Before You Buy, then sign up right here to get your FIRST article FREE:
How to Access Your FREE Attitude of Gratitude Article:

Once your order processes, you will be asked to create a login to the Wordfeeder member site. Do this, then check your email for a confirmation, plus another email containing your delivery of the files.
If you have any questions or trouble with your download, email me and I'll get back to you as quickly as possible.
THANKS for supporting my freelance business. CHEERS to you in yours!