Gorgeous, Professional Quality Social Images for Your 30-Day Gratitude Challenge
Hey friend... this is Dina with Wordfeeder PLR. Just wanted to say thank you for your appreciation for, and enthusiasm of, the Attitude of Gratitude 30-Day Challenge content that I've released on Wordfeeder.com. This content is proving to be quite popular!
If you bought some or all of the five PLR article and exercise packs that I released this week, then I trust that you're "all in" now. And you're probably setting all of this up on your blog, email, and social media group as we speak.
(If you have not yet purchased your 30 Days of Gratitude Content but still want to, you can order it from Wordfeeder right now.)
Well, I told you I'd find a source of beautiful, gratitude-themed images for you, and here it is. :)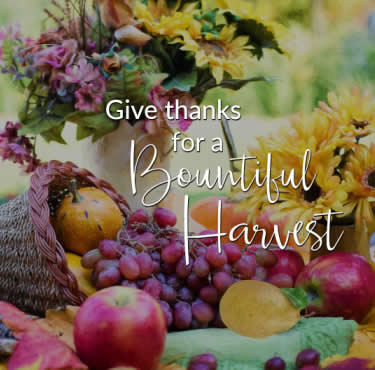 How nice does this look?!
Apparently, Michele Neisler of Pep Talk PLR is as gung-go of a workaholic web content creator as I am. She dove headfirst into this project and turned my article titles into pretty social images using a lovely, feminine font and some gorgeous photos.
I could not be happier with the way this social image content of hers looks!
Another thing Michele did which I thought was super cool, was create some kind of magical text overlays. So when you pick up your copy of her Gratitude Images PLR pack, you get an extra bonus. First you get the 25 .jpg image files. And then you also get an additional copy of each file with ONLY the beautiful words (the text overlays is what she called them), in that gorgeous font that she used.
So you'll be able to take the text and "overlay" it on top of your own images, if you'd like to do that.
What a great idea!
Here's a screen shot of 25 Gratitude Social Images that Michele created for you to use in the Attitude of Gratitude 30-Day Challenge. How cool is she?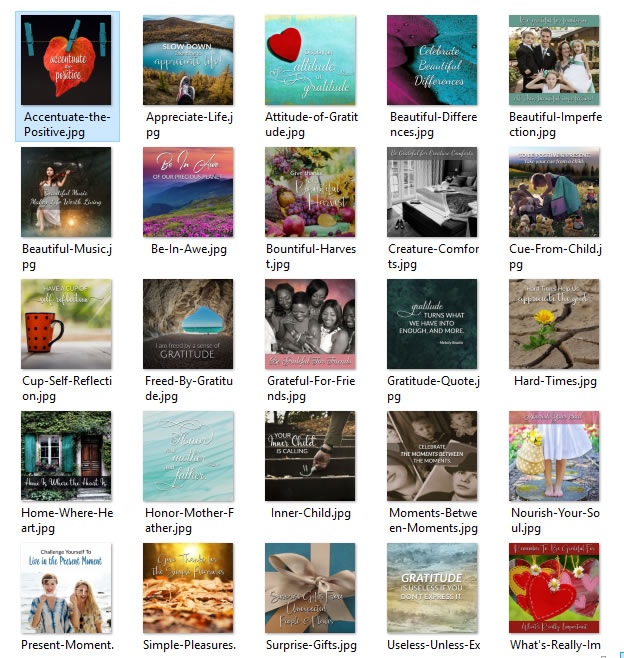 Here's what each image says. Most of these are the same as the titles I used in my Attitude of Gratitude articles. Then she added a few extras!
Accentuate the Positive
Slow Down. Take Time to Appreciate Life!
Display an Attitude of Gratitude
Celebrate Beautiful Differences
Be Grateful for Family in All Their Beautiful Imperfection!
Beautiful Music Makes Life Worth Living
Be in Awe of Our Precious Planet
Give Thanks for a Bountiful Harvest
Be Grateful for Creature Comforts
To Be Positive and Present, Take Your Cue from a Child
Have a Cup of Self Reflection
I am Freed by a Sense of Gratitude
Be Grateful for Friends
Gratitude Turns What We Have into Enough and More
Hard Times Help Us Appreciate the Good
Home is Where the Heart Is
Honor Your Mother and Father
Your Inner Child is Calling
Celebrate the Moments Between the Moments
Nourish Your Soul
Challenge Yourself to Live in the Present Moment
Give Thanks for the Simple Pleasures
Surprise Gifts from Unexpected People and Places
Gratitude is Useless if You Don't Express It
Remember to Be Grateful for What's Really Important
Don't waste another minute. Grab your copy of these gorgeous, gratitude-themed social images to use along with your Attitude of Gratitude 30 Days of articles and exercises.
Pop them into blog posts. Add them to your email autoresponder series. Share on social media. Use them for anything else you can think of!
Original Price: $17
NOW ONLY $12
when you enter coupon code GRATEFUL at checkout! Good thru Dec. 31, 2017
Pssst... if you want to also order the articles and exercises, you'll see them available for purchase from the checkout page after you click BUY NOW.
How to Access Your Product, "Attitude of Gratitude" PLR Images from Michele Neisler

Once your order processes, you will be asked to create a login to the Wordfeeder member site. Do this, then check your email for a confirmation, plus another email containing your delivery of the files.
If you have any questions or trouble with your download, email me and I'll get back to you as quickly as possible.
THANKS for supporting our freelance writing and design businesses. CHEERS to you in your blogging success!