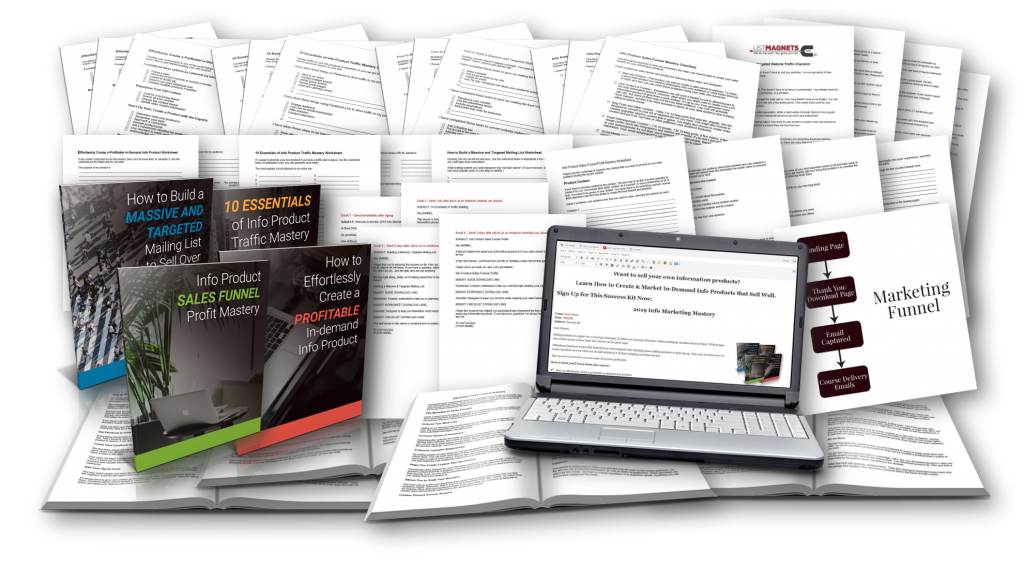 Okay, people. If you want to slay in the world of internet marketing and online selling, here's the quick and dirty formula:

Set up a mailing list and start attracting new subscribers. How? Publish information that covers sought-after topics, answer questions and hones in on the most up-to-date trends that are currently raging in your industry.
Make social media your megaphone that funnels info-seekers back to your blog and gets them to drop their info in the signup box. Now they're on your list!

Connect via email. Don't wait a month or more to make contact. Your readers expect to hear from you. So every time you publish a new blog post, send the article out your list, share a lead-in and link to learn more on social media.

Start selling. Create beautiful information products such as online autoresponder courses and ebooks that people can purchase via a link from your blog or website. Again, use social media to increase your reach and send people back to your blog. Don't forget your upsells, downsells and fantastic funnels!
Now, where the heck are you going to get all of this needed content, and how will you get more people to jump on your list and be influenced by you? Alice Seba runs the content publishing game like a true boss. If you're in the market for done-for-you, current and HOT marketing topics to grow your list and set yourself up to sell membership, ecourses and more, then take a look at what Alice and her team JUST released at a VERY special price.
"The 2019 Info Marketing Success Kit" PLR Ecourse Bundle JUST went live today. It can be YouRS for a Super fun price.
Be one of the first to grab this amazing offer for a great big bundle of done-for-you content.
turn this into a course and start selling immediately! ALL of the needed content to help you succeed has been included.

Here's what you get:
"2019 Info Marketing Ecourse" with 4 Reports, 4 Checklists, 4 Worksheets, 4 Sets of Ecover Graphics, Email Templates, Opt-in Page and More…
• 4 Detailed Reports: 4 reports (.doc) that will teach you how to successfully create and sell info products online in just 4 weeks. Topics Include:

How To Effortlessly Create a Profitable In-demand Info Product

10 Essentials of Info Product Traffic Mastery


How to Build a Massive and Targeted Mailing List to Sell Over and Over Again


Info Product Sales Funnel Profit Mastery
Plus, You Also Get ALL THESE TOOLS to Help You Maximize Your Profits by Sharing or Selling This Content

4 Handy Worksheets: You'll get 4 worksheets (.doc) that accompany each one of the reports so you can stay on track while working on your info products.


4 Detailed Checklists: You'll get 4 checklists (.doc) that will give your readers a summary of what steps to take based on each of the reports.


4 Convenient Course Delivery Emails: Add these emails to your autoresponder and deliver the course materials over 4 lessons. They've made it super easy!


4 Professionally-Designed Ecover Sets: .JPG and .PSD with flat cover and 4 x 3D versions to go with each guide to help their opt-in stand out.


1 "Turbo Booster" Lead-Generating Opt-in Page: Grow your list with this content! Alice and her team have included opt-in copy and WordPress-ready code. They even host the images so you don't have to!
Oh, and you ALSO get these Selling Helpers as a BONUS to help you succeed with this content on your side:

Marketing Funnel Diagram (not PLR): Giving a visual of how to set up the marketing funnel.


Targeted Website Traffic Checklist (not PLR): Includes tips on generating website traffic for list building and increasing sales.
"Buy Now" opens up to a new page on Alice's site where you can get the full details and order while the getting's good! Offer valid through January 29, 2019.