Deep Thoughts About Online Business Collaboration
Happy Friday! Is your holiday season rising to a fever pitch? It's around this time that I start to panic slightly about Christmas gifts. Just how many days are left? Did I forget anyone? Did I buy wrapping paper!? I will have one more gift-related inner panic as Christmas approaches, probably on Dec. 23.

We attended two school holiday concerts this week. I'm always so heartwarmed by the sound and sight of children singing and dancing. Next week we're going to sing for some old folks in a nearby assisted living facility. Cross fingers that we all stay healthy! Seems like everyone's coming down with something.

So, my friend Laura got me to thinking. She assumed that I was going to be creating essential oil gifts, based on my recent PLR content announcements.

That made me chuckle on the inside. Because I am definitely not creating gifts. I'm writing about creating gifts! I don't know if that makes me a hack, but guess what! This illustrates the true collaborative spirit of online business. Here's how it works. You can definitely do this!

I'm the writer. I research and write articles about making cool stuff out of essential oils. This is my jam; I LOVE what I do!

People like my friend Laura, and my husband… they're the makers. Laura actually makes, and has sold in the past, cool bath products out of essential oils! I have other friends who do this, as well. My friend Tracy sells homemade lip balms on Etsy. Hubby makes garden beds, and sells them.

If people like Laura and Tracy buy my written content and publish it on their blogs, they could drive in more customers and make more money on their homemade products!

Then you have the niche bloggers. They're the people who make money passively by signing up to be an affiliate of products like the ones that my friends Laura and Tracy make. PLR affiliates also promote my content, and profit that way, too.

So, I write the content and the bloggers buy it for a low price, then personalize and publish it, and sell things as a result.

The bloggers put links to their blogs that lead to the products that people like Laura and Tracy make. I buy the products… and thoroughly enjoy them!

Oh, and then of course you have the suppliers. They're on Amazon. Laura and Tracy buy their skincare making supplies from those guys. And the bloggers make passive income on the sales of these products, too.

So you see, in a way, with each of our specialties and roles - supplier, maker, writer, publisher, affiliate… we ALL function as our own profit-generating enterprise. Separate, yet together… free to collaborate and cross-promote as we choose. The internet is the conduit for our success.

I found that if I try to be a blogger, I can't be a content writer. I don't have time to do it all, and I don't want to! I hope to actually try candle making at some point this winter, as it looks like fun. I will perfume my candles with healing essential oils. Hopefully whomever I buy my oils from will get a kickback, too.

This is how people do business online in the modern age. Isn't it awesome? Jump in!

PS: Did you grab your copy of our homemade dog food PLR? This comes straight from my real-life experiences. My dog, Lucky, is loving his new and improved doggy dinners.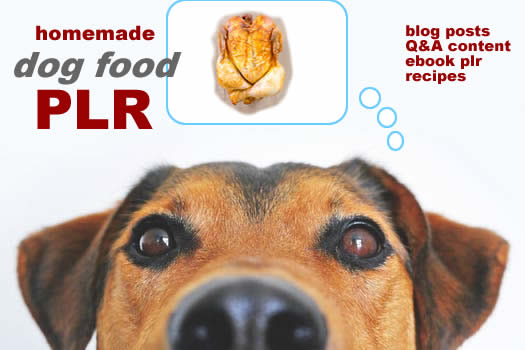 Here's the sale page: Doggy Dinners Homemade Dog Food PLR.

Enjoy $10 off with coupon code WOOF at checkout.

This offer lasts until January 31, 2018 so get it while you can! (Yes, the coupon date really is fixed this time... sheesh.)

Thanks for being on my list. Have a profitable and productive weekend!