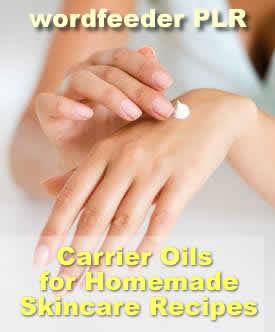 Essential Oils PLR Summer Sale:
Carrier Oils for Homemade Skincare Recipes - PLR - Now $5 Off With Coupon
Hey, gang... Dina from Wordfeeder here. :) This spring, we're doing the Essential Oils Publish-and-Profit Project via email. If you haven't already, pick up your FREE list of Amazon product links that you can post and make money from along with these articles that are on sale for $5 off.
Join the Essential Oils Publish-and-Profit Project. It's FREE to jump in and work with us. All you have to do is open my emails. Plus, You get a freebie immediately just because I think you're great!
Here's a direct link to grab your FREE Amazon links to Essential Oils Products that your oils lovers totally want and need to make homemade skincare blends, moisturizers, face creams, bug repellents, essential oil perfumes and much more.
Here are some fast facts on the essential oils market:
As of 2015, the projected market share was 11.67 billion by the year 2022.
Global essential oil market demand was 165.0 kilo tons in 2014 and is expected to grow at a CAGR of 8.6% from 2015 to 2022.

Your health and wellness readers are part of this market share. Knowing this, I've created another set of informative articles for you to earn from online.
This private label rights content pack will contain information on 5 Carrier Oils with DIY Skincare Recipes for each. Word count is 1,439.
Contents include:
What's a Carrier Oil?

Carrier Oils for Dry Skin

Rosehip Oil for Anti Aging Skincare

Rosehip Anti Aging Facial Oil Recipe

Jojoba Oil as a Carrier Oil

Jojoba Massage and Body Oil Recipe

Carrot Seed Oil as a Carrier Oil

Acne-Fighting Carrot Seed Oil Facial Treatment

Avocado Oil and Rosehip Oil Blend for Dry, Itchy Skin

Pomegranate Seed Oil as a Carrier Oil

Pomegranate Seed Oil Anti-Aging Facial Treatment Recipe

Shea Butter for Homemade Skincare Recipes

Whipped Shea Butter, Pumpkin Seed Oil and Honey Acne Treatment Night Cream
Here's a sample of the writing: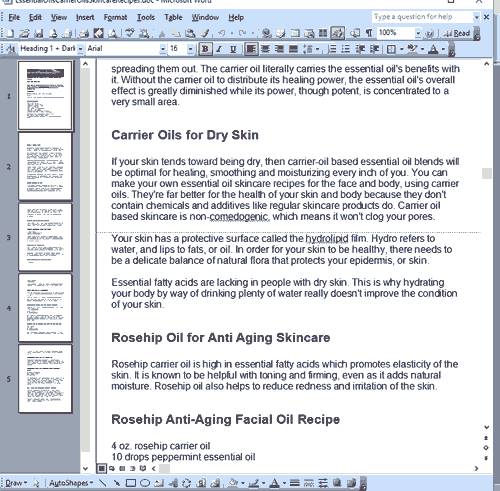 Here's a quick profile of who you're trying to reach:
She's female - could be a 20s hipster, 30s and 40s natural mama, or woman in her 40s, 50s and 60s living the organic and natural lifestyle
Interested in holistic healing and wants to use essential oils to relieve a variety of ailments and conditions
Concerned about the future of our planet; exploring nontoxic and environmentally-friendly alternatives
Looking to lessen the use of toxic substances in her everyday life
Interests include organic gardening, green cleaning products, grass-fed pasture-raised meats, alternative energy sources
Does yoga, meditates, lives peacefully, enjoys the outdoors and practices mindfulness
Be one of the first to grab this deal!
Your files will arrive instantly via email upon receipt of online payment. If you have any trouble, please contact us. You will be able to access your files from the members area of our site each time you log in.
regularly $17

NOW ONLY $12 With coupon code essentialoils AT CHECKOUT.

Offer expires July 31, 2018, so hurry and order while the savings are still good!
Free PLR Articles Just for Being a Member
PS: Did you know that we have a ton of FREE PLR content that I add to on a regular basis? Once you check out via PayPal, you'll be able to log into your Wordfeeder member account to access this plus ALL the extra free content I throw in just for being on my list. Simply go to the top menu and look under FREE PLR to see a list of awesome content to download right now!
THANKS for purchasing PLR content from Wordfeeder. I hope you find value in this excellent quality essential oils content that I've created for you. And THANK YOU for supporting my freelance business. CHEERS to you in yours!
Even More Amazing Essential Oils PLR