Essential Oils PLR Content - Diffuser Blends ("Potpourri Recipes") and Skincare Recipes - 1,094 WORDS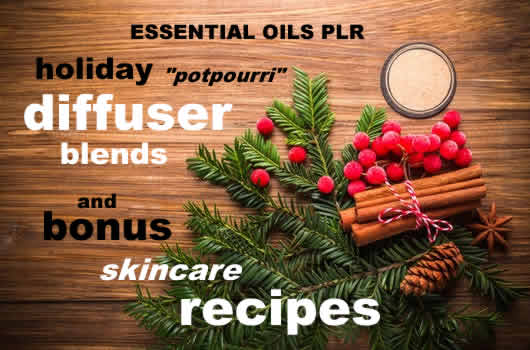 Hi there, friends! I'm Dina from Wordfeeder PLR. I wanted to give you a heads-up on our holiday-targeted essential oils PLR recipe pack. These EO Christmas blends and recipes are going to be a big hit with the natural health crowd this December. But guess what? They're not just for the holidays! This content is evergreen and can work perfectly for the MYO and Natural Mamas crowd. So even if you don't get around to publishing in time for the holidays, you have a bundle of amazing content here that can be repurposed in any number of ways. So although this PLR was originally tuned for the holidays, it only takes a quick scan to change those Christmas and holiday references to generic ones!
This fall and winter, your blog readers, newsletter subscribers and social media fans will be on the hunt for delicious, essential-oil based diffuser recipes to fill their homes with warm, spicy or minty aroma of wintry goodness.
Why are essential oil diffuser blend recipes so popular?
Because there's a growing population of individuals who either don't want their families to breathe in artificial, chemical-based scents, or they get migraines from regular air fresheners. Essential oils are a clean, nontoxic and HEALTHY way to fill your home with spicy, "homemade apple pie" goodness while also delivering a big boost of aromatherapy and healing benefits.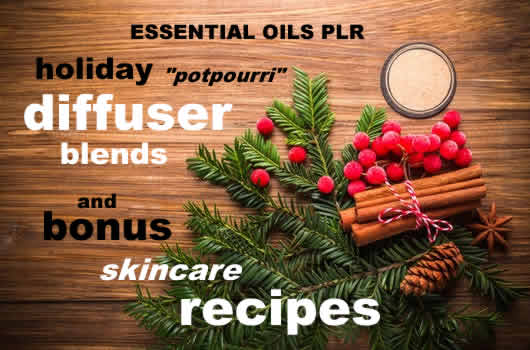 This Essential Oils Recipes PLR pack includes:
PART 1: Essential Oil Based Holiday Diffuser Blends
1. Peppermint Candy Cane Diffuser Blend
2. Vanilla Chai Diffuser Blend
3. Pumpkin Pie Scented Diffuser Blend
4. Apple Pie Scented Diffuser Blend
5. Orange Spice Holiday Diffuser Blend
6. Cranberry Orange Holiday Diffuser Blend
7. Egg Nog Diffuser Blend
8. Christmas Tree Scented Diffuser Blend 1
9. Christmas Tree Scented Diffuser Blend 2
10. Icy Cool Wintergreen Diffuser Blend
PART 2: Essential Oil Based Skincare Recipes - BONUS content!
1. Lavender Grapefruit Facial Scrub
2. Soothing Chamomile Massage Oil
3. Sensual Bath Soak
4. Foot Healing Remedy for Dry, Cracked Heels
5. Facial Treatment for Fine Lines
6. Natural Hand Sanitizer Recipe Using Essential Oils
7. "Odor-Eater" Shoe Spray
8. Silky Smooth All-Over Exfoliant for the Bath
9. Homemade Night Cream Recipe Using Essential Oils
10. Daytime Face Cream Recipe
11. Almond Facial Scrub Recipe
File delivery is an MS Word file that will arrive via email once your online order processes. You'll also be able to access your PLR essential oils content from your Wordfeeder member area each time you sign in.
You ALSO Get Lots of FREE, High Quality PLR Content!
In addition to this content, you get a whole bunch of FREE PLR that you can begin using immediately to drive more traffic to your blog, get more social media love, and create ebooks that you can sell or give away in exchange for sign-up information from your website visitors.
Here's what to do once your order processes:
Step 1: Save this file to a folder on your computer where you'll be able to easily access it later.
Step 2: Paste the content into a .txt file to strip out all non-HTML code.
Step 3: Edit if needed, and add your brand where appropriate, add images, style and save in a new file of your own.
Feel free to give away as a free eBook OR sell the eBook, publish as individual articles, add to an existing e-guide, or offer as a bonus gift with purchase. Don't forget to announce your newly published content on all your favorite social media platforms!
NOW ONLY $7

THANKS for purchasing PLR content from Wordfeeder. I hope you find value in this excellent quality essential oils content that I've created for you. And THANK YOU for supporting my freelance business. CHEERS to you in yours!
Even More Amazing Essential Oils PLR