First-Time Home Buyer 4-Pack of Articles or "Quickstart Guide" Content - NOW ON SALE
We're offering a great deal on our mini-pack of 4 high-quality real estate articles. They're perfect for any real estate agent who wants to target first-time home buyers.

Topics Covered:
Tips for First-Time Home Buyers on Narrowing Down Your Real Estate Search
Steps for Getting a Mortgage Pre-Approval
Red Flags to Watch Out for During the Home Inspection
The Who's Who of Real Estate for First-Time Home Buyers
What can you do with 4 articles targeted to first-time home buyers?
Publish 4 new pages on your blog or website
Publish in 4 issues of your newsletter
Add to an e-book, and offer it as an opt-in freebie for people who sign up for your list
Print the aforementioned ebook, and present it to your new clients, or as a freebie to offer people who attend your networking events.
Here's what the files will look like once you click purchase and download them: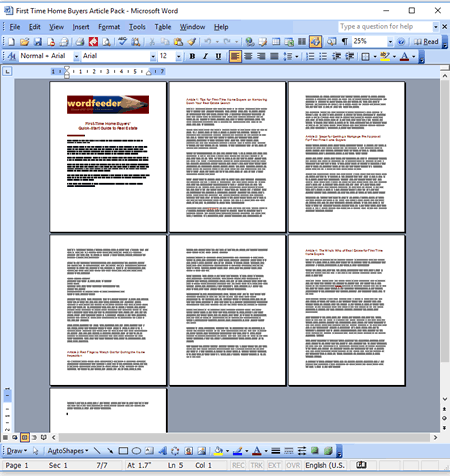 Click below to order:
Once your payment is processed, you will receive an email from us. Open it and click the link. Save the file to your computer. Your articles are ready to publish!
THANKS for doing business with Wordfeeder. If you have any problem retrieving your files, please contact dina@wordfeeder.com