Home & Family Bloggers, Coaches, Stress Experts...
Download your FREE Holiday Content from Wordfeeder
Today's NEW Release: "How to Ease Family Stress Around the Holidays" - Just $1 for 710 Words
Also, grab your FREE private label rights article if you haven't yet...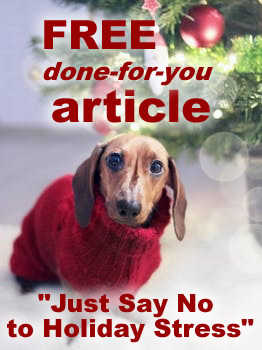 "Just Say No to Holiday Stress" Blog-Ready Article
when you sign up for a FREE Wordfeeder PLR Content Membership!
Hi, friends! This is Dina from Wordfeeder here. Have you thought about how you're going to find the time to write blog posts and connect with your readers via email this holiday season?
I've dreamed up a fun activity that we can do together via email. It'll help us all be more productive and profitable together!
We're Banishing Holiday Stress... One Article at a Time.
I'm offering this holiday stress article FREE when you sign up for a content membership on Wordfeeder.com. We're doing "an article a day" for the holiday season, 15 articles in all.
$1 Holiday Stress Articles... First One is Free
Each holiday stress article will cost $1 (yes, one dollar!) and the first one (attached to this offer) is FREE! Word count for each article will be about 600, give or take. I will charge a bit more for longer articles. Quality is excellent, as always.
Sign up using the button below if you'd like to be notified each time a new holiday stress article is added to the Wordfeeder member area.
Take the article and share on your blog! Make it yours by changing the title, order of points, or anything else you want.
Or, don't change it at all. You can also email the holiday stress article to your list, along with an offer for a related ebook or course you're currently promoting. Holiday fun for everyone!
Publish and Profit: It All Starts with a FREE Article that You can Download via email, then Edit and Share With Your Audience

Make this a list-growing endeavor. Just create a quick landing page asking folks if they'd like to join you for a Holiday Stress Busting series via email. Put a signup on there. Invite them to sign up, and then they'll receive a helpful article each time you publish again.
Again, to recap:
1. I publish an article and notify you. (I will be doing this about 15 times over the holiday season. You'll be notified each time.)
2. You purchase the article for a dollar or two as you like.
3. You email the article to your list, and/or publish it on your blog with a cool graphic. (You can edit the title, the body text, or none of it. Up to you.)
Here's a Sample of the Free aRticle:

Here's a sample of the "Holiday Stress Survival For Introverts" article: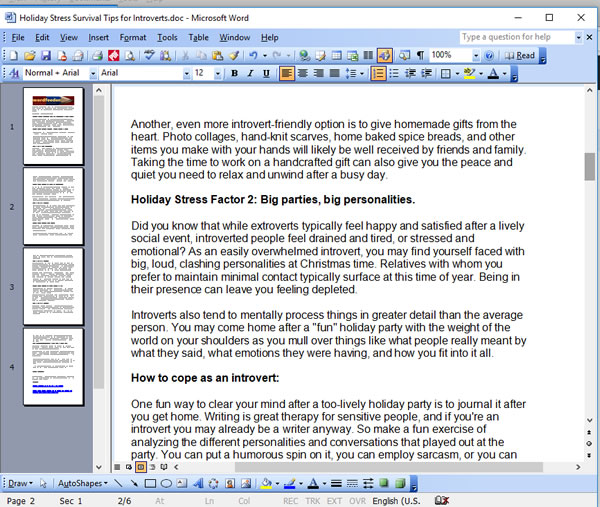 Sample of "A Little Spontaneity Goes A Long Way for Holiday Stress":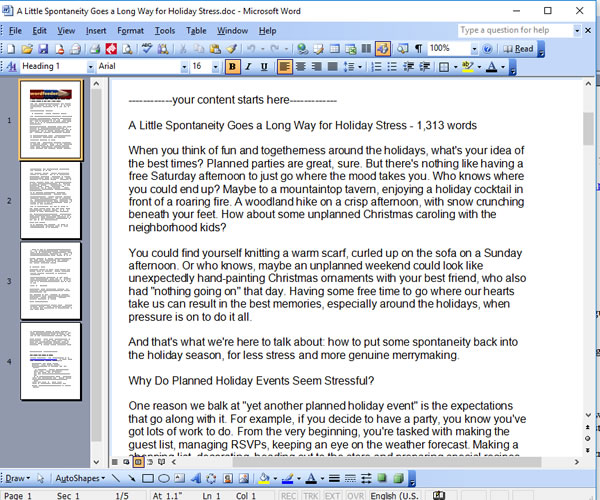 Sample of "Married Christmas":

More Holiday Stress Articles Are Coming!
Follow Along With Wordfeeder Via Email. Here's a rough draft of More ARticles to come:
1. Holiday Stress Survival Tips for Introverts - 1,400 words, RELEASED
2. How Much is Too Much Holiday Fun? Setting Limits During the Busiest Time of Year so We Can Enjoy More and Stress Less - 929 words, RELEASED
3. Holiday Stress Coping Skills and Great Ideas for Busy Working Moms - 549 words, RELEASED
4. Self Care Rituals to Unwind During the Busy Holiday Season - 1090 words, RELEASED
5. A Little Spontaneity Goes a Long Way for Holiday Stress 1,300 words, RELEASED
6. Take the Stress Out of Christmas Shopping RELEASED
7. "Married Christmas": Coping With Spousal Stress This Holiday Season - 1,808 words, RELEASED
8. Finding it in Our Hearts to be Kind This Holiday Season - 822 words, RELEASED
9. How to Ease Family Stress Around the Holidays - 710 words, RELEASED
10. Holiday Stress Tip: Stop Comparing Yourself to Crafty Moms on Pinterest
11. Outlets for Your Holiday Stress: Knitting, Crochet and Crafts to the Rescue
12. Holiday Happy Hours and How to Dodge the Aftermath
13. Lower Your Holiday Expectations, Reduce Your Stress Levels
14. Keeping Cold and Flu Germs Away This Christmas
15. Essential Oil Holiday Blends to Ease Stress and Make Your Home Smell Amazing
UPDATE: I have now added holiday images that you can publish along with these articles. These are free images to publish however you'd like. I tried to find images that show people enjoying themselves and relaxing - avoiding stress - during the holidays/chilly season.
Here's a screen shot of the images you'll receive in this pack.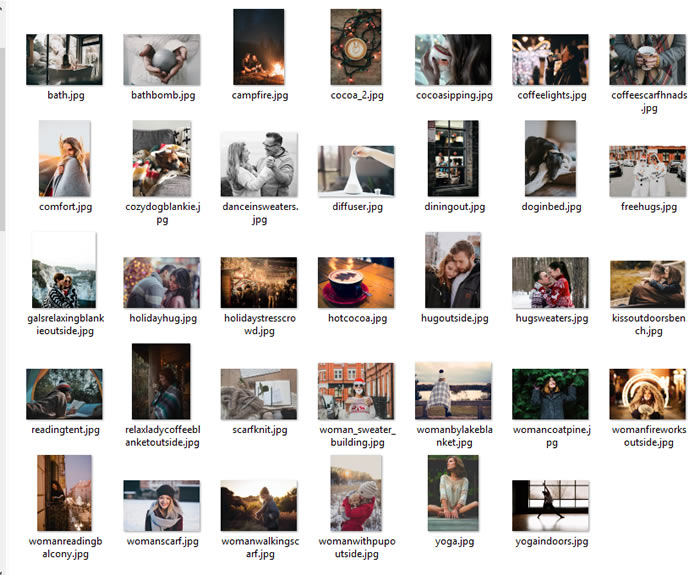 The Image Pack is just $9 for 34 high resolution images.
The Holiday Stress Images pack is available at checkout, when you click "Sign Up" at the bottom of this page.
Some great ideas for using the images:
Add to your "Stress Free Holidays" Ebook and offer as a free giveaway, or low-cost product to download via email.


Add one article and one image to an email autoresponder series that you set up for people to receive after a low payment (or for free after they sign up to your list)


Publish each image along with a single article, plus any relevant Amazon product links and of course your Adsense ads, in an individual blog post that you share on social media for more clicks.


Turn some of the images into branded headers and social media images to share. Or, just post them without text, on social media along with the blog posts's lead-in and a "click here to learn more" call to action with link.


Use the images to make a video slide show of tips based on the holiday stress articles that you purchased!
Click "Sign Up" to Grab your FREE Holiday Stress Article. Also Shop for $1 and $2 Holiday Stress Articles which directly follow in the list.
The checkout page opens up in a new window, so you won't lose this sales page if you need to view it again later. I've included some other exciting Wordfeeder content packages as well!
In addition to here in this email, any articles you order from Wordfeeder will be available for repeat download from the Members area of this website each time you log in.


Download your "Just say No to Holiday Stress" Article right now. It's free! Plus you'll be notified each time we release a new holiday stress article for a dollar (or 2, or 3). When I publish, you publish! Not a bad deal.
PS: You also get a TON of free content once you log into the Wordfeeder member area. Check the top menu and look under FREE PLR to see what's offered.

THANKS for supporting my freelance business. CHEERS to you in yours!