FREE "Positive Body Image" Written Content f0r 20 Powerpoint Slides - Love Your Body, Love Yourself!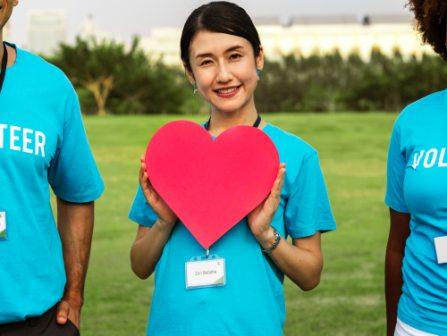 Design and Publish a Professional quality, "Self Love Slide Show" in Time for Valentine's Day
Hey, my busy bloggers! There's an EASY way to connect with new readers this Valentine's Day... AND you can help share a positive message to help the world's young women improve their self esteem.
I'm Dina at Wordfeeder. My writer friends and I create done-for-you content with private label rights for you to sell as your own, or offer as a freebie to help grow your list.
I'm a professional writer by trade, but this time I did something a little different and I'm excited to share it with you.
By request, I created a set of 20 Positive Body Image Themed slides on PowerPoint. The full package of done-for-you, fully designed PowerPoint content can be yours to share or sell online.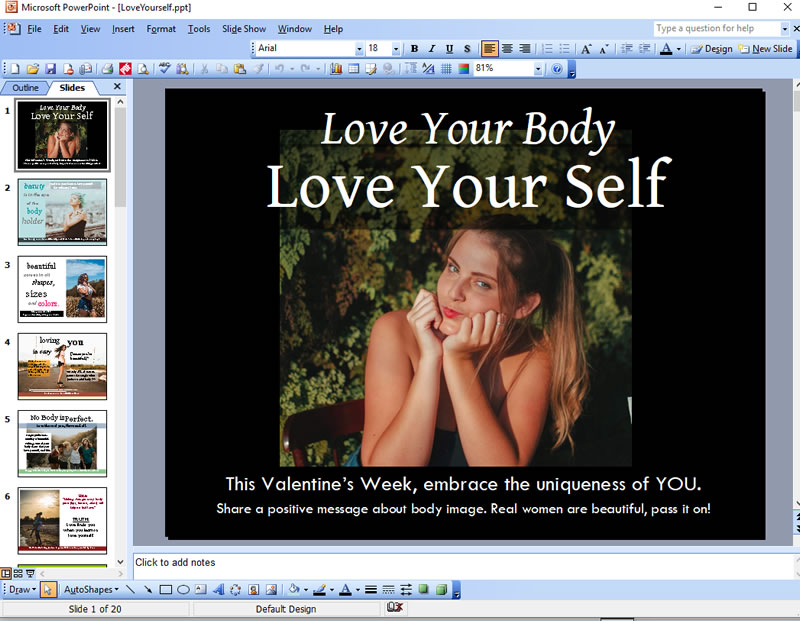 The official title is: Love Your Body, Love Yourself. The file type is PowerPoint.
If you prefer NOT to do the design work yourself, you can order this done-for-you Valentine's Day 20-Slide Presentation right here, right now on a different page of my site
If you order it via Wordfeeder using the sales page that I just linked to, you get the complete PowerPoint slide presentation - 20 slides, fully designed, with copy included, to do whatever you like with. The PowerPoint file with 20 image slides arrives after a $19 payment (use coupon code LOVEYOURSELF) at checkout). Again, go here to order this already designed for you.
Okay... but what if you prefer to design your own PowerPoint Love You Body Presentation?
Well, that's perfectly fine with me. Maybe you have some awesome fonts or really compelling images that you'd like to use. I get it, you want creative freedom. Have at it!
I will give you my written content for each of the 20 slides - right now - for free!
Because this is the FIRST time I've ever sold (or created) a PowerPoint slide presentation, I wanted to offer you a special little freebie.
All of the headlines and body copy are available in an MS Word file for you to download right now, at no cost.
If you want the free version of this, (MS Word text only), all you have to do is sign up for our free PLR membership on Wordfeeder.
This MS Word download is a terrific free sample of the types of things we create at Wordfeeder. And what's more, once you become a member you get a whole lot more free articles after logging into your member account. Just look for them under FREE PLR in the top menu.
Use the below sign up form to create a member account on our site and download your FREE Positive Body Image Writtten Content Slide Presentation (text only) right now:
If you enjoy the brainstorm, AND you decide that you'd rather have the PowerPoint slides pre-designed with images, so you don't have to spend days or even a week or more doing this... just grab the done-for-you version right here.
How to Access Your PLR Content:

Once your order processes, you will be asked to create a login to the Wordfeeder member site. Do this, then check your email for a confirmation, plus another email containing your delivery of the files.
If you have any questions or trouble with your download, email me and I'll get back to you as quickly as possible.
PS: Don't forget! In addition to this high quality slide presentation, you also get a TON of free content once you log into the Wordfeeder member area. Check the top menu and look under FREE PLR to see what's offered.

THANKS for supporting my freelance business. CHEERS to you in yours!
More Health and Wellness PLR Articles, Ebook Content, Social Posts