The holiday season has begun! We're getting ready to WOW you with website offers during "Giveaway Days" at Wordfeeder PLR!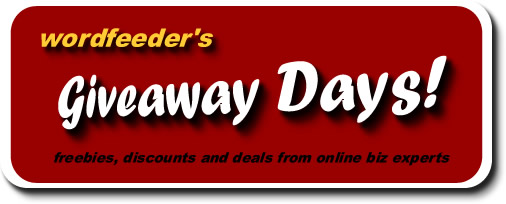 Go Shopping for Website Services, PLR Content, Web Hosting, Blog Design, and Anything Else Web Biz Related... ALL from Expert Providers Offering You TONS of Freebies and Deals.
Explore the list of offers


Sign up for the ones you like or need for your biz

Check your email

Start putting your awesome products and services to use ASAP!

Hey, busy blogger. I'm Dina of Wordfeeder PLR. Are you hoping to expand your online business in 2018? My online business friends and I are doing a group giveaway at Wordfeeder PLR in December 2017. Join us for Giveaway Days!
What kinds of freebies and deals can you snag here?
You can snag a sweet deal on anything related to running your online business, provided it's offered by someone who's participating in Giveaway Days. Whether it's private label rights articles and ebook content that you can grab at a low price or for free... virtual assistance services... new hosting, new list management software, PLR images... just check out the list of providers and their offers, then sign up for whichever ones you may like or need.
How does this work?
You must sign up for each person's list or membership in order to access your freebie or discount from them. Please read each offer carefully (once I post them) so you'll know the steps required.
When will Giveaway Days officially kick off?
Today is November 27, 2017. At the moment, we are busily setting up our offers for you to benefit from. As soon as everything is all good to go, I will be contacting you via email. Expect to hear from me sometime in December!
What else can I do while I'm waiting to hear about these awesome online business freebies and deals?
You can go shopping for low-priced, high quality PLR articles at Wordfeeder.com.
But before you do that, drop your contact info in the subscriber form below so you'll be one of the first to hear about which top internet providers are ready with "Giveaway Days" Freebies and Deals to grow your business!
Dina at Wordfeeder