New web content Release for Fall 2018:
More than 30 Days of Halloween Content
"Howlingly Good Halloween Hacks" PLR - Articles, Tips - Now $10 off through Nov. 1!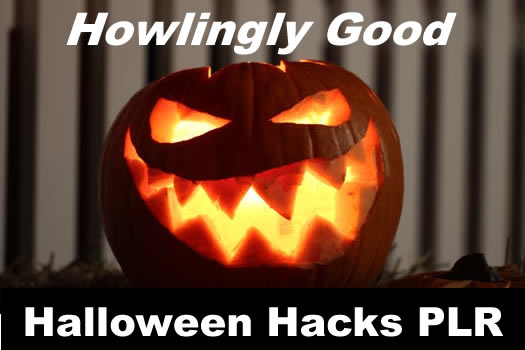 Even if you missed posting this Halloween season, you can save this Evergreen Halloween PLR content for Stress-Free Halloween Blogging next year!
7,968 words of "Tips, Tricks, and Treats" -
Halloween Content covering decorations, party treat ideas and recipes, trick or treat safety tips, Halloween games and activities, and more
Are you a busy blogger who'd like to continue publishing a steady stream of high quality blog articles and social tips that help you MAKE money instead of spend it?
Are you in search of a source of reliable, interesting and helpful advice and information to include in ebooks, special reports, tip sheets and other types of informational giveaways that you offer in exchange for new signups to your list?
Do you market to the fast-moving yet profitable Halloween niche? Signs of Halloween are already appearing in the form of Spirit of Halloween stores, new Amazon Halloween costume listings, Halloween decorations in stores, and more!
Need pre-written Halloween Content? Wordfeeder has got it right here for you! And if you don't act fast, this lucrative holiday will pass you right by.
Check out these PLR Halloween Hacks written by my hardworking Halloween "ghost" writer Dee Power.
The Halloween Niche Boasts Billions in Market Share. Grab Some Profits Thanks to this High Quality Halloween Hacks Content with Private Label Rights to Publish as Your Own.
What can You Do With This Prewritten Halloween Content?!

If your home and family or holiday readers go batty for great Halloween tips, you're in luck. We've just completed another Halloween web content pack here for you with PLR rights. This fantastic, inspiring Halloween themed content that's chock-full of creative ideas, hints and hacks, can soon be yours to publish and profit from. Your Halloween readers are going to LOVE all the awesome ideas included in this well-written set of tips, tricks, and treats!
Think your readers would appreciate instructions on how to make a 3D pumpkin out of a balloon, crepe paper, glue and paint? What about an edible "goblin garden" that's grown in a terra cotta pot? Would a group activity of drawing a creepy and crazy creature excite and delight your readers? After all that creativity, they can chill out with some disgustingly delicious, wickedly wonderful bog punch.
This is enough awesome Halloween content for a full month of ideas to share. If I were you, I'd turn this into an ebook opt-in gift... or, sell for a low price point if you've already got a big list and are ready to turn some profit.
Videos that feature tips pulled from this content would be the perfect way to make Adsense clicks and income. And how about all the possibilities of hosting a month of Halloween DIY crafts, decorating and recipe ideas?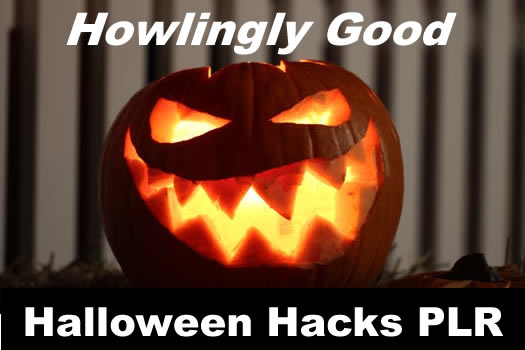 Treat Your Blog to Some Halloween private label rights content
Halloween PLR Pack 10: "Howlingly Good Halloween Hacks" for your Blog or Ebooks
This content pack includes: 7,968 words in recipe, tip or instructional format. Perfect to make a series of Halloween topic-specific blog posts. Also ideal for creating a Halloween ebook to give away in exchange for new signups. Share each tip individually on social media as a way to attract new blog visitors!
HALLOWEEN CONTENT TOPICS INCLUDE:
Halloween Myths: Black Cats, Mirrors, 7  Years Bad Luck
Halloween Myths: Salt, Wood, Pumpkin Carving
Halloween Decorations:
Make a 3-D Spider Web
Make Creepy Crawly Critters Out of Mini Pumpkins and Gourds
Halloween Craft: Soda Bottle Ghosts
Soda Bottle Jack-o-Lanterns
Turn Christmas Lights Into Halloween Lights
Light-Up Halloween Ghost Project
Light-Up Jack-O-Lantern DIY Halloween Wall Decoration
Scary Silhouettes for Halloween
Bats in the Belfry: Make-at-Home Halloween Craft
Homemade Halloween Porch Deco: "Floating" Wire Ghost
Create a Spooky Entrance
Smiling Jack-O-Lantern Welcome Mat DIY Halloween Deco Project
Do-It-Yourself Halloween Graveyard for the Front Lawn
Moving Ghosts - DIY Yard or Porch Deco for Halloween
Floating Candles, Mini Pumpkin Centerpieces
Make-at-Home Paper Pumpkin Party Favors
Pumpkin Tips and Tricks
My Jack O' Lantern Won't Make it to Halloween: Alternatives to Pumpkin Carving
What else can you paint on your pumpkin to spookify the house?
Spider web pumpkin
Pumpkin with a message
Pumpkin becomes a witch
Repurpose Halloween pumpkins to become festive fall lawn decorations
Pumpkin Preservation: Keeps Your Jack-o-lanterns Fresh
Halloween Safety Tips
Pet Safety Tips for Halloween
Tips for Trick or Treating With Pets
Halloween Safety Tips for Children
Trick or Treat After Dark: More Safety Tips
Play It Safe With Halloween Candy
Halloween Activities
DIY Bean Bag Toss Make 'n Play Game
Monster Pictures Fun Halloween Group Activity
Halloween Names and Memory Game
Homemade Halloween Bingo Game
Halloween Cookie Decorating
Crackers, No Not the Kind You Eat
Halloween Food and Treats
Cheesy Spiders Halloween Party Snack
Give Your Tortillas a Hand
Mummy Loaf Sandwich
Witches Hats - Easy Halloween Treat Recipes
Halloween Spider Cupcakes
Wickedly Wonderful Bog Punch
Goblin Garden
Halloween Amazon Product Listings
Consider these pre-written Halloween Tips YOUR SALESFORCE that is out there WORKING FOR YOU 24/7!
Earn affiliate income on a ton of Halloween products. Dee has even included Amazon listings of 7 current Halloween products for your readers to order.
Combine this PLR pack with several others in our Halloween PLR collection. Create an ebook to sell or give away as an incentive for people who sign up for your list.
Turn each article into a blog post, and link to your Amazon products in each post. Don't forget to add Pay Per Click ads and the link to your ebook sales page, to increase your income earning potential!
Make video slide shows of these awesome DIY craft ideas, tips and recipes. Set to a spooky Halloween soundtrack, and watch the PPC come rolling in.
Share this content on PINTEREST with a link back to each recipe, craft or party activity, published in full on your blog.
Add this ebook of Halloween Hacks to your website's private member area as a free resource for people who sign up!
Here's a screen shot sample of This Content: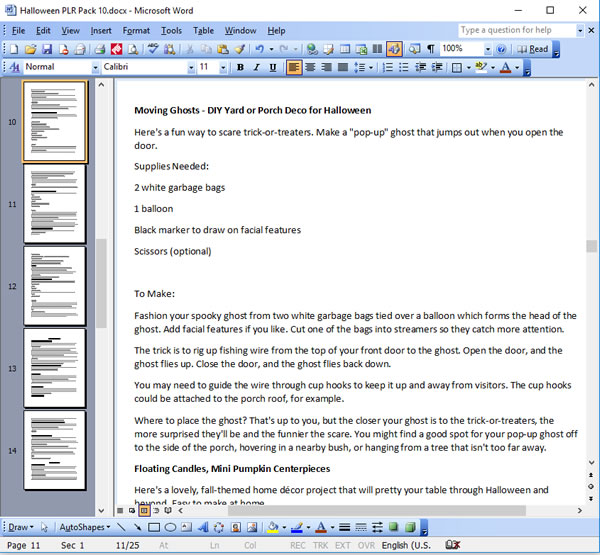 reg. $17
NOW only $7
through November 1, 2018!
How to Access Your PLR Content:

Once your order processes, you will be asked to create a login to the Wordfeeder member site. Do this, then check your email for a confirmation, plus another email containing your delivery of the files.
If you have any questions or trouble with your download, email me and I'll get back to you as quickly as possible.
PS: Don't forget! In addition to these high quality articles, you also get a TON of free content once you log into the Wordfeeder member area. Check the top menu and look under FREE PLR to see what's offered.

THANKS for supporting my freelance business. CHEERS to you in yours!