No Trick to Selling Halloween Costumes, Decor, Craft Supplies, Makeup and Accessories on Your Blog When You Have Done-for-You Content at the Ready!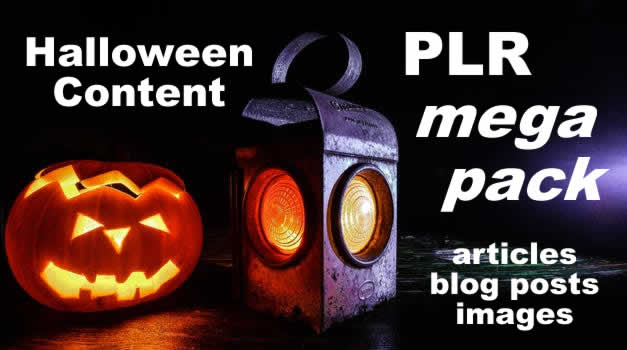 Introducing the First-Ever Halloween PLR Mega Pack from Wordfeeder
Guys. I'm so excited, I'm almost tempted to announce this pack to my email list before the sales page is even written. But that would be silly. This is my first-ever PLR pack that includes images, thanks to the talented and hardworking Shannon Smith of Appetite for Design!
If you haven't yet grabbed your blog and social-ready articles from Wordfeeder's Halloween PLR Packs 1 and 2, then you'll be glad you waited. The big Halloween bundle is here!
I decided to put my 2 article/blog post packs together with some brand new, never-before-released Halloween and fall-themed social images that Shannon's created just for this purpose! How cool is she?
Dina and Shannon's Halloween PLR Mega Pack Includes:
Halloween Image Pack 1 from Shannon.
Twenty (20) social images, in both .jpg and .psd formats, to use on ALL your favorite social media platforms and your groups, including Facebook, Instagram, LinkedIn, Pinterest and wherever else you hang out online sharing info about your blog.
And in case you were wondering what the text says... here are all 20 messages:

Comfort Me With Apples
Autumn shows us how beautiful it is to let things go.
"Autumn carries more gold in its pocket than all the other seasons." - Jim Bishop
Beauti-FALL
Brilliant Disguise
"Clothes make a statement. Costumes tell a story." - Mason Cooley
FALL in Love.

Five Little Pumpkins
"Gratitude can transform common days into thanksgivings, turn routine jobs into joy, and change ordinary opportunities into blessings." - William Arthur Ward
Graveyard Smash
It's Time for Pumpkin Everything.
When the frost is on the pumpkin and the fodder's in the shock

Trick or treat, smell my feet
Give me something good to eat
"Everyone must take time to sit and watch the leaves turn." - Elizabeth Lawrence

To everything, there is a season. - Ecclesiastes
Treats Not Tricks
Take a Walk on the Nature Side
Wicked Cool Halloween Ideas
There are Witches in the Air
Halloween Article Pack 1 from Wordfeeder
This article pack was released in late August and contains the following pre-written blog posts:
Trick or Treat Safety Tips

Treats Not Tricks: Candy Cautions for Trick or Treaters

Trunk or Treat: A Newer Halloween Tradition that Works for Today's Busy Families

Easy Recipes aka Freaky Food and Creepy Concoctions for Your Next Halloween Party

Halloween Make at Home Craft Idea: Happy Meal Haunted House
1,912 words in all. Available in a zipped, single MS Word document.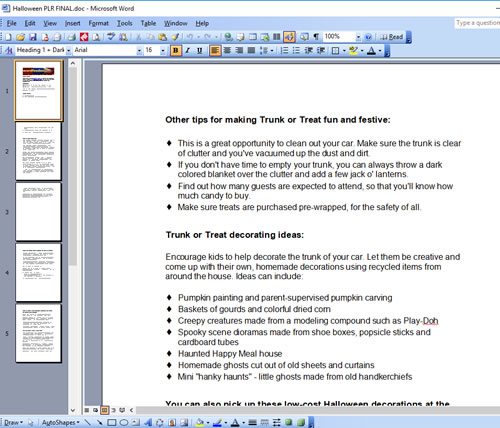 Halloween Article (or Blog Post) Pack 2 from Wordfeeder
This one was also released at end of August, and contains the following pre-written blog posts:
Make at Home Gypsy Girl Halloween Costume

DIY Hobo Halloween Costume

MYO Beer Wench - Adult Halloween Costume

Black Cat Homemade Halloween Costume

DIY Variations on the Halloween Witch Costume

DIY Halloween Ghost Costume

Homemade Mr. or Mrs. Potato Head Costume

Frugal Halloween Decoration Ideas

Make a Homemade Scarecrow to Spook the Neighbors (and the Crows)

How to Make a DIY Halloween Ghost Out of an Old Curtain
Word count is 2,683. File is a Word document.

Why Should You Publish Our Done-for-You Halloween Content?
Because it's easy affiliate and pay per click income. People are looking for costumes, crafts, deco and makeup online. They don't want to be stuck running around from store to store. Trust me, I do it every year. Where do most moms end up shopping for all their Halloween needs? Amazon, of course.
Here's a list of Amazon items you can link to when you publish this content:
Pre-written Halloween Content Means the Work's Been Done for You
Sometimes it's hard to get motivated for content creation. But I've done the writing work up front, and Shannon's created some beautiful designs to help push you out farther on social media and attract positive attention.
Now all you need to do is strategize your plan for creating Halloween bog posts that land you clicks and cash.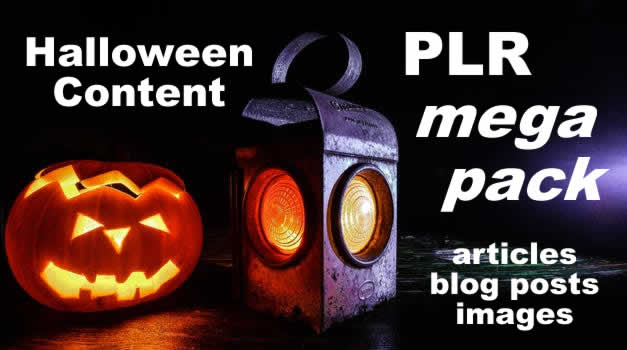 Dina and Shannon's Halloween PLR Pack is being offered at a special savings for you this fall!
Remember that it would cost you thousands to have a designer and copywriter custom create an entire Halloween marketing package for you. Our regular price for 5 articles, 10 blog posts, and 20 social images is $37. BUT because we're so excited to launch our Halloween Mega Content Pack, we're going to offer it to you for $10 off until Halloween!
reg. 37
NOW ONLY $27
PLEASE NOTE! If you already purchased my Halloween PLR Article Pack 1 and Halloween Article Pack 2 separately, you can get the images ala carte. Use this link to grab your copy of ONLY the 20 Halloween and fall-themed social images from Shannon!

How to Access your ARTICLES, BLOG POSTS and SOCIAL IMAGES:
Your zipped files will arrive via email once your online order is processed. Additionally, you'll be able to access them from inside the member area of our site as soon as you sign up and log in. If you have any questions or trouble with your download, email me and I'll get back to you as quickly as possible.
THANKS for supporting my freelance business. CHEERS to you in yours!