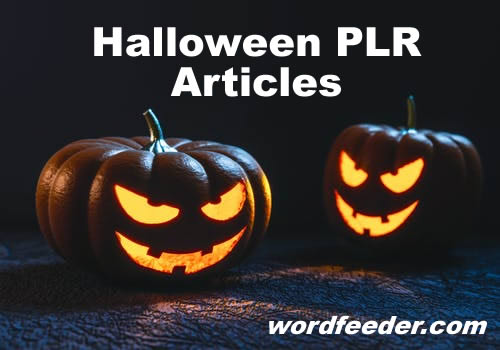 If you didn't know Wordfeeder has terrific, rebrandable Halloween content, guess what? Now you do. Use coupon code EARLYBIRD to get 15% off our awesome Halloween PLR packs 1, 2, 4, 6, 7, 8, and 9. Check this page to explore what's included in each of these packs. Best of all, you can pick and choose from the ones you like. Coupon code EARLYBIRD applies to ANY or ALL of these fine purchases.
Or, if you want to go straight to checkout and skip the wordy sales pitch, just use this button:
"Buy Now" opens up to the checkout page which appears in a new window.
Summer Fun and Safety PLR Articles Now $7
Here's a great pack of nicely priced articles that you should probably grab if you blog to the Home and Family audience. "Have a Safe and Happy Summer" includes 8K words of high quality content that can be yours for just $7. It's a sweet deal no matter how you slice it. Here's a quick sample of the writing style and quality.

Amusement Park, Zoo and Carnival Safety This Summer
Summer time offers its share of fun in the form of carnivals, zoos, amusement parks and water parks. Before you pile all the kids in the car, take some of these safety tips into consideration to ensure the most enjoyment with the least amount of worry.

Charge up the phones before heading out. Whomever has phones (parents, kids or both) should bring them along on your excursion. This way, if anyone becomes separated from the group, they can put in a quick call to locate the pack. Another good use of cell phones is for meet-ups. "I'll see you over by the monkey cages at 3:15." ... (more content available via purchase)

Again, the sales page is here if you want to read the full list of article titles and learn more. Or, just grab your content right now by going straight to the checkout page using the button below.
Have a great day!