Teach your people how to Just Say NO to Internet Marketing Naysayers so they can say YES to SUCCESS...
Grab your Discounted Ebook PLR Articles on
How to Emotionally Disengage from Family Members Who Don't Support You in Your Online Business
We all know someone like this. When you tell them you have an internet based business, they look at you like you just grew a second head. Or maybe they nod politely with a slightly smug and uninterested expression.
If you're a business coach or internet marketing expert, you probably have wondered what's preventing you from connecting with potential clients? What is it that stops them from taking swift and effective action in business?
More than likely, it's online business naysaying family members (also friends) who either spend all their time pooh-poohing or simply refuse to acknowledge that internet business is a viable source of income.
Not Having Support in their Corner can Really Hamper Productivity for Your Fans and Clients
That's why these folks need YOUR reassurance. You need to show them that even though the criticism sometimes stings, they can still take actionable steps toward growing the online business of their dreams.
Inside this content pack, I have tons of tips and tricks for becoming more effective in your business EVEN WITH LACK OF SUPPORT. I think your readers are REALLY going to appreciate this information.
Snap up your copy of these potentially life-changing PLR articles in ebook format. Thirteen pages of brandable content on How to Emotionally Disconnect from Family Members Who Don't Support You in Your Online Business is now being offered for a discounted price through midnight on Friday, May 12, 2017.
This 13-page content bundle contains 5,634 words that have been packaged into 6 well-developed articles. It's all set up to work as an ebook. All you have to do is add your own images and branding.
Article titles include:
Article 1: Free Your Mind, Unburden Your Soul, Grow Your Dreams (doubles as introduction text for an eBook)


Article 2: Why Doesn't My Family Understand How Important My Online Business is to Me?


Article 3: How to Thrive in Your Online Business Despite Unsupportive Family Members


Article 4: Steps to Becoming Wildly Successful Online Despite Negative Feedback from Family Members


Article 5: Your Perfect Argument to Justify Funding an Online Business


Article 6: How to Emotionally Disengage from Unsupportive Family Members (also serves as a summary of the piece)
Here's a writing sample screen shot so you know exactly what you're getting: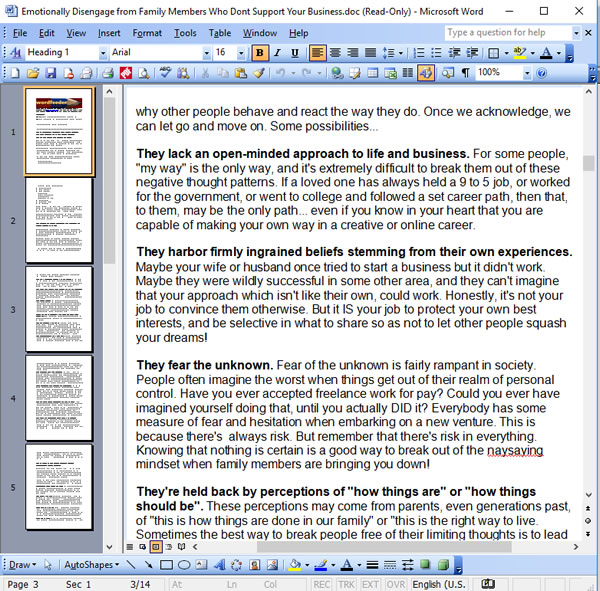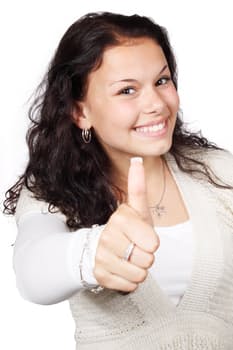 Ideas for Putting These PLR Coaching Articles or Ebook Content to Good Use:
Transform this PLR content into an ebook by doing the following:

Edit and style to look and sound like your brand
Insert your own examples throughout
Slip in mentions of your company name if appropriate
Add your own images
Add an "About Our Company" page at the end
Include your own promotions along with affiliate links
...or, don't change a thing - just sell or share your new ebook as is.
You can also publish each article on its own, stand-alone page of your website, or as a separate blog post, to help drive traffic and business your way.
What to Do With Your Ebook:
Sell it on your website
Offer as a free gift in exchange for email signups
Slip this content into a more comprehensive marketing e-guide, and add to your product funnel
Work this content into an online course you're teaching to clients
Supplement your client work with this helpful information pack that hits home
Include the eBook as a bonus gift for signing up for your coaching package
Now Only $9.97
O

nce your payment is processed, you will receive an email that contains your file for instant download.
Unzip and save the file to a folder on your computer where you'll be able to find it later! If you have any trouble receiving your PLR content, please contact dina@wordfeeder.com.
PLEASE NOTE: In addition to this content, you'll also receive a number of FREE article packs available in the top menu of your member area. Don't forget to log in and download them!
Thank you for supporting my freelance business. Cheers to you in yours!