How to Make Money With Low Carb or Keto Diet PLR Content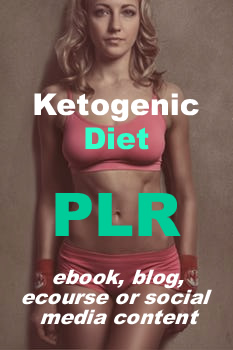 All right, my friends who publish healthy dieting content. Here's an undisputed winner to put on your "must-publish" hot list for weight loss season 2018. It's another big slam LOW CARB PLR blitz from Jacqueline Myers at Phoenix PLR.
She's serving up some low-carb dieting articles, product reviews, special reports, ecovers and infographics for you to profit from in any number of ways.
So, this is the deal. All this content feeds into itself, and into your success if you do it right. I'm going to tell you what to do right now, so listen up.
First you have the PLR low carb dieting product reviews. You want those on your blog, set up with Amazon or other affiliate links to generate sales.
Then you want the low carb PLR articles on your blog because they drive the traffic to the product reviews which drive the clicks and sales.
Then, of course, you must have an opt-in to get people on your list - so that's your not one but TWO special reports WITH graphic ecovers to publish as-is OR tinker with. They see the offers for those freebies to grab when they find the articles online. It's a smart idea to set up opt-in pages and place links and graphics for the special reports in the sidebar and/or the bottom of your posts or article pages. That's what I do, anyway, and it seems to work.
So, they opt in and download the report… but now what? You send them future mailings with even more hot dieting tips and product reviews. So now you have another chance for people to buy through the link, OR maybe you're offering something like a healthy fitness membership that they pay X amount per month to have group coaching, fitness goals, recipe sharing, exercise tips, and journaling progress/tracking.
Oh, and let's not forget social media. You want to get more eyes on those blog articles that you published, to keep sign-ups flowing in. So you blast out the included infographics on Pinterest, Facebook, Instagram, and so forth. And that's how you keep it going and feed targeted traffic into your member site to grow your following of low-carb learners, and make money!
And how much for all of this amazing content that Jacqueline put together for you? Just $17.99 now through February 28. Then the price doubles!
So here's what you get for that crazy low price:
10 Product Reviews
Epic All-Natural Meat Bars
Fat Fuel Instant Keto Diet Coffee
Coffee Booster
ChocZero Chocolate
Quest Protein Bars
Viva Labs Organic Extra Virgin Coconut Oil
Chimichurri Beef Sticks
The Original SpiraLife Vegetable Spiralizer
Cuisinart Smart Stick Hand Blender
Smackfat Ketone Strips
10 Articles (500+ words each)
What is Ketosis?
What Types of Carbs to Choose
Tips for Eating Out on the Keto Diet
The History of the Keto Diet
How to Know if you are in Ketosis
10 Top Tips for Starting the Keto Diet
How to Stay in Ketosis
5 Common Keto Diet Newbie Mistakes
Not All Low Carb Diets Put you in Ketosis
Top Apps for Tracking Your Keto Diet
You Also Get TWO Special Reports WITH Pro Designed Ecovers, including...
12-page Report: The Keto Diet Simplified PLUS 3 eCovers
8-page Report: The Role of Coconut Oil in your Keto Diet Plan PLUS 3 eCovers
And Finally... 5 Easy-to-Brand Infographics & Social Media Posters
**Edit in Picmonkey or Canva. NO Photoshop required!**
"Buy Now" opens up to a sales page on JV Zoo where Jacqueline's PLR pack offer lives!