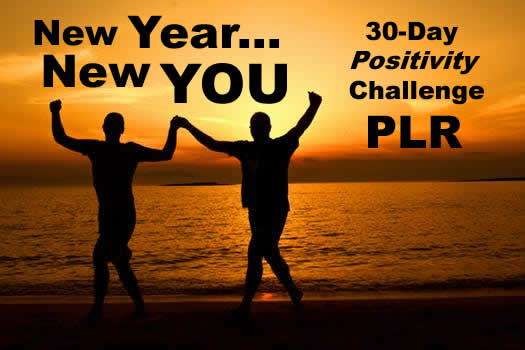 Use coupon code WORDFEEDERHOLIDAYS for a whopping 40% off the "already reduced" price of $45 when you buy ALL 30 DAYS' worth of this beautiful, professional quality, done-for-you online course at once.
Coaches and positivity experts, no more stressing and sweating to put together an online course from scratch. No more hiring pricy copywriters whose work you have to edit like crazy before it's fit to launch as your own. I've got the done-for-you 30-day challenge and guided journaling content right here for you to start profiting as you inspire and lead your people to greater happiness and success!
Or, click BUY NOW and be whisked off to checkout where you'll be able to enter coupon code WORDFEEDERHOLIDAYS immediately and then RUN AWAY with your amazing, ready-to-style-and-launch 30-day positivity challenge for the New Year!
---
Coach, $17 Year End Review Journal from Thrive Anywhere - Limited Time
Coach, business growth journaling continues to be one of the biggest trending growth tools for business consultants, coaches and performance leaders who work with clients on increasing their bottom line and custom designing their business on their terms.
December is not a time for your small business clients to admit defeat, or settle on lackluster sales totals. Instead, it's an opportunity to learn, grow and change using this professional year end review journaling tool. Think of an annual report, but on a micro scale, sized just right for your clients.
My very talented creator friend, Lynette Chandler, has designed a printable Year End Review journaling package that your clients can prepare to make a fresh start in 2019. She's offering private label rights for you to download the files and customize to your own business and brand, and share with or sell to your customers, for just $17 for a limited time only.
Learn more, and get ready to present this handy professional package as a year-end review and kickoff to 2019!
"Buy now" opens up to a page on Lynette's site where you can learn more and order.
Coaches and experts, want to offer your clients, fans and followers a special kind of gratitude journal this November? The very talented Lynette Chandler has just released her "Thankful Heart" Guided Gratitude Journal with PLR rights to publish as your own.
For just $27, you can get a copy of this beautiful, hand-drawn series of journal pages to print off and offer as a special journaling exercise.
Help your readers cultivate this attitude of thankfulness in as many areas of life as possible. Part of this exercise includes working through the coloring pages. When completed, your clients will have an inspiring gratitude reminder to post on their wall to help center and elevate heir thoughts when discouragement strikes.
Best of all, you can get a coupon discount of $10 off when you buy before October 3, 2018. Fantastic!
NOW ONLY $27
"Buy Now" opens up to a page on Lynette's site where you can learn more and order.
---
What's Hot in the World of Journaling Content? The "In Five Years" Printable Vision Journal. Now $27 for a limited time only
If there's anyone who knows her stuff when it comes to managing a successful online business, it's Lynette Chandler of Thrive Anywhere. Lynnette's talent combines brilliant artistic inclinations with tech know-how. This basically means she can beautify your website and coaching teachables for you, while making sure everything works right.
If you're in search of beautiful, professionally designed coaching content to use as part of your ongoing work with clients, trust Lynette to deliver and then some.
Lynette's kicking off September and "Back to Business" with a complete, ready-to-teach package of 5-Year Planner Content that includes private label rights for you to republish. If you're a coach or mentor, this is the perfect set for you help clients manifest their 5-year vision for the perfect life.
Here's What's Included in this complete, 5-year Life PLanner Journaling Package:
Cover Page

Vision For Your Home

Vision For Your Vacations

Vision For Your Finances

Vision For Your Health

Vision For The Next 5 Years

Vision For Your Relationships


Vision For Your Spritual Life


Vision For Your Business


Vision For Your Family


What You Did

Who Helped You


more about Lynette's newly released 5-Year Journaling package, and exactly what you get:
Help your clients envision their future clearly, then dig deep to discover how they got there. A powerful way to break free from current inhibitions and think creatively to plan their future. What's included:
12 Page Journal with Cover
3 Bonus Divider Pages
3 Journal Mockups
10 Social Media Images
30 Social Media Posts
- Rights to sell in marketplaces like Etsy & Print On Demand services
- Designs delivered in Canva so they don't need PhotoShop to customize

Go here to Preview the pages of this fantastic, totally teachable, rebrandable journal planner pack that's perfect for business and self-improvement experts.
NOW ONLY $27
"Buy Now" opens up to a page on Lynette's site where you can learn more and order.
PS: This is beautiful, professionally designed planner content that you'd pay thousands to have custom designed for your business. Lynette does amazing work and offers amazingly low prices... so take a look!
---