I worked hard researching this PLR ketogenic diet content for you to share in your blog, make ebooks, create an autoresponder series, grow your list and make money.
This private label rights package of content is yours to edit and publish upon receipt of purchase. It's 37 pages long and contains 13,666 words total, broken up into 30 articles. One article per day for 30 days is the perfect month-long keto diet and low-carb lifestyle training crash course for you to profit from online. If you already purchased Wordfeeder's first keto content pack, then you'll definitely want to follow up with your list and share this one next.
Go here to read all of the article titles, read a writing sample, and get more ideas on how you can profit online by setting up this informative content to sell or share.
PS: It's tough to stand out in a competitive niche such as low-carb weight loss. That's why I've included an extra bonus for you. A series of e-course names/headlines to pick and choose from. Or, soak up these ideas as an inspiring brainstorm to come up with your own unique name. Grab your free headlines right from the "30 Days of Low-Carb Lifestyle content" sales page now. :)
So, here's something helpful to share in your keto diet blog, send to your list of keto and low-carb readers, or publish in an ebook along with keto dieting how-to information.
Trish from KitchenBloggers has a pack of keto recipes WITH photos that are ready for your keto readers to consume with gusto.
Her original, kitchen-tested keto recipes with private label rights include:
Garlic Herb Roasted Chicken
Boneless Stuffed Pork Chops
Pulled Pork Lettuce Wraps
Super Easy Crisp & Crunchy Broccoli Slaw
Loaded Avocado Baked Eggs
Sausage Soup with Peppers & Spinach
Keto Pepperoni Pizza
Easy Wedge Salad with Homemade Blue Cheese Dressing
As a born foodie, just reading this is making my mouth water. And if your readers are anything like me, they'll be inspired for keto cooking after getting a view of Trish's beautiful, original photos. You can see the keto PLR recipes and photos for yourself on this page.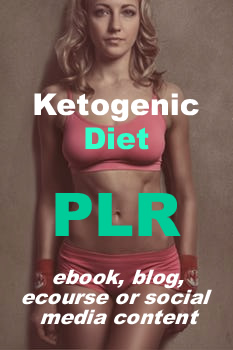 My husband lost 40 pounds on the Keto Diet and I wrote keto and low carb PLR articles based on his experience. Teach your low carb learners using this keto and low carb niche starter PLR pack!
NOW ONLY $11 with coupon code LETSGOKETO