Have a Safe and Happy Summer PLR Articles - JUST RELEASED at 1:00 a.m. EST on June 29, 2017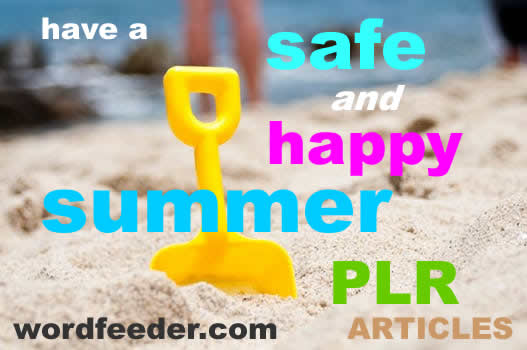 Searching for helpful tips on how to stay safe this summer while having fun?

Hey, it's Dina the Copywriter from Wordfeeder here.
I just wrapped up my 2-day writing marathon of 15 articles covering all the typical safety precautions of summer. And of course, I'm offering you a great deal for this pack of very timely, high quality articles that you can publish right away on your blog or in your newsletter.
Get Some Views, Clicks and Sales this July and August - With "Have a Safe and Happy Summer" PLR Articles for Instant Download
7,908 words total, 15 articles in all. Files are in MS Word format and will arrive via instant email download. If you sign up for a membership on Wordfeeder, you can access them from your member area after logging in at any time.
Article Titles:
1. Summer Safety Tips: Safe at Home and in the Neighborhood
2. Pool and Swimming Safety
3. Beach Safety: Fun in the Sun, Safe in the Surf
4. Summer Camp Safety Tips: Safe Campers are Happy Campers
5. Safe Trip! Tips for Staying Safe on a Family Road Trip This Summer
6. Drive Safe: Rental Car Safety Rules
7. Amusement Park, Zoo and Carnival Safety This Summer
8. Practice Good Safety While Hiking and Exploring the Woods
9. Campfire Safety This Summer
10. Safety While Grilling
11. Avoiding Poison Ivy This Summer
12. Protection from Pests: Avoiding Ticks, Fleas and Mosquitoes This Summer
13. Summer Safety Series: Avoid Sunburn While Out and About This Summer
14. Avoiding Food Spoilage This Summer
15. Summer Time Gardening Safety
Here's a Screenshot Sample: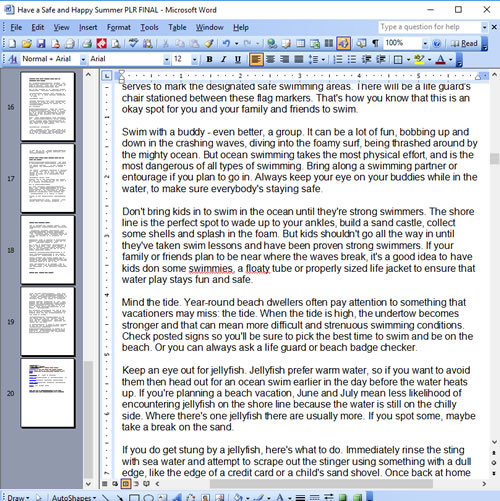 What can you do with all this great PLR?
Add images and tranform into a beautiful, branded ebook.
Turn it into an e-course for people to sign up for.
Set up individual blog posts in advance so you can take the work out of summer website publishing.
Paste each article into an issue of your newsletter, then set up to schedule at regular intervals during the summer months.
Find some great products to match up with the tips offered here - then add your Amazon links to earn from.
How much?
I'm offering this Summer Safety series of 15 articles for just $7, discounted from the regular price of $15. Now THAT's a sizzlin' summer deal!
File will arrive via email. If you have any trouble accessing, please contact me. THANKS for supporting my freelance business. CHEERS to you in yours!
---