Help Yourself to Wordfeeder's PLR for Self Development.
Whether it's improving relationships, setting goals, the power of positivity, or any other niche, you'll find the latest self-help content for easy instant download right here at Wordfeeder! Click here for a free membership or explore our latest PLR article packs, below.
January 19, 2018: Done-for-You Social Media Content
"Social Media Content Boosters" Monthly Membership Saves You Tons of Time and Dollars

Psst... have you heard about Alice Seba and Damon Green's "Social Media Booster" monthly membership? For less than $12 per month, you're equipped with the prewritten and pre designed social media content you need to post multiple times each day. Each month you get...
30 Conversation Starters (.doc)
30 Personal Development Quotes (.doc)
30 Personal Development Tips (.doc)
10 Conversation Starter Graphics (JPG and PSD)
10 Quotes Graphics (JPG and PSD)
10 Tips Graphics (JPG and PSD)

Oh, and the profit potential doesn't stop there because this content Isn't JUST for social media. Swipe the below ideas on how to make the most of this membership by republishing your monthly content stash to multiple platforms:


Schedule these tips to auto publish in advance using the Facebook scheduling feature or Hootsuite!
Paste to your autoresponder, add a greeting and signoff, and you're ready to connect and engage your readers
Load this content to a content rotator widget to stoke conversations or share a daily motivator or pearl of wisdom
Create a quick video or audio quote/tip to kick off the day on a productive and motivating note
Make it into a slide show - add graphics and music - minimal thinking required ;)
Convert easily to printables - magnets, mugs, tee shirts and more. Perfect freebies and bonuses for your clients and fans...
Plus, new members even get a sweet bonus gift of even MORE content with purchase. Again, that membership is less than $12 per month. It's too much for me to type here... just click the sales page for all the details.

Sign up and you're on your way to nearly effortless social media publishing thanks to Alice and her talented team of content creators. Tell her Dina sent you!
December 22, 2017: Done-For-You Motivational ECourse PLR
Are you a coach or self improvement guru on the lookout for well-written, motivational ecourse content?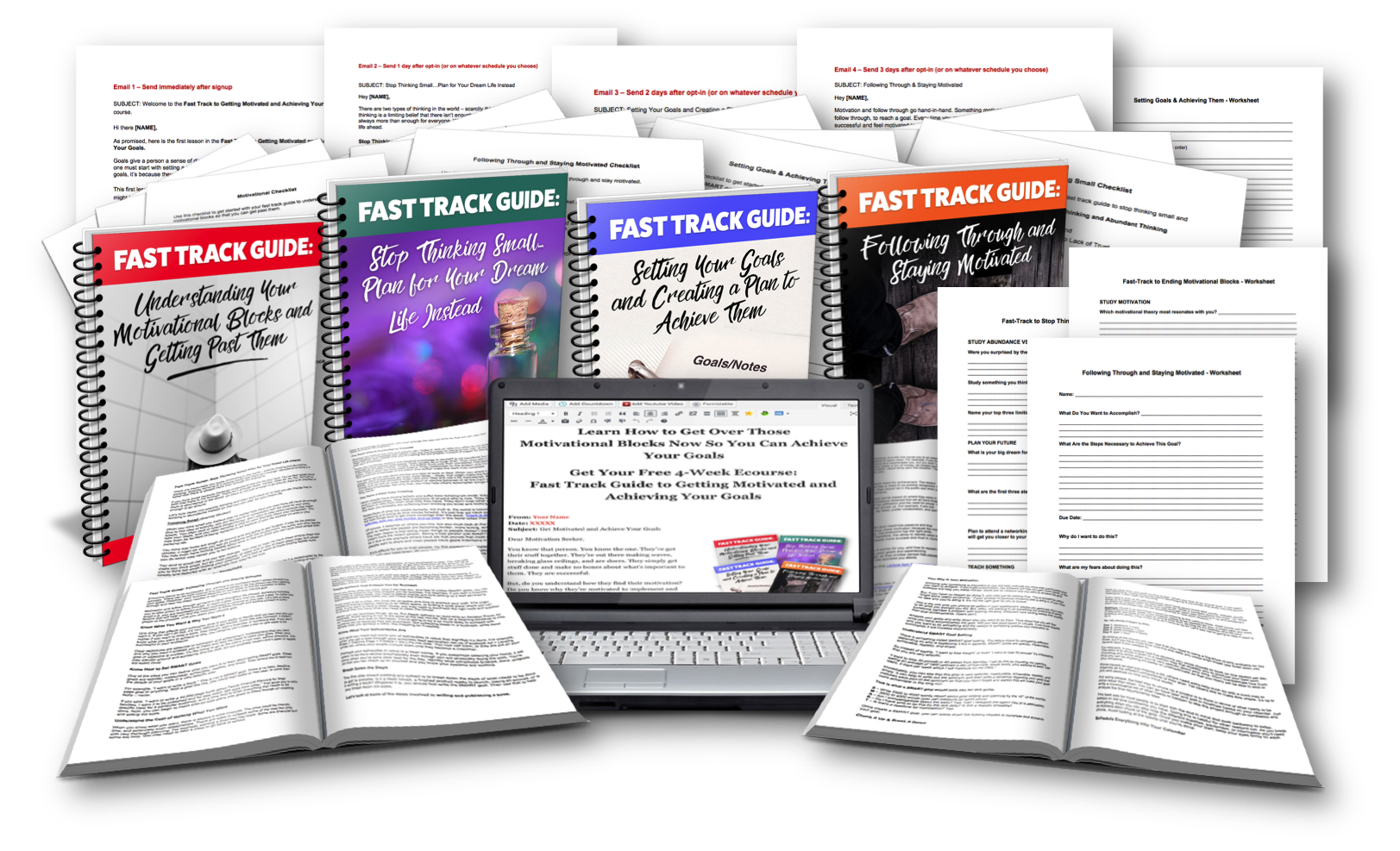 Lock into your program offerings to present to clients and subscribers in 2018. Alice Seba has an impressive, done-for-you, 4-part ecourse that covers motivational goals in detail. Set this pre-written, pre-designed up to share with your readers. All the work's been done for you thanks to Alice's talented team!
Goal setting relates to resolutions, making this a HOT topic as we head into January. Do you know what your peeps' plans are for 2018? How about instead of the post-Christmas crash, you spur them onto bigger and better things, with a whole calendar year in front of them to get excited and make those plans and dreams come alive.
Here's Alice's "Your Fast-Track Guide to Getting Motivated & Achieving Your Goals" Mega 4-Week Ecourse Package with 4 Guides, 4 Checklists, 4 Worksheets, 4 Sets of Ecover Graphics, Email Templates and Opt-in Page…All with Private Label Rights
Content like this would cost you thousands if you hired professional writers and artists to create it for you. Lucky thing, Alice is offering the private label rights to it for only $47!
December 8, 2017: Positive Thinking PLR for the New Year
Positive Affirmations PLR on Sale for a Limited Time Only!
Do you envision yourself offering your readers plenty of positive affirmations in the New Year? People really love to hear words of encouragement. So why not give them just what they want and need?
Alice Seba's PLR always goes over BIG. Today's special offer on Positive Affirmations content is no exception. Here's what she's included in her "Power of Positive Affirmations for Success and Happiness" PLR package:
One detailed report
30 affirmation graphics
Affirmation emails
You also get ready-to-paste opt-in page content. Pop it into WordPress, add your autoresponder code and you're ready to roll. Then market the affirmations using a professionally designed cover set!
What to do with this content? Add it to your private member site. Email them to your subscribers. Offer a an ebook or ecourse for sale. Add value to your coaching packages. Set them up as an opt-in to attract new subscribers. Share (with images) on social media!
How much, you ask? You can always count on Alice for a deal! This content would have cost you in the ballpark of $2,000.00 to have professionally created by a designer and copywriter.
Grab it for just $17 for a limited time only!
Ready-to-Go Self Improvement Newsletter Content
Pre-Written Self Improvement Newsletter Content? Yes, Please!
Hubba, hubba. I love me some practical solutions! Alice Seba's filled a great need here with her pre-written newsletter content.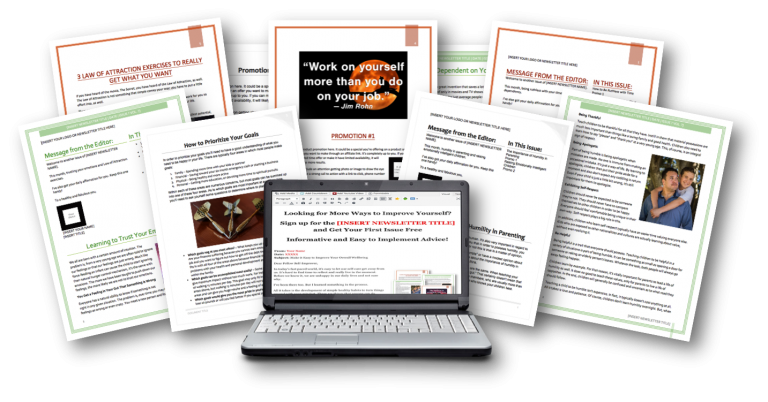 Her first PLR pack of this nature covered Health Newsletters, and the offer was a smash hit. Now she's cued up some done-for-you self improvement newsletters and I'm excited to share her high value offer that's available through the weekend.
Check out Ready-to-Publish Self Improvement Newsletters from Alice and the List Magnets team. Includes 4 newsletters, 16 articles, and a pre-built opt-in page.
Get a peek at the newsletter layouts right here
Click here for older offers on self help PLR from Wordfeeder and Friends