Happiness Ebook Content and Journaling Set - Rebrandable, with Private Label Rights
Hey, friend... here's a wonderful, eye-opening ebook content pack on Happiness from Piggy Makes Bank. Part 1 includes a 20-page ebook to edit if you choose, put your name on, brand with your logo and images if you wish, and sell or offer as a free giveaway to help you gain more subscribers. Part 2 is 30 journal pages to add a personal, introspective element to your ebook. The journal part makes this a hands-on learning tool that you can offer as an autoresponder course, set up inside your member area as "homework" for your followers, or a printable exercise to use at in-person workshops.

The 20-page ebook includes 6,024 words total, with articles on the following topics:
Why Your Happiness Matters
The Science Of Happy
Happiness and Nutrition
Happiness and Mental Health
Happiness and Physical Health
Happiness for Self
Happiness for Others
Happiness Is A Choice
You get all of this terrific, mind-expanding content for just $27… now that's a deal on a high quality pack that would have cost you hundreds or even perhaps a thousand to have a professional writer create for you from scratch. Go grab it now and get going on your next profit-generating ecourse to teach your people something wonderful!

"Buy Now" button opens up to PMB's sales page.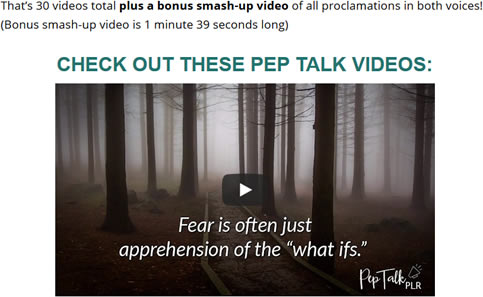 'Chele Neisler does amazing work creating video content that you can get the rights to republish. Her Positivity PLR pack includes multiple sets of professional quality videos - each tailored to all the popular sharing platforms. You won't have to worry about cutting or editing to fit a time limit - she's done ALL the work for you!
"Buy Now" button opens up to Michele's sales page.