Smart Phone Mindfulness - NEW Done-for-You Coaching Content! $10 Off for a Limited Time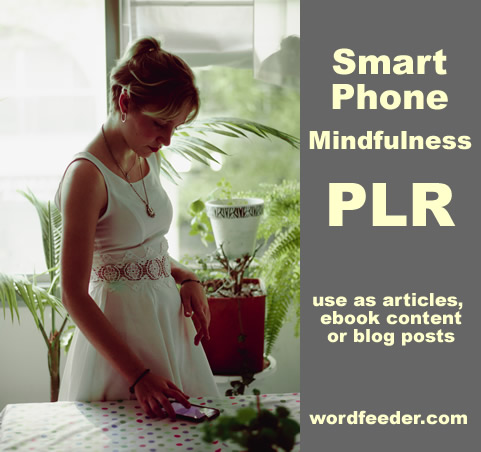 Be one of the first to offer guidance and insights on an extremely important and timely topic: Smart Phone Mindfulness. Ever wonder how people are really supposed to put mindfulness into action with phones constantly vying for our attention? Well now you have content to help your readers address this so they can live their best life while using smart phones to cultivate happy, healthy relationships and more.
This brand new, never-released content pack is perfect for you to turn into a 2-week email course, add images and make into a beautiful ebook download, share privately in your coaching group, add as a resource to your member area, publish as individual blog posts, paste snippets into social media, or all of the above and then some.
Regularly priced at $37
NOW ONLY $27
Use coupon code SMARTPHONE at checkout to get your coupon discount! Limited time only offer.
---
Launch Your next Ebook, Course, Workshop with... brand New RElationships Content from Wordfeeder!


"Love Your Tribe" PLR Articles and Journal Prompts - 7,000+ Words!
Audiences: Coaching, Self Help, Psychology, Mental Health, Relationships
Titles include:
1. What's a Tribe?
2. The Importance of Having Your Own Tribe
3. JOURNAL IT: Questions to Ask as You Ponder Your Tribe
4. What Makes Your Tribe Special
5. Why Your Family May Not Qualify as Belonging to Your Tribe
6. Be Empowered by Your Tribe
7. JOURNAL IT: Remembering the Value of Your Tribe of Friends
8. How Can Friends in Your Tribe Show Support for Each Other?
9. JOURNAL IT: Recall the Support of Others
10. Thrive with Your Tribe During Times of Transition
11. The Importance of Face-to-Face Connections with Your Tribe
12. Seek and Find Your Tribe
13. Leverage Your Tribe to Help One Another
14. Accomplish Amazing Things With Your Tribe on Your Side
15. Does it Take a Village?
16. JOURNAL IT: The "Village" Concept in Action
17. New in Town? Where to Find Good Peeps to Add to Your Tribe

NOW ONLY $19
for more than 7,000 words of high quality content. Type in coupon code TRIBE at checkout for your discount! Expires Thursday, April 4, 2019.