Slow Cooker Recipes PLR Content - $3 Off with Coupon Code SLOWCOOKER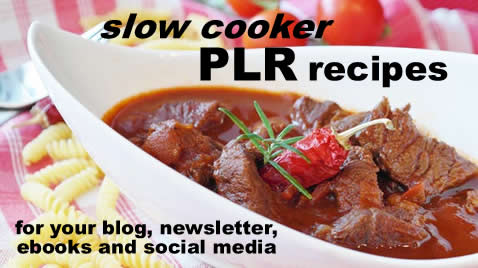 Hey, friends! This is Dina with Wordfeeder PLR. Are you in search of some pre-cooked PLR recipes to share with your home and family or foodie fans this winter? I have a great pack of done-for-you slow cooker recipes from my friend Carol the writer.
This winter's a cold one, so for the folks out there digging their way out from under mounds of snow, these slow cooker recipes that fill the belly and warm the bones will be well received. Just think of the possibilities for a series of well-written recipes for popular dinner and dessert choices that can be slow cooked in a crock pot, Instant Pot, or other type of slow cooker.
Cook up some profits. These slow cooker publishing ideas could be the recipe for your online success...
Publish as stand-alone recipes in your blog. Test them out first and take pictures... a tasty way to get more eyes on your food or family website.
Share them in your newsletter. If you put out weekly or bi-weekly mailings, a series of slow cooker recipes would be welcomed by your readers this winter.
Publish them all in a "slow cooker" ebook or cookbook that you sell or share with your list.
Share on social media. Don't forget to publish the links to all of your slow cooker recipes on social media. This is an excellent way to drive targeted traffic to your blog, get more advertising clicks and signups to your list.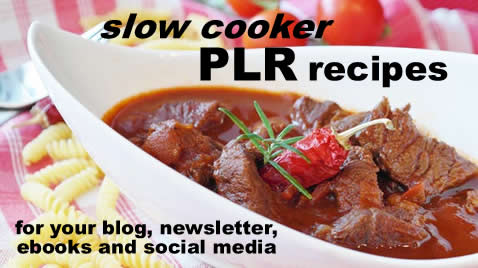 Slow Cooker Recipes - You Get the Private Label Rights to Edit and Publish Anywhere You'd Like
This set of done-for-you slow cooker recipes will work great for your Instant Pot, crock pot, or other type of slow cooker blogging effort. Cozy up to some slow cooked PLR recipes… 3,436 words in all, ready to publish. Just add images, ads and links, and you're good to go.
Recipes in this PLR pack include:
• 4-Ingredient Slow-Cooker Swedish Meatballs
• 5 Ingredient Slow Cooker Cherry Cobbler
• Easy Cinnamon Roll Bread Pudding
• Hearty Slow Cooker Beef Stew
• Mama's Slow Cooker Turkey Chili
• Overnight Maple and Fruit Oatmeal
• Savory Pot Roast with Baby Vegetables
• Slow Cooked Lightened Up Smothered Steak
• Slow Cooker 3-Ingredient Apple Sauce
• Slow Cooker Chicken-on-the-Roof Pot Pie
• Slow Cooker Comforting Chicken and Dumplings
• Slow Cooker Creamiest Mac and Cheese
• Slow Cooker Honey Barbecue Pork Sandwiches
• Slow Cooker Light Hashbrown Casserole
• Slow Cooker Meat Loaf
• Slow Cooker Peas and Chicken Ala King
• Slow Cooker Pulled Pork Surprise Nachos
• Slow Cooker Red Beans and Rice
• Slow Cooker Yummy Brownie Cake
This set of Slow Cooker Recipes is $3 off with coupon code SLOWCOOKER from January 17 through January 22, 2018.
Offer EXTENDED to March 6! Sign up for your Slow Cooker Articles while this deal lasts.
Now is your chance to add a hearty helping of done-for-you slow cooker recipes to your publishing arsenal. We've done the hard work... you get all the advantages! And best of all, you save thousands on copywriting and even design services when you buy done-for-you PLR content from Wordfeeder.com.
regularly $13

NOW ONLY $10 with coupon code SLOWCOOKER
Offer expires Jan. 22, 2018 March 6, 2018

THANKS for purchasing PLR content from Wordfeeder. I hope you find value in this excellent quality PLR content. And THANK YOU for supporting my freelance business. CHEERS to you in yours!
Cooking PLR Articles, Recipes and Tips for Food Bloggers