Business Coach, Done-for-You Content to Use in All Your Programs and Workshops
Searching for high quality business related content to grow your list and present as a free gift or paid ebook for your readers?
Need content that speaks to the business start-up and work-from-home crowd, to use in your coaching programs, workshops, and videos?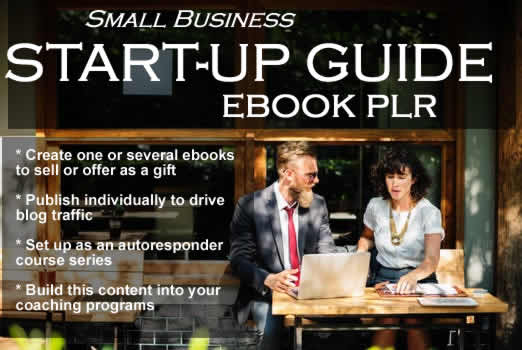 Introducing Wordfeeder's Small Business Startup Guide PLR Pack 1 - the first in our ongoing series
Hi there, Dina of Wordfeeder PLR here with another superb PLR content offer for you to present to your readers. :) This one is our Small Business Startup Guide and I will be "feeding" it to you over the course of several, topic-specific PLR packs. It's perfect for the internet marketing, entrepreneur, creative freelance, and work from home audiences.
I'm kicking things off with Pack 1 in the Small Business Startup Guide PLR Series. This pack contains a total of 3,691 words, including the following:

• Intro: Step into the World of Entrepreneurship
• Signs It's Time to Start Up Something
• Questions to Ask as You Embark on Your Small Business Startup Venture
• Money Matters, and the Up-front Investment: How Can You Start a Business with No Capital?
• Before You Begin: Small Business Essentials
• Registering Your Small Business
• Tips for Consultants, Freelancers and Other Service Oriented Businesses
• What Will You Sell? Questions to Ask While Mapping Out Your Products and Services

I have much more business startup related content that I'm planning on adding on to this series. The end result of putting all the PLR together is a complete, comprehensive Small Business Startup E-Guide, and I encourage you to make it into exactly that if you think it's something your people would respond to and appreciate.
As with all of the PLR content I produce on Wordfeeder, I promise high quality information and exceptional writing. If you need more reassurance, here's a screen shot sample of exactly what you'll be getting: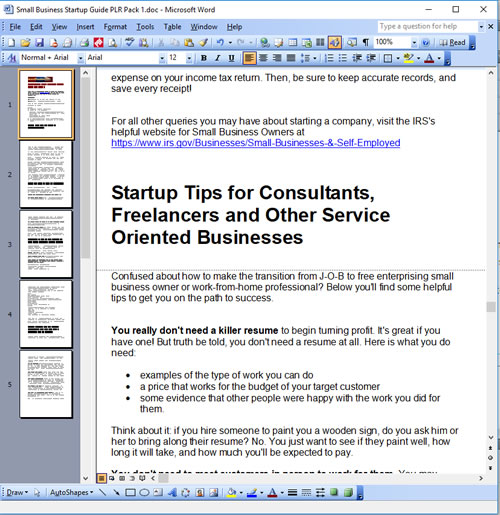 Wordfeeder's Small Business Startup Guide PLR Pack 1 is just the beginning.
If you'd like to get your first taste of where I'm going with the Small Business Startup Guide PLR, then grab your copy of Pack 1 in the series. There is more content coming very soon, and I'm excited to get it out to you as soon as possible.
Originally $35.
NOW ONLY $17
How to Access Your Files:
Once your order processes, you will be asked to create a login to the Wordfeeder member site. Do this, then check your email for a confirmation, plus another email containing your delivery of the files.
If you have any questions or trouble with your download, email me and I'll get back to you as quickly as possible.
THANKS for supporting my freelance business. CHEERS to you in yours!