Smart Phone Mindfulness - NEW PLR Content, Coming Soon!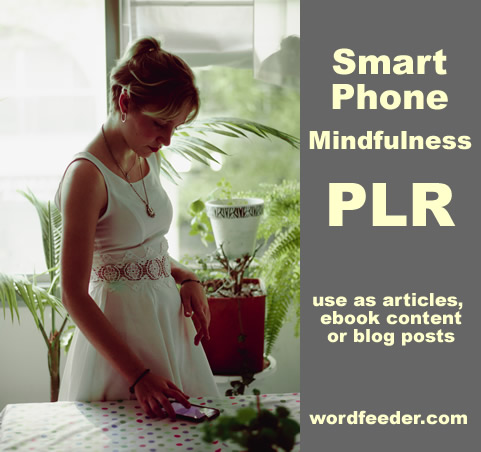 Hey, friend! Are you a smart blogger or internet publisher who knows that done-for-you content written by trusted experts is the way to keep new signups and sales coming in while helping people learn new things, solve their problems and live happier, healthier, more productive lives?
I'm Dina, and I've been writing copy with great delight since the tender age of 9 when I picked up a mail order catalog and began editing it for fun. These days, I sell private label rights content for busy webmasters right here at Wordfeeder.com.
If you're on the hunt for great information, want to target specific niches like Home and Family, Health & Wellness, Business, Relationships, Coaching and more, then sign up for a free membership right here and you can take a test drive of our free PLR articles immediately.
I'm currently working on a highly popular topic that works across multiple niches, including parenting, mental health, holistic lifestyles, life coaching, self-help, wellness, technology, and more.
The topic is Smart Phone Mindfulness. We all use smart phones, and we all know the stress and counter-productivity that occurs when we over-use smart phones. So this is what we'll be addressing for your readers who want to get better at managing their lives while NOT becoming a slave to the technology.
Smart Phone Mindfulness - New Content Being Created as We Speak!
Here's a list of tentative titles for this pack. I'm thinking this could work well as an ebook download that you can share or sell. Another option is to publish each article individually. Whatever use you come up with for this content is sure to be profitable, not to mention enhancing the lives of others.
Smart Phones and Stress
How to Streamline Your Smart Phone so You're Not Always On It
7 Tips for Staying Present for Your Friends & Family When Smart Phones Are Near
Physical Side Effects of Technology Overdose
Smart Phone Addiction and How to Stop It
Teaching Kids to be Present and Not Attached to Their Phones
7 Reasons to Not be Connected to Technology All The Time
How to Make Others Feel Important, Special and Loved While Using Your Smart Phone
The Importance of Technology Breaks
Relationships Suffering? 5 Tips for Changing Bad Technology Habits and Getting Along Better With the People Around You
Communication Chaos and Why It Happens
You Rule the Technology, Not the Other Way Around
Feeling Stressed? It Might Just Be Technology Overload
Setting Rules for Smart Phone Use at Work and at School
Here's a sample of the content in production, for you to start thinking of great ways to put this to use!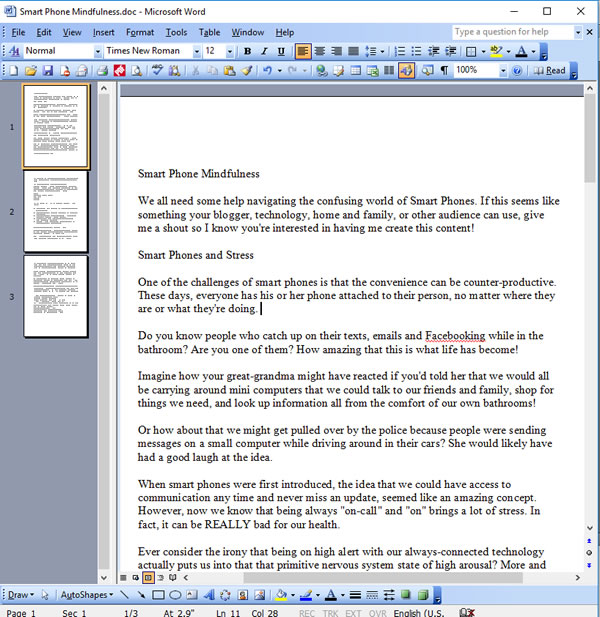 Want to be one of the first people notified as to when this content goes live?
Sign up using the button below. (If you're already a member, there's nothing for you to do but wait for an email update from me. Or, go shopping for any other type of content on Wordfeeder - we have something for everyone!)

Oh, and if you've never sampled the done-for-you content that we offer here at Wordfeeder, I encourage you to log into your member area, look in the top menu and download your favorite topics that are sure to be an instant hit with your audience of readers, coaching clients and more.
How to Access Your PLR Content:

Once your order processes, you will be asked to create a login to the Wordfeeder member site. Do this, then check your email for a confirmation, plus another email containing your delivery of the files.
If you have any questions or trouble with your download, email me and I'll get back to you as quickly as possible.
PS: Don't forget! In addition to this high quality slide presentation, you also get a TON of free content once you log into the Wordfeeder member area. Check the top menu and look under FREE PLR to see what's offered.

THANKS for supporting my freelance business. CHEERS to you in yours!
More Health and Wellness PLR Articles, Ebook Content, Social Posts