Hey there, this is Dina from Wordfeeder PLR.
Does Scarcity Thinking have a hold on you?

Do you let limiting beliefs prevent you from taking action in your business?

Are you leaving professional relationships, opportunities and money on the table because you keep psyching yourself out?
It's time to transform your scarcity thinking into an Abundance Mindset and make swift moves toward becoming a high income earner online.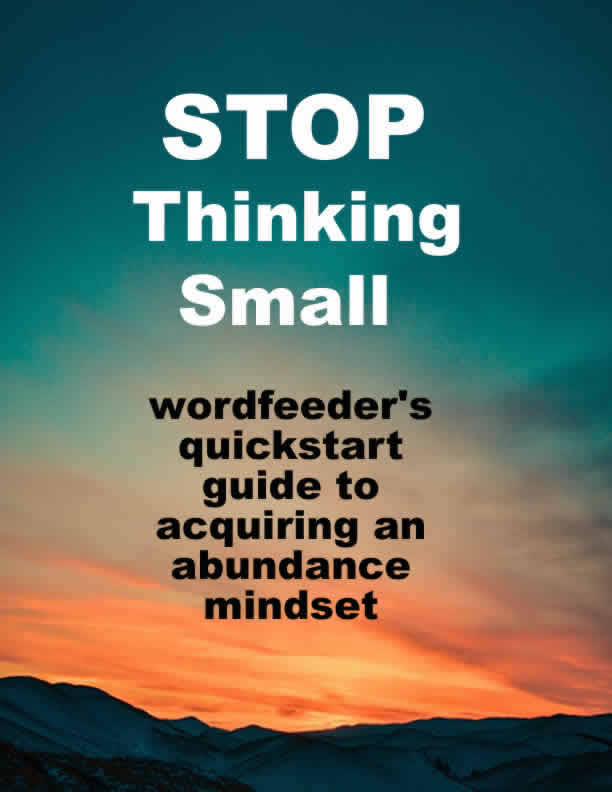 Grab Your Free Copy of "Stop Thinking Small: Wordfeeder's Quickstart Guide to Acquiring an Abundance Mindset"
You may have heard the term scarcity thinking. It's the falsely perpetuated belief that there's not enough to go around. Not enough money. Not enough ideas. Not enough success. Not enough energy resources for our planet to continue sustaining life as it keeps turning.
Why do some people embrace an abundance mindset, while others cling hopelessly to scarcity thinking?
You'll find the answers to this question, plus a ton more inspiring words of wisdom, in the free guide that I'm offering for download at absolutely no cost to you.
Grab your free Abundance Mindset e-guide right now. Learn what the gurus know when it comes to success, prosperity, and creating a business doing what you love.
To grab your instant free PDF copy (no, it's not PLR! It's a gift for you to learn from), just sign up for a Wordfeeder membership.
Not only will you be getting your very own transformational e-guide designed to enlighten, inspire and fuel you with purpose... but you'll also get instant access to all the FREE content in Wordfeeder's PLR Private Members Area.
Here's What Else You Get: FREE PLR!
As soon as you sign up and log in, you'll see the following PLR (private label rights content packs). Feel free to use them as your own. You can put your name on them. Add your branding. Edit to your liking. Then, publish in your blog, your email marketing, as part of an online course, as a client handout, or whatever else you can think to do with all this superbly written informative content.
Free PLR pack 1: Breastfeeding Q&A Content
Free PLR pack 2: Cell Phone Etiquette Articles
Free PLR pack 3: Essential Oils Q&A Content
Free PLR pack 4: Home Organization Tips
Free PLR pack 5:How to Grow an Online Business by Writing Articles
And finally, you'll get frequent email alerts on the latest PLR content deals from Wordfeeder and friends. (So pick an email address to sign up with that you'll be happy to hear from me and have these great offers sent to you.)
Your e-guide download will arrive via email after you sign up and confirm your Wordfeeder Content Membership. I found the e-guide to be thoroughly motivating and attitude-changing. I hope you'll feel the same. If you enjoy what you read, feel free to share it with a friend.
See you on the email side!