NEW! Wedding on a Budget PLR Bundle - Now Only $17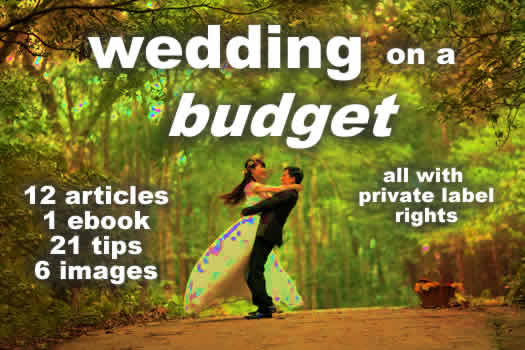 Are you on the hunt for new articles to publish in your wedding blog?
Think you could pocket some spending cash by publishing to the Budget Wedding niche?
Hey, it's Dina from Wordfeeder PLR. We have a terrific pack for you to make money on! This is a 3-part bundle of "wedding on a budget" written by Dee Power. She JUST released this content on April 18, 2018.
Look at All of the Wedding PLR Content that YOu Get for Just $17
This is what's included in Dee's high quality PLR pack of wedding content. Once the order goes through, it's yours to publish anyhow and anywhere you like!
12 Wedding PLR Articles Plus 21 Bonus Wedding Tips - 5,988 words total
1. Wedding Dresses Weren't Always White 405 words
2. Elegant Silk, Taffeta or Velvet? 469
3. Formal or Informal: Which Style is Right for You? 475
4. Styles of Wedding Gowns 402
5. Send Your Wedding Guests Home With More than Warm Wishes 407 words
6. Fabulous Fall Wedding Flowers 405 words
7. Glorious Spring Wedding Flowers 443 words
8. Wedding Favors on a Shoestring Budget - Ideas For Spring 456 words
9. Wedding Without Flowers Just Wouldn't Be a Wedding 402 words
10. Champagne Wedding on a Strictly Beer Budget 489 words
11. Weddings on a Shoestring Budget - Think Small to Save Big on Food 470 words
12. Bridesmaids and Ushers: Is That All There Is? 413 words
BONUS #1: Done-for-You Wedding Ebook: "Weddings on a Shoestring Budget" - 9,961 words with images*

BONUS #2: 21 Wedding Tips
Bonus #3: 6 wedding images for you to publish along with this written content. (Feel free to use these images, or create your own!)

* Ebook is included in a separate MS Word document, with images placed throughout.

EBook Chapters Include:
Chapter 1 First Things First: Establish a Budget
Chapter 2 Don't Spend a Fortune on the Flowers
Chapter 3 Your Wedding Dress and Your Bridesmaids
Chapter 4 Glorious Gifts for Your Wedding Party
Chapter 5 Keepsakes for Your Guests That Won't Max Out Your Credit Card
Chapter 6 Cutting the Costs on Your Wedding Cake
Chapter 7 Conserve Your Cash While Your Guests Eat, Drink, and Be Merry
Chapter 8 Delightful But Affordable Decoration Ideas
Chapter 9 Just for Fun
Chapter 10 Save on Your Engagement and Wedding Rings
Chapter 11 Photography Tips

Chapter 12 Practical Printing Pointers

Screen shot Article Sample for you:
And Here's a Sample of the Ebook Content: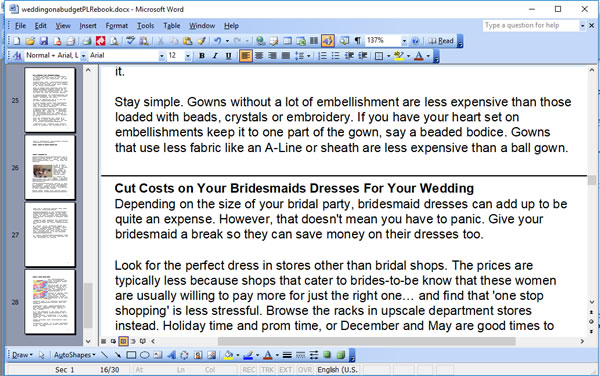 Delivery: MS Word file. Arrives via email upon receipt of PayPal payment. Your file will also be accessible each time you log into the Wordfeeder member area.
Grab your share of the nearly 300 billion dollar wedding market Right Now
It's easy when you have high-quality, low-priced content working for you every day. This is information that frugal brides want and need, and now you can easily give it to them thanks to Dee's Wedding on a Budget PLR bundle.
What to Do With This Content?
Upload the ebook to your server to sell at an affordable price point.
Use the artilces to generate traffic to your blog where you'll have the link to purchase the ebook
Push the tips out on social media to drive even more traffic and sales!
OR... If you're just starting out in the wedding niche and want to make a big splash, you can use the ebook as a free giveaway to entice new subscribers to your list every day!
OR... make mini e-guides from the existing e-guide content, and use them as free opt-in gifts to laser-target your wedding subscribers into sub-categories of customers!
NOW ONLY $17

PS: Don't forget! In addition to these high quality articles, you also get a TON of free content once you log into the Wordfeeder member area. Check the top menu and look under FREE PLR to see what's offered.

THANKS for supporting my freelance business. CHEERS to you in yours!

Even More Simple Living PLR