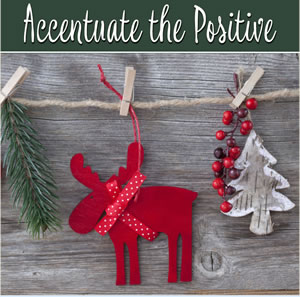 Beautiful, Christmas PLR Images With a Positivity Theme
for Your "30 Days Blessed This Christmas Blog and Social Media Challenge," OR a December Positivity Challenge that You Brand and Create on Your Own!
Hey, everyone! It's me, Dina of Wordfeeder PLR. I'm excited! Again. Those of you on my mailing list know that I created a 30 Days Blessed This Christmas Positivity Blogging and Social Media Challenge.
This content is available for you to purchase the private label rights to at a very budget-friendly price.
I had asked my talented designer friend 'Chele Neisler of Pep Talk PLR for a Christmas themed package of 5 images.
BUT instead she went ahead and created a brand new pack of Christmas PLR images, 30 of them in total. And they are just GORGEOUS!
Take a look: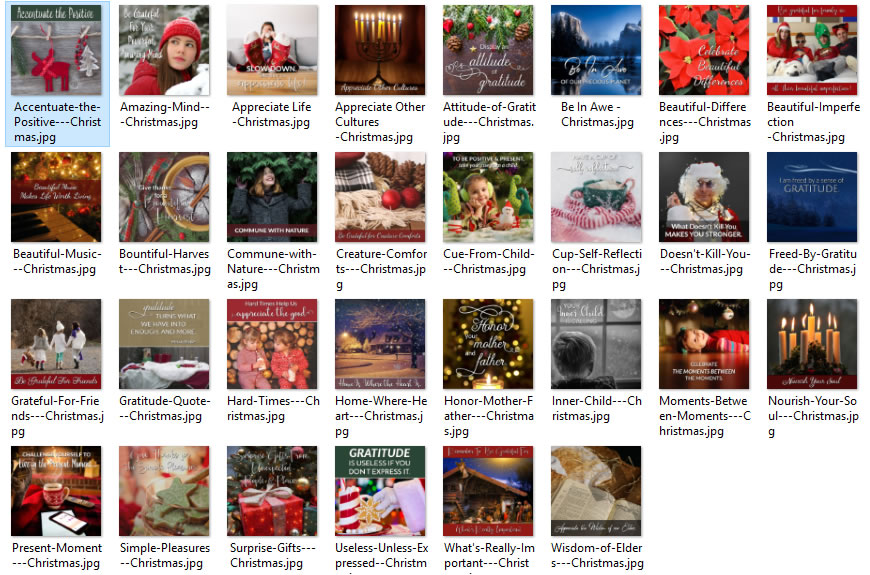 If you're about to set up your 30 Days Blessed This Christmas Blog and Social Media challenge, then this is the perfect time to grab Michele's 30-pack of beautifully designed PLR social images.
Some ideas for what to do with them:
Add them to your blog posts
Use them to stoke conversations on social media
Include them in your Postivity Challenge autoresponder series
Add them to private coaching materials
Include them in a positivity ebook for the holidays
...Anything else you can think of!
Here's what the images say... one for each "themed" day of positivity, for 30 days.
Accentuate the Positive
Slow Down. Take Time to Appreciate Life!
Display an Attitude of Gratitude
Celebrate Beautiful Differences
Be Grateful for Family in All Their Beautiful Imperfection!
Beautiful Music Makes Life Worth Living
Be in Awe of Our Precious Planet
Give Thanks for a Bountiful Harvest
Be Grateful for Creature Comforts
To Be Positive and Present, Take Your Cue from a Child
Have a Cup of Self Reflection
I am Freed by a Sense of Gratitude
Be Grateful for Friends
Gratitude Turns What We Have into Enough and More
Hard Times Help Us Appreciate the Good
Home is Where the Heart Is
Honor Your Mother and Father
Your Inner Child is Calling
Celebrate the Moments Between the Moments
Nourish Your Soul
Challenge Yourself to Live in the Present Moment
Give Thanks for the Simple Pleasures
Surprise Gifts from Unexpected People and Places
Gratitude is Useless if You Don't Express It
Remember to Be Grateful for What's Really Important
How Much for These Beautiful PLR Holiday Images?
If you had a designer custom-create these for you, it'd cost hundreds of dollars. But at Wordfeeder PLR, you can get THIRTY of them for less than $20. Now THAT is a deal worth grabbing!
NOW $17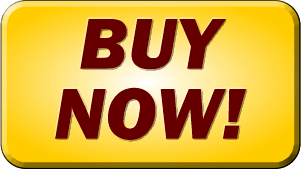 Pssst... if you haven't yet ordered the "30 Days Blessed This Christmas" articles and exercises, you'll see them available for purchase from the checkout page after you click BUY NOW.
How to Access Your Product, "30 Days Blessed This Christmas" PLR .JPG Images (30 total) from Michele Neisler:

Once your order processes, you will be asked to create a login to the Wordfeeder member site. Do this, then check your email for a confirmation, plus another email containing your delivery of the files.
If you have any questions or trouble with your download, email me and I'll get back to you as quickly as possible.
THANKS for supporting our freelance writing and design businesses. CHEERS to you in your blogging success!