Good morning, all! It's a beautiful day. I simply must go running while the temps are still low here in the northeast. That's part of my midlife self care routine. 🙂 *Actually I've always run/walked… probably since age 19 I've been doing this. But in my late 40s, it's more important than ever to stay on track with exercise. That's just one topic we touch upon in the "Reverse Aging" Ebook that I've created for my coaching clients to create EASY, quick profits while helping people.
Yesterday I did some keyword research on this topic to see how the issue would be received by a self-help audience. Just as I suspected. The search volume on this topic is MASSIVE. 38,000 searches on "midlife" crisis" alone? Then there are sub topics of that. You can view all of the search numbers on my Canva Ebook Reverse Aging product page where I address the topic and then present this brand-new, teachable material.
If you're a coach, you likely have clients who are in the midlife crisis phase of their lifetime.
I know what that's like because I am in my late 40s. Anyway, the midlife crisis is a huge deal and I wanted to see how big of a deal it is so I did some keyword homework.
I put my keyword results right on the product page for our new 44-page Canva ebook that's ready to sell. If you want to see just how many people are desperate for answers about the midlife crisis, go take a peek.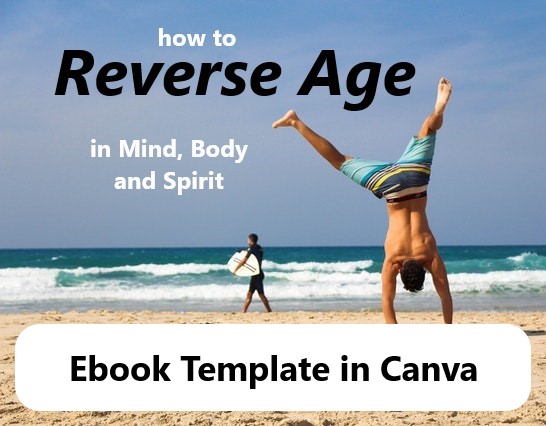 I didn't call our reverse aging eBook "The Midlife Crisis Solution", but that's what it is. So if you were thinking of selling an ebook and you wanted a bangin' lead-in for the top of your sales page, the words midlife crisis will absolutely get you some mad traffic.
That's what your future ebook purchasers and potential coaching clients are googling under the cover of night and they need help. Furthermore, the midlife crisis crowd has bucks to pay for coaching packages and digital products.
So it might even be a good idea to upsell them to a unique coaching package that helps them navigate the middle years in a fun and inspiring way that helps them feel youthful and start embracing healthy habits to nurture mind, body and spirit.
That is what the reverse aging ebook is really about, and it's all ready to go so you only need to create a quick sales page, pop it into your chosen selling platform and then spread the word. It's that easy to sell a digital product. Oh, just don't forget to put your brand in there. You have to log into Canva, access the document via the link that I'll send you after your order goes through, then add your company name and other info in a few spots throughout the text.
Also don't forget to put images and promotional copy on the pages in the back where I have saved some space for you to include your coaching package upsells. And if you don't have any upsells yet, you can simply delete those pages. There's a little icon that lets you delete any page that you don't wish to include in the ebook.
When you're done with that, you just click download from inside Canva and the file will automatically convert to a pdf. Save the PDF to your computer, then upload to your digital selling platform. Easy peasy.
Go here to look at those insane search engine results on midlife crisis. People want answers. I would even venture a guess that those high numbers on "midlife crisis men" are probably being googled by women! Meaning their wives and partners. It's a weird time LOL… you can make it fun though. Actually, really fun. Take your clients there, take the first step and use this ebook to break ground. You could create a new program that your clients really love. Got ideas? Talk to me! Let's brainstorm.
Your coupon code to save $20 on this is AGELESS. Go get it, set this up to sell… it will take almost no time, the work has been done! Offer ends soon, so don't put it off. 🙂
–  Dina at Wordfeeder PLR