"Fit in Your 40s and 50s: Women's Edition" 16 PLR Articles or 8600 words is NOW LIVE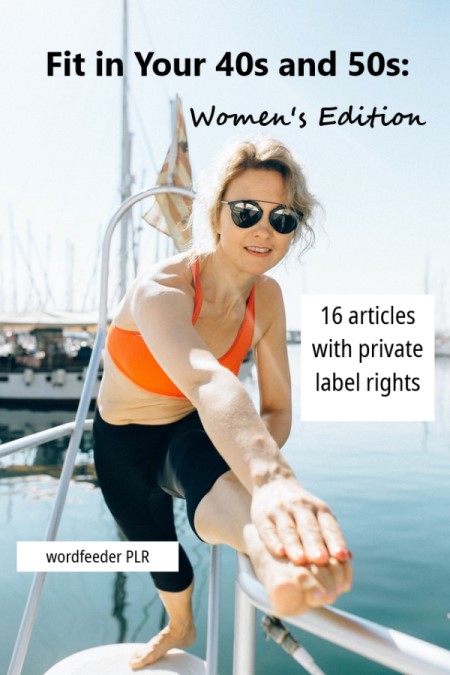 Who should publish: Personal trainers, fitness experts, health and wellness influencers, weight loss experts, health coaches.
Content comes with private label rights to sell or share as your own. Make into an ebook, course, email series, blog posts, video course or anything else you can think of!
Rules: Please do not include our name on the content. Do not resell as PLR. Full licensing terms can be found here.
Your article titles include:
1. Intro
2. Is it Possible for an Overweight Person to Lose Weight in Their 40s and 50s?
3. Fat Redistribution Can be a Problem for Middle-Aged Women
4. Hotter in Your Forties and Fifties? Yes, It's Quite Possible.
5. Fitness for Women Over Forty: Do it For Your Health
6. Steer Clear of Perfectionism When Trying to Lose Weight
7. Should a Middle-Aged Woman Go Low-Carb to Lose Weight?
8. Steps to Take if You'd Like to Try Low-Carb as a Middle-Aged Woman
9. Good Fats for Forty-Somethings: Eating Fat to Lose Weight at Middle Age
10. Perimenopause, Menopause, Weight Loss, and Hormone-Rich Foods
11. For Women in Your 40s and 50s: Signs that Your Weight Loss and Healthy Eating Plan is Working for You
12. How to Improve Your Digestion Naturally, for a Slimmer Middle at Middle Age
13. What's a Safe Amount for a Middle Aged Woman to Run for Exercise?
14. Best Forms of Exercise for Women in their 40s and 50s
15. Exercise and Bone Health at Middle Age
16. A Good Night's Sleep can Help You Lose Weight if You're a Woman in Your 40s or 50s