Hi %user.name_f%! You may have heard about our Pot Luck PLR Club Membership. It's generally targeted to mom bloggers, and home & family publishers BUT this month we have some really nice fall images you might want to grab.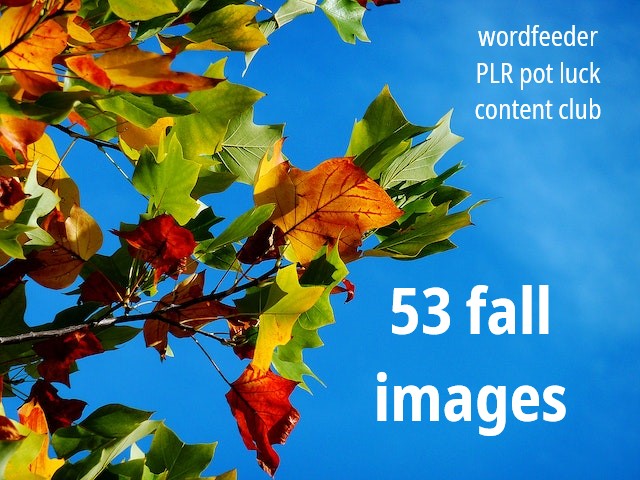 As you can see, I used one of the included images to create the little graphic that you see right here. You can do this with your promotions, too. Q4 is coming… you want nice autumnal themes for your website, emails and socials!
More About the Pot Luck Club. ALL the content that we added to this membership since May 2022 is available for just $5 per month. So even if you don't generally publish to the home, simple living etc. audience, these images in particular may come in handy for your fall website updates. Edit them to add text and share along with your blog articles, social posts, etc.
Okay, the summary: We just added NEW content: Fall Images – 53 Total – PLR – Small .JPG files. Download your images here if you're already an active Pot Luck Content Club member.
If active with the $5 membership, your content is available inside your member account any time you log in. Look in the top menu under the Pot Luck PLR tab.
Here's what the 53 fall PLR images look like. Pinch to zoom if using a smart phone.

These PLR fall images will be perfect for your Q4 publishing projects.
Some are fall backgrounds which would work great for you if you plan to run some fall promos and need to pop in some text advertising that.
I also found a bunch of pretty ladies wearing coats and hats walking around outdoors. Could work well if you like to freshen up your coaching website for a seasonal look. I do! If you release fall programs, these images will also work for that.
Again, all images can be edited to include text.
So if you're launching, say a 30-Day Gratitude Challenge, just choose one of these images and type in "Gratitude Challenge" or whatever you plan to call your event. (We have GREAT gratitude challenge content too – check this page for more info. This content is lengthy and in-depth, and NOT included as part of the $5 content club as the value and profit potential is high).
If you're unable to access your fall images content, it may mean that you're not current with your Pot Luck PLR Membership. Renew here.  Contact dina@wordfeeder.com with any issues or questions.
For an overview of ALL content that comes with the Wordfeeder Pot Luck PLR membership, visit this page.
Thank you for supporting my freelance content business. I appreciate you, and wish you the best of success!
Dina at Wordfeeder PLR