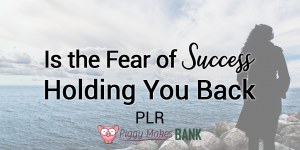 Great news, business coaches! This is a neat little content pack that you can set up really quick as a set of articles on your blog or an email series that goes out automatically. Fear of success is something that your entrepreneurial clients struggle with.
Once they hit it big, now what? Success brings increased pressure, financial changes, more responsibility, a thrust into the public eye, people judging you and much more.
On some deep level we know this… and for entrepreneurs, the subconscious thoughts might keep us stuck when we really want to move ahead.
Talk to your clients about this thanks to this done-for-you content from Piggy Makes Bank. Add your own thoughts and turn it into a workshop for your business coaching clients
Is the Fear of Success Holding You Back? ($27) Includes 5 Articles, 5 Emails, eBook Compilation, 5 Social Media Posts and 5 social media images.