Brand NEW Health PLR:
Boost Natural Immunity Ebook PLR: Beat Coronavirus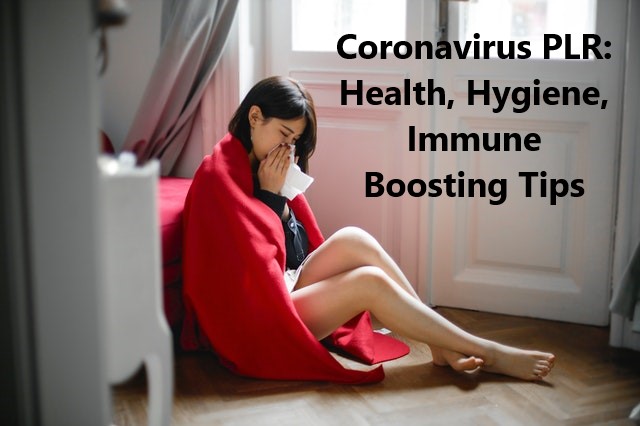 Content with Private Label Rights: 14,700 words total!
Hey, everyone! Guess what, Delta variant is coming to a school near you. That means your readers will be frantic to buy products that help them stop the spread and severity of Coronavirus.
Here's some new, needed content for my health and wellness publishers, or anyone else who would like to share tips to drive traffic to your website and share affiliate links to products.
Facts about this content:

Format: Some Q&A, Some articles
Carefully researched: YES
Well written: YES
Quotes from medical authorities and doctors: YES
Sources cited and linked within the text: YES
Contains CDC-sourced advice: YES
Contains disclaimers to protect you: YES
Contains alternative/natural health recommendations: YES
Contains Amazon product links to recommended vitamins, supplements, health and hygiene, and natural health remedies: YES

Title of pack: Boost Natural Immunity Ebook and Blog Article PLR: Beat Coronavirus
Simple, Commonsense Practices, Home Remedies, Cleaning and Hygiene Tips to Help Keep Your Immune System Strong, Prevent the Spread of Germs and Overcome Coronavirus Quickly While Hopefully Avoiding Complications and Staying Out of the Hospital
 
Your content with private label rights includes 14,700 words and includes the following:
1. Intro
2. What's a Coronavirus?
3. What is COVID-19?
4. What Does SARS Mean?
5. What is a Betacoronavirus?
6. What is a "Natural Reservoir" for a Virus?
7. What Other Types of Viruses Cause the Common Cold and Other Illnesses in Humans?
8. How Does Coronavirus or COVID-19 Spread?
9. What Are Symptoms of Coronavirus or COVID-19?
10. Recommended Product: COVID At-Home Testing Kits
11. Can Vaccinated People Still Get Coronavirus or COVID-19?
12. How Likely Are Complications of Coronavirus or COVID-19?
13. When should you be concerned that your child is high risk for complications related to COVID-19?
14. How likely are you or a family member to die from COVID-19?
15. What to Do After Testing Positive for COVID-19
16. Coronavirus or COVID-19 Positive: Common Questions Answered
17. What Does the CDC Recommend for Someone Who Tests Positive for Covid-19?
18. What is the Difference Between Quarantine and Isolation?
19. What to Do if You're Isolating for COVID But Have a Doctor's Appointment
20. General Tips for Eating Healthy While Recovering from Coronavirus
21. You or a Family Member Tested Positive for Coronavirus? Here's a Simplified Grocery List of Food and Supplies
22. What Vitamins and Supplements Should You Take if You've Tested Positive for Coronavirus?
23. What Are Good Sources of Vitamin C for Adults?
24. What Type of Vitamin C is Recommended for Children?
25. Vitamin D for Immune Health
26. What About Taking Zinc for Coronavirus?
27. Why won't your doctor recommend vitamins to speed recovery from Coronavirus?
28. What Other Immune Boosting Formulations Can You Try?
29. Boost Immune Function with a Homemade Chai Made from Kitchen Spices
30. Chai Recipe for Immune Boosting Benefits
31. How to Prevent the Spread of Germs when Someone in Your Home has COVID-19?
32. If Someone in Your Household has Coronavirus, Should You Separate their Dirty Clothing and Sheets Before Laundering?
33. Simple Steps to Reduce the Spread of COVID-19 Throughout Your Home
34. Homemade Natural Disinfectant Spray Recipe Using Essential Oils
35. Essential Oils: Recommended Products
36. Essential Oil Diffusers
37. How Long Does Coronavirus Survive on Surfaces?
38. How Often Should You Clean the Sheets and Bedding of a Person Infected with Coronavirus?
39. Do I have to use any special detergents to clean and disinfect sheets and bedding for a COVID0-19 positive person?
40. Hand Washing at Home when Someone is Sick with Coronavirus
41. How to Keep Electronics Free from COVID-19 and Other Germs
42. Atypical Practices that May Stop or Slow the Spread of Coronavirus in Your Home when Someone is Sick
43. How to Clean a Bathroom when Someone in Your Home is Sick with Coronavirus
44. Homemade Bathroom Cleaning Spray Recipe
45. What are Some Approved Disinfectants to Kill Coronavirus and Other Germs?
46. Breathe Easy: Simple Tips to Protect Your Lungs When You Have Coronavirus
47. Old Home Remedies to Keep Your Immune System Strong when Someone is Sick with Covid in Your Home
48. How to Help the Mental Health of You and Your Family While in Isolation for Coronavirus
49. Recommended Products: Coloring Books, Knitting Kits, Legos
50. General Household Management When One or More Family Members has Tested Positive for Coronavirus
51. Can You Go Outside While in Isolation for Coronavirus?
52. Can You Take a Walk When Self-Isolating From Coronavirus?
53. Recommended Products: Face Masks
54. What should you do if you encounter another person while outside, and you have tested positive for Coronavirus?
55. A Final Thought: The Healthier and Fitter You Are, the More Likely You Will Survive Covid-19
Screen Shots of the Content: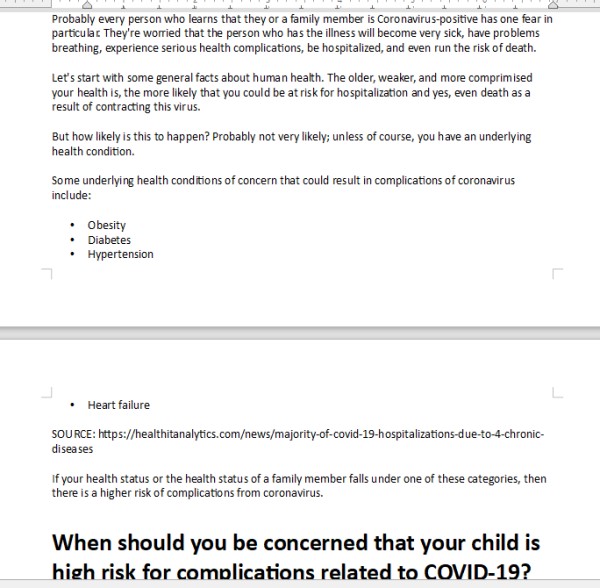 Another Screen Shot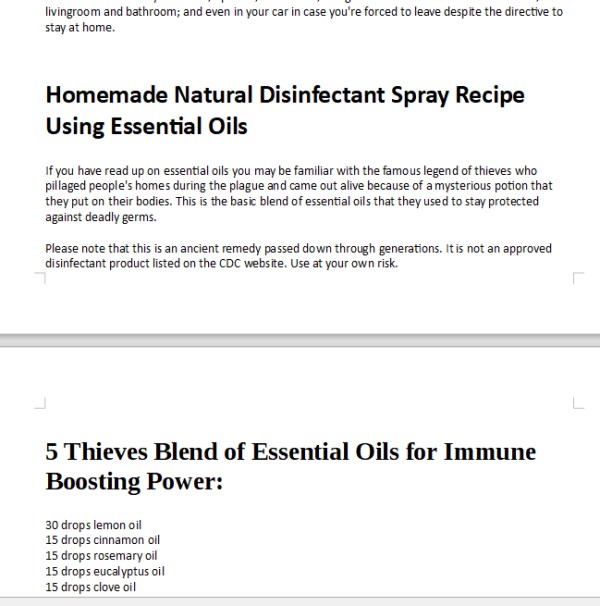 Screen Shot 3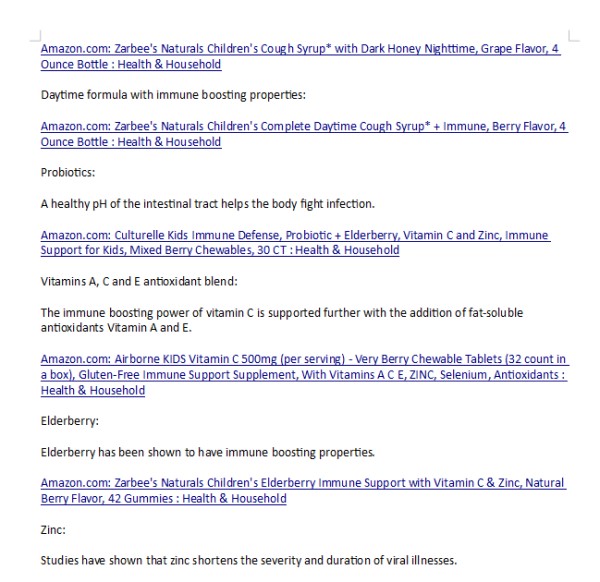 Another Screen Shot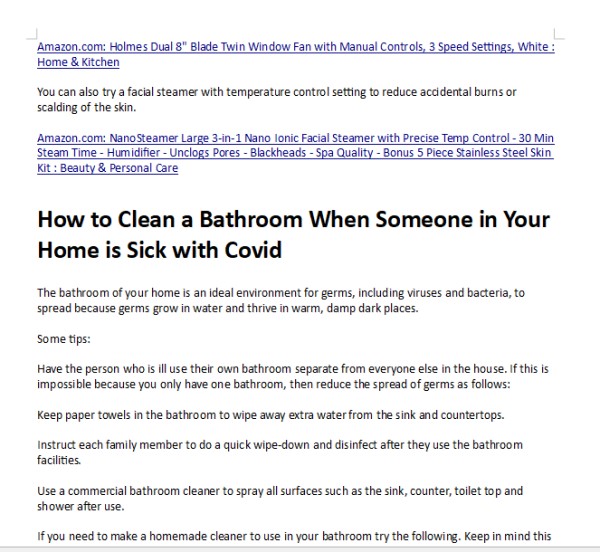 Screen Shot 5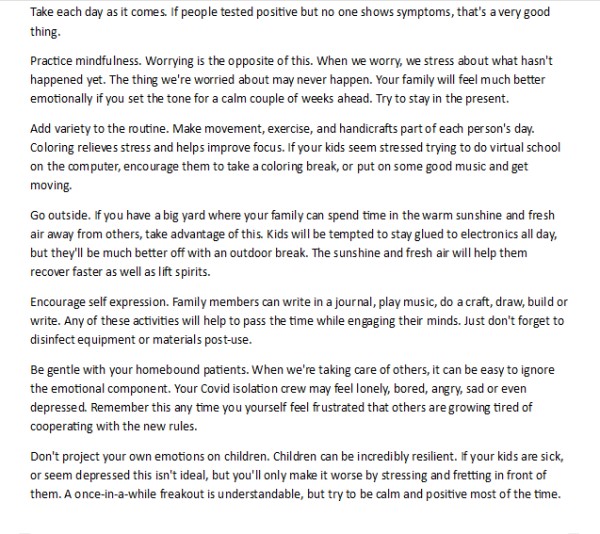 Screen Shot 6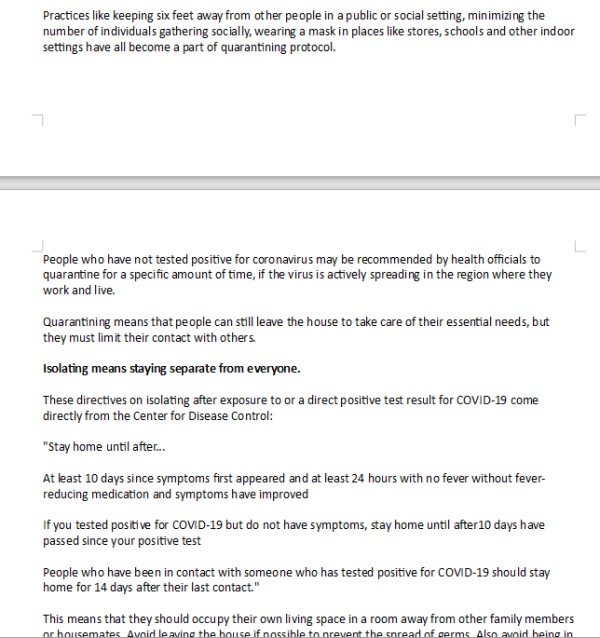 Here's what your file will look like: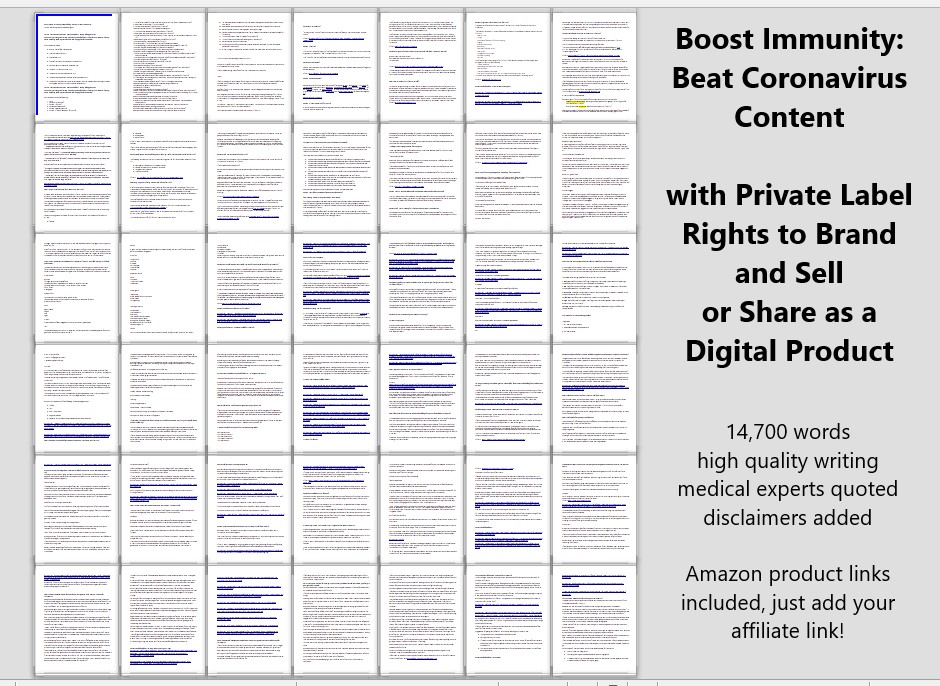 Reg. $67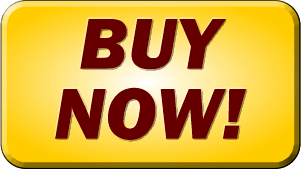 Use coupon code IMMUNE20 for 50% off! Limited time only, grab this in time for cold and flu season.


Did You Know? You also get a TON of FREE PLR articles inside your Wordfeeder member area. Once you check out, be sure to log in and look in the top menu under FREE PLR.
How to Access Your PLR Articles:
File arrives via email upon receipt of online payment. Download again and again from your member account for the lifetime of your membership which is free to sign up. THANKS for supporting my freelance business. CHEERS to you in yours!