Wordfeeder Warmly Invites You to Explore Our Business PLR Monthly Membership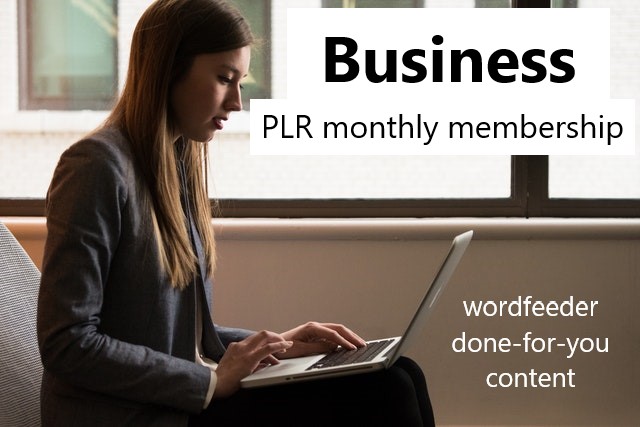 Are you tired of having to write articles week after week, month after month?


Are you just not that impressed with the usual, run-of-the mill PLR?


Do you really want a content shortcut that's almost like having your own busy writing helper, cranking out drafts for you to make ebooks, blog posts, emails and courses from?
By now you must know the formula for making money with a blog and email list online:
Publish interesting, useful content that gets you found.
Attract signups to your list with a compelling free giveaway.
Create helpful information products such as ebooks, courses, planners, workshops, email challenges, videos, and other great things that your readers would want to purchase as an affordable alternative to, OR a supplement of, coaching and consulting services.
Rinse, repeat.
If you know you need an ongoing source of fresh business content to accomplish the following tasks... then we've got your ticket to success.
Routine blog post publishing

Newsletter creation


Social posting

Ebook development

Email challenge creation


Coaching package creation

Course launches

Video creation
No More Struggling to PIece together fresh articles or reuse the same old, tired marketing tips...
Wordfeeder's Business PLR Monthly Membership Delivers 15 Awesome Articles, Each and Every Month
It's time you got serious about transforming your blog or website into a moneymaker. Wordfeeder has the prewritten content you need to check off your most important publishing tasks, each and every week!
When you sign up for our monthly PLR membership at a flat rate of $11.97 per month, here's what you get:
A total of 15 brand new, done-for-you articles. That's technically one article each day for a month - that's 15 days to drill down intensely into a topic of interest that your audience will love to learn more about.
(And search engines will love the fresh information, too!)
Here's how the monthly membership works:

ONE (1) MS Word document containing 15 articles will be added to your member account during the first half of the month.

You also get instant, constant access to our many PLR freebies that we routinely offer!
Our Business PLR Content Membership is LIVE and Includes a Variety of Articles in the Following Niches:

Blogging


Affiliate Marketing


Copywriting


Email Marketing


List Building


Social Media Marketing


Selling Info Products


Hosting an Online Membership
Your online business PLR articles are available for instant download.
January PLR Articles: Set Up a Niche Website to Make You Money Year After Year PLR Articles -7900+ words total COMING SOON!
Titles include:
Intro
Initial Steps for Setting Up a Niche Website
Basic Content Elements of a Niche Website
What Will Your Ebook or Course Be About?
Finding a Problem to Solve With Your Ebook or Course
Brand Your Niche Site
Creating Your Ebook or Course
Emotional Factors to Consider When Creating a Niche Targeted Ebook
Ebook or Digital Product Creation: FAQ
Setting Up Your Ebook for Sale on a Product Page
Covert Web Searches = Ebook and Course Sales for You
Embarrassing Problems Are Your Bread and Butter When it Comes to Ebook Sales
Brand Your Niche Site
Creating Your Ebook or Course
Ebook or Digital Product Creation: FAQ
Setting Up Your Ebook for Sale on a Product Page
Set Up Automated Orders of Your Digital Product
Content Placement Strategy to Help You Get Ebook or Course Sales
December PLR Articles: Must-Know Secrets for Business Coaches - Now available inside your member area!
Also... this membership is exponentially awesome.
What that means is that my members receive new content each month PLUS they get "back issues" of PLR that I had released under the same level of membership prior to their joining.
Here's a list of content packs that you'll instantly receive when you sign up for this membership in 2021:
Blogging for Profits - 15 PLR Articles
Copy and Design Must-Haves - 15 PLR Articles Total
Creating a Course in Teachable PLR - 8K+ words total
Email Newsletter Success Strategies - 15 Articles Total - 9K words
Facebook Business Strategy PLR - 15 Articles
Launch a VA Business PLR Articles - 15 Total
Online Coaching Success Strategies PLR - 16 articles and 10,800 words (that's a BONUS of 3K words free)
Set Up a Killer Affiliate Program PLR - 15 Articles
Small Business Success Tips PLR - 15 Articles Total - 8400+ words
The Content Game: Sourcing, Creating, Sharing and Selling Content Online - PLR Content - 7300+ words
So if you opt to stick with Wordfeeder for the long haul, you will be able to download a mind boggling amount of high quality content!
Ready to give us a whirl? Remember, this is brand new and "in a beta testing phase." If you find things along the way that can use improvement, please reach out to me. I'll likely need and appreciate your feedback!
Download Your Done-for-You LiFe Coaching, Business PLR articles Now.
Click "Buy Now" to make your selection of our monthly PLR memberships now


Current Price for our PLR Monthly is $11.97 per month
FREE PLR as an Added Bonus

Did You Know? You also get a TON of FREE PLR articles inside your Wordfeeder member area. Once you check out, be sure to log in and look in the top menu under FREE PLR.
How to Access Your PLR Articles:
File arrives via email upon receipt of online payment. Download again and again from your member account for the lifetime of your membership which is free to sign up. THANKS for supporting my freelance business. CHEERS to you in yours!