Wordfeeder Warmly Invites You to Explore Our Business PLR Monthly Membership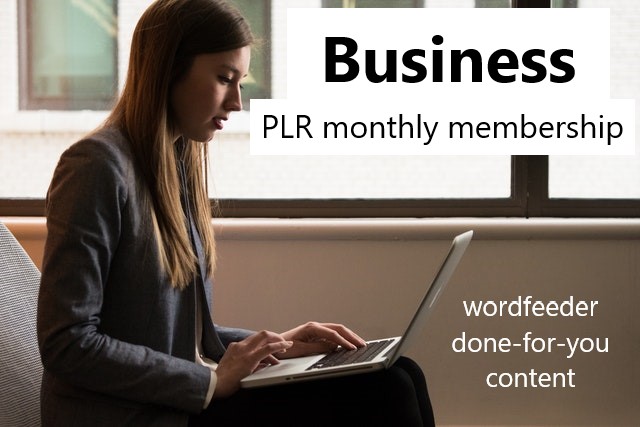 Are you tired of having to write articles week after week, month after month?


Are you just not that impressed with the usual, run-of-the mill PLR?


Do you really want a content shortcut that's almost like having your own busy writing helper, cranking out drafts for you to make ebooks, blog posts, emails and courses from?
By now you must know the formula for making money with a blog and email list online:
Publish interesting, useful content that gets you found.
Attract signups to your list with a compelling free giveaway.
Create helpful information products such as ebooks, courses, planners, workshops, email challenges, videos, and other great things that your readers would want to purchase as an affordable alternative to, OR a supplement of, coaching and consulting services.
Rinse, repeat.
If you know you need an ongoing source of fresh business content to accomplish the following tasks... then we've got your ticket to success.
Routine blog post publishing

Newsletter creation


Social posting

Ebook development

Email challenge creation


Coaching package creation

Course launches

Video creation
No more struggling to piece together fresh articles or reuse the same old, tired marketing tips...
Wordfeeder's Business PLR Monthly Membership Delivers 15 Awesome Articles, Each and Every Month
It's time you got serious about transforming your blog or website into a moneymaker. Wordfeeder has the prewritten content you need to check off your most important publishing tasks, each and every week!
When you sign up for our monthly PLR membership at a flat rate of $11.97 per month, here's what you get:
A total of 15 brand new, done-for-you articles. That's technically one article each day for a month - that's 15 days to drill down intensely into a topic of interest that your audience will love to learn more about.
(And search engines will love the fresh information, too!)
Here's how the monthly membership works:

ONE (1) MS Word document containing 15 articles will be added to your member account during the first half of the month.

You also get instant, constant access to our many PLR freebies that we routinely offer!
Our Business PLR Content Membership is LIVE and includes a variety of articles in the following niches:

Blogging


Affiliate Marketing


Copywriting


Email Marketing


List Building


Social Media Marketing


Selling Info Products


Hosting an Online Membership
Your online business PLR articles are available for instant download.
November: Advertising Your Business on TikTok: Get Comfy with the Tech. 15 PLR Articles. Now Live!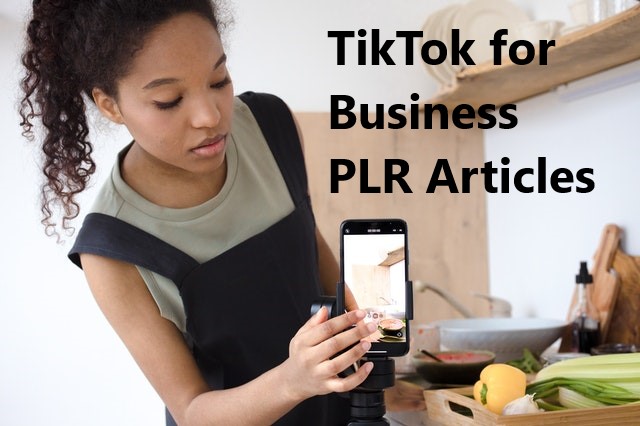 Select "TikTok Creators" MAY receive anywhere from $200 to $5K per month compensation for clicks on their videos, provided their views reach a specific minimum views, starting at 100,000 views per month and up.
TikTok is going places. You AND your clients can go with them to get more eyes on your business, more sales, and yes, paid, to simply share good content.
Our TikTok How-to Done-for-You Content is on the Way!
You'll be able to use this as a tool to help clients, a tutorial to share with readers, as blog posts, an ebook, and more. With private label rights to sell or share as your own. Here's a list of the articles we'll be creating for you:
1. Intro to Using TikTok for Business
2. How Much Can a TikTok Creator Get Paid in 2021?
3. TikTok is Going Places. Specifically, Europe.
4. How Do You Know if TikTok will be a Fit for You?
5. How is TikTok Different from YouTube in 2021?
6. Good Things to Know About TikTok
7. Getting to Know Your TikTok User Account
8. Basics of How to Record a Video on TikTok
9. Video Recording on TikTok Phase 2: Stopping and Starting in the Middle of Recording
10. Adding, Changing, or Removing Sound from Your TikTok Video Recording
11. Dealing with the "Live in Real-Time" Aspect of TikTok
12. How to Upload a Video that You Recorded Using Your Phone's Camera App, to Publish on TikTok
13. Trimming Your TikTok Video Clips
14. Video Editing in TikTok: Huge Creative Potential for Making Professional Quality Videos
15. What Types of TikTok Video Content Can You Create?
Sign up for the Wordfeeder paid business monthly PLR membership now. You'll receive this month's release, plus all of the article packs listed below for just $11.97. That's a huge value!
Prefer to order ala carte? Learn more on this page.
October: Conquering Overwhelm in Your Small Business - 13 articles and 5 Emails in a Series - 7900 words total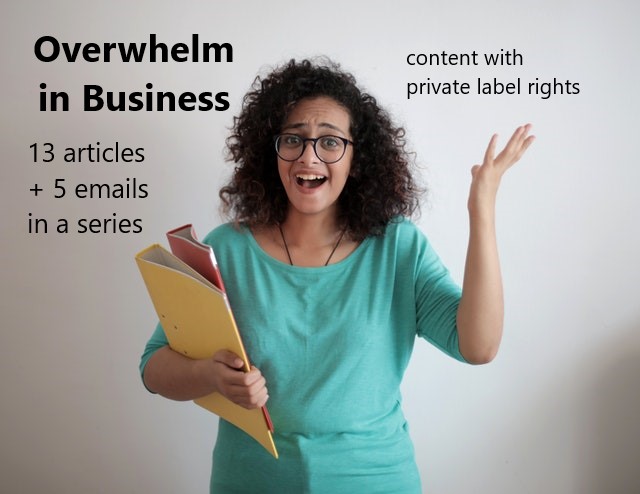 Email Series 1 through 5:
Email 1. Subject: Conquering Overwhelm in Your Small Business Day 1 of 5
Email 2. Subject: What Type of Overwhelm is Affecting You as a Business Owner? Day 2 of 5
Email 3. Subject: When You Don't Know What to Do First in Your Business (Day 3 of 5)
Email 4. Subject: Everything's Happening at Once (Day 4 of 5)
Email 5. Subject: The Dreaded Business Burnout Phase: Can You Avoid It? What to Do? (Day 5 of 5)
Articles 1 through 13:
1. Introduction
2. Different Types of Overwhelm for a Small Business Owner
3. How to Deal with the Overwhelm of not Knowing What to do First in Your Business
4. What to About Business Overwhelm When Everything's Happening at Once
5. How to Handle Overwhelm that Results When You're Close to Burnout
6. Managing the Overwhelm of Putting Out Daily Fires in Your Business
7. When Your Employees Seem Overwhelmed, What do You Do?
8. How to Guide Your Employees to Come Up with Their Own Solutions for Overwhelm
9. Fun and Engaging Activities to Help Bring Your Workers Out of Overwhelm and Into Focus
10. Questionnaire to Help Workers Solve Their Own Problems
11. Let's Talk About Experts Who Can Help Stop Overwhelm in Your Business
12. What to Do When You're Overwhelmed by Your Daily To-Do List
13. What to Do When You're Stuck in Overwhelm and Can't Move Forward in Your Business
Screen shot of the writing: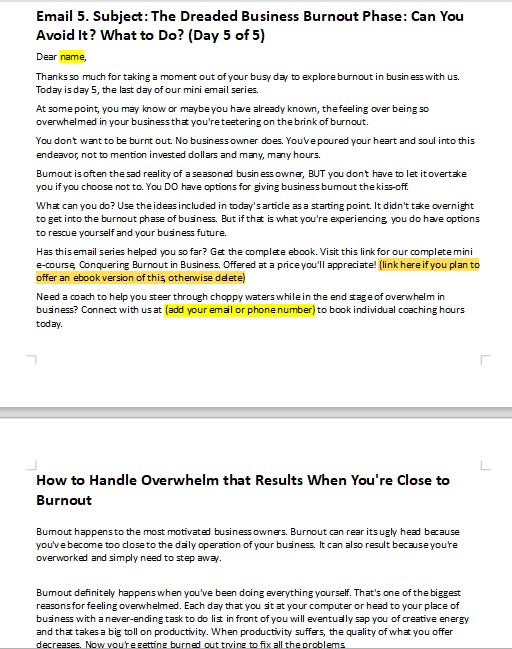 Buy Now opens up to a new window so you won't lose this one.
September: Body Language in Business Email & Article Series LIVE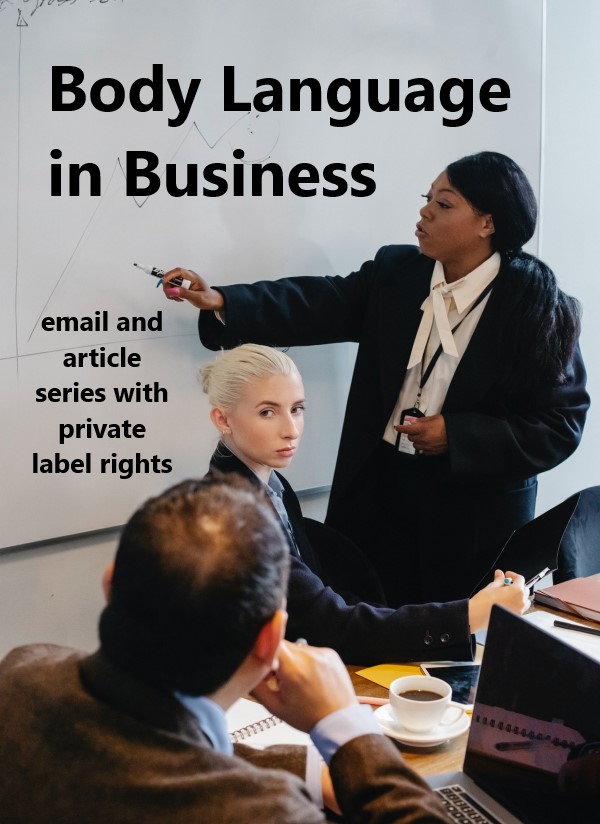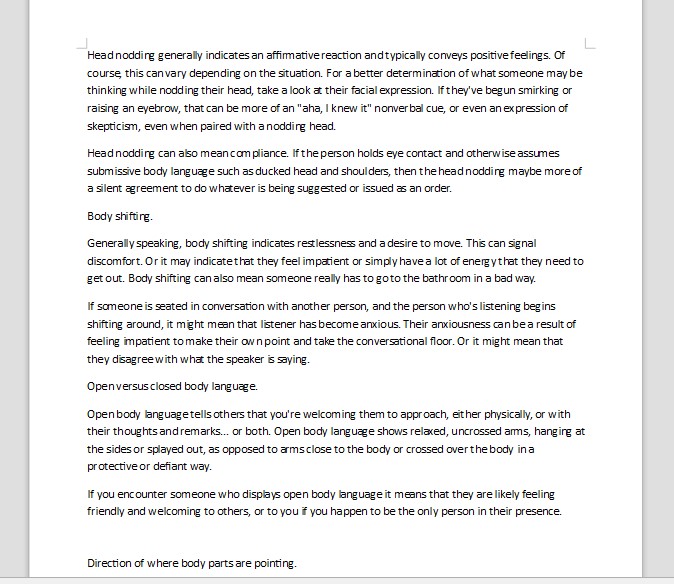 September's content feature topic is Body Language in Business Email and Article Series with private label rights. As a bonus gift for anyone who's active as a Business PLR Monthly member, you also get 49 free images that relate to this content. You really MUST have images otherwise your body language articles will be missing... well, actually body language.
This business content includes 9000 words. That's 2K extra words FREE!
Each article also includes a matching email intro to use as a lead-in and add your call to action along with any links to coaching upsells you may be running.
Body Language in Business - Intro
It Helps to Understand Body Language. But it's Still By No Means Foolproof.
The 4 Levels of Social Distancing in Nonverbal Communication
Physical Distancing Can Offer Clues to Intimacy Between Two Business Partners or Colleagues
Basics of Body Language or Nonverbal Communication
Body Language Reading 101
Nonverbal Communication in Business: Facial Expression and Body Language
Deciphering Meaning in Body Language
Do You Speak Eye Contact? Nonverbal Communication Clues
Facial Expressions as Nonverbal Business Communication
Is The Vibe You Get from Other People Really a Vibe? Or is it Non Verbal Communication Coming Across?
Talking With Your Hands isn't Just for Italian People: Gestures Facilitate Your Spoken Presentation in Business
Simple Tips for Improving Your Nonverbal Communication Zoom, Skype and Other Virtual Speaking Platforms
Here's a screen shot of the writing: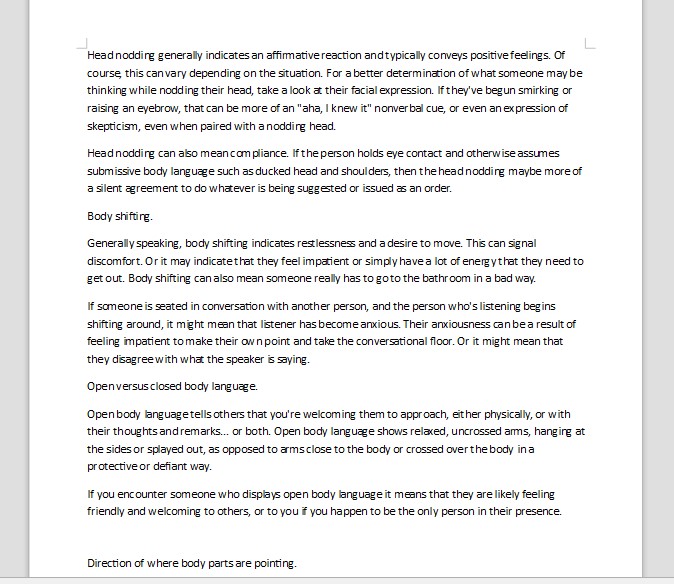 In order to receive the free images, you must be an active Business PLR Member on our Wordfeeder site. I want to offer my monthly customers some extra perks in gratitude for their loyalty.
Buy Now opens up to a new window so you won't lose this one.
August: Business Success Mindset PLR Email Series now LIVE inside your paid member account.

"Success Mindset in Business" Email Series - 7800 words total with private label rights to sell or share as your own
Each of the following topics includes a brief email intro and matching article. Content for this series includes 9 email intros and 9 articles.
Email 1/Article 1: Intro: Welcome. Mistakes are a Part of Mastery
Email 2/Article 2: Successful People Embrace the Big Picture
Email 3/Article 3: Thinking Big in Business: Working on Relationships Rather than Sales
Email 4/Article 4: Success-Minded Business Owners Display Higher Emotional Intelligence
Email 5/Article 5: Look, Listen, Learn and Live: Keys to Successful Thinking in Your Business
Email 6/Article 6: To Be Successful in Business, Embrace the Abundance Mindset
Email 7/Article 7: Success Minded Business Owners Think Realistically
Email 8/Article 8: Want Business Success? Blow Past Average and Typical Thinking
Email 9/Article 9: Surround Yourself with Success-Minded Business Owners
Screen shot sample: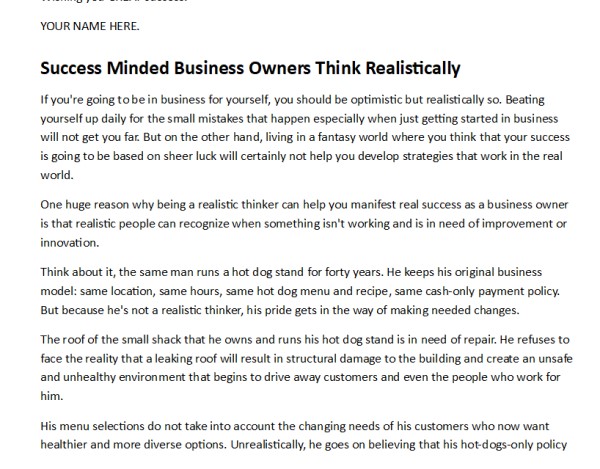 Buy Now opens up to a new window so you won't lose this one.
Self Care for Business Owners 2 – PLR Articles – 15 Total or 9158 words - now live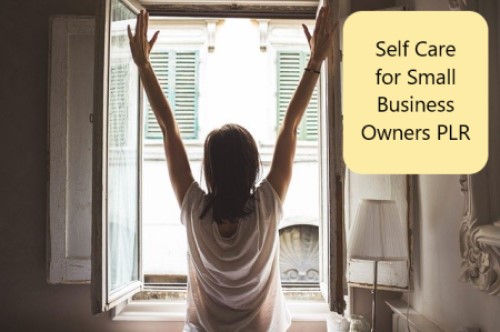 1. Intro
2. Stress, Self Care and the Small Business Owner
3. Take That Sick Day: Self Care is Important for a Business Owner
4. Small Business Owners Who Neglect Self Care Will Eventually Suffer the Consequences
5. Stressed Out Business Owners Should Prioritize Self Care: Here's How
6. The Mind of a Business Owner is Always On: Self Care Can Help You Power Down
7. Online or Tech Based Business Owner? Stretch Away the Stress
8. For Online and Tech Based Business Owners: Self Care for Eye Health
9. Self Care for Business Owners Includes Taking Needed Down Time
10. Self Care for Business Owners to Help You Get Happy
11. Self Care for Business Owners Means Blocking Out Thoughts of Work on Your Day Off
12. Vacation Time is Important for Your Self Care as a Business Owner
13. Self Care for Business Owners Means Choosing Healthy and Nourishing Foods
14. Make Power Naps an Important Part of Self Care as a Business Owner
15. Self Care for Business Owners: Keep Your Blood and Creativity Flowing with Short Bursts of Activity
Buy Now opens up to a new window so you won't lose this one.
"Time-Saving Tips to Use in Online Business" PLR ARticles - 18 Total or 8900+ words - download from your paid member area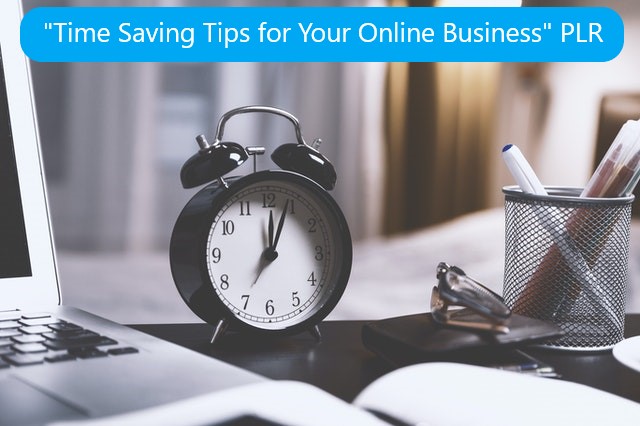 Need fresh, relatable business articles to use in your blog posting, email newsletter, ebook creation and social sharing? Wordfeeder offers a new pack of articles each month for your posting and sharing convenience! Put your name on our private label rights content and share or sell as your own.
Need business time-saving advice to share with your online business audience? This article pack comes with private label rights. A total of 18 articles or 8900+ words. That's a bonus gift of nearly 2K extra words free! Titles include:
1. Intro
2. Up-Front Time Savers for Your Online Business Launch
3. Build Your List Now, Save Time Later
4. Time Saving Steps to Begin Collecting Email Subscribers
5. Form Creation Time Saver: Choose the Javascript Option
6. Content Sharing Setup to Save You Time and Headaches: Your Blog Goes First
7. Avoid Hosting Hassles, Get a Domain Name that Dominates
8. Cut Production Time During Blog Posting Sessions. Organize Your Content's Structure Up Front
9. Speed Through Your Social Media Setup
10. How Does Advance Tech Setup Save You Time in Your Online Business?
11. Hands-Off Digital Product Creation Saves You TONS of Time
12. Set Up Coaching Packages and Limit Coaching Hours to Free Up Your Time
13. Online Business Owners, Save Time by Talking to the Right People – Your Target Audience
14. Steps for Streamlining Your Coaching Programs: Try an Autoresponder Shortcut
15. Email Newsletters Can Be Advance Posted for a Future Date
16. Time Saving Password Tricks for Your Online Business
17. Cut Production Time But Not Corners with These Content Posting Shortcuts
18. Save Yourself Time By Creating Policies and Procedures for Your Helpers in Business
"Buy Now opens up to a new window so you won't lose this one.
Go FAST with Your Content Marketing - 15 Articles or 9K+ words total - now LIVE in your paid member area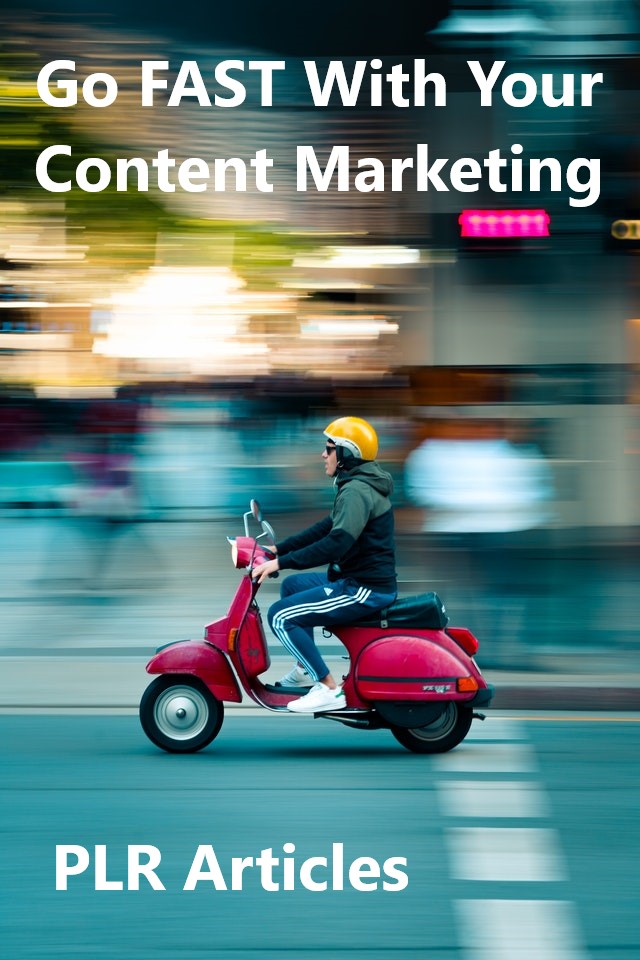 Here's what's included in this content pack:
Intro
Set Up Your Content Marketing to Post Powerful Messages, Quickly and On the Fly from Anywhere
Let's Get a Perspective on Online Content Marketing and How it Works
Fun Fact: Internet Content is "Infinite" and That Affects How and What You Post
Your Web Content Lives On… Long After You're Gone. So Heed These Wide Words When Content Marketing Online
Let's Think in Links: How to Envision Marketing Content for the Eureka Moment
Online Publishing Feels Different From Print… Because it IS Different. Here's How.
The Quickest, Easiest Way to Write an Ebook to Sell Online
Can You Recycle, Upcycle, and Repurpose Your Web Content? Absolutely
Is it Cheating if You Recycle Business Content You've Already Posted Online? NO, and Here's a List of Ideas to Help You Turn it into Profit
Content Shortcuts for Finding, Using and Publishing Free and Low Cost Stock Photos in Your Online Marketing
Quick Steps for Finding, Downloading, Resizing, Saving and Uploading Free Stock Images to Your Website or for Use in Your Print Creations
How to NOT Lose a Click Through to Your Website When Posting Marketing Related Images on Social Media
What Types of Web Pages Can You Link to From Social Media Back to Your Website?
How Many Clicks to the Sale, the Sign-Up, or the Customer Action?
"Buy Now opens up to a new window so you won't lose this one.
April: "Business PLR Article Mix"- inside your paid member area now!

A Fun Topic Mix in Time for Spring Blog Posting, Newsletter Publishing and More - 8,000+ words total
(that's over 1K extra words FREE)
Here's what's included in this content pack:
Get Comfortable Talking About Yourself as a Business Owner
How to Get Good at Telling People You Run a Business
Finding Ways to Work Your Business into a Conversation
Why Doesn't Everyone Support You in Your Small Business?
What to Do When People Don't Take You Seriously as a Business Owner
What to Do on a Slow Day in the Life of Your Business
Quick List of Ideas to Keep Profits in Your Pocket
Coming Up with New Income Streams as a Business Owner
The Abundance Mindset, and What it Does for Your Business
How Can the Abundance Mindset Help You Make More Money?
How to Turn Unglamorous Business Tasks into Instant Profit
Let's Monetize Your Business To-Do List
5 Ways to Shake off the Blahs as a Business Owner
5 Low Cost Ways to Get the Word Out About Your Business
Screen Shot Sample: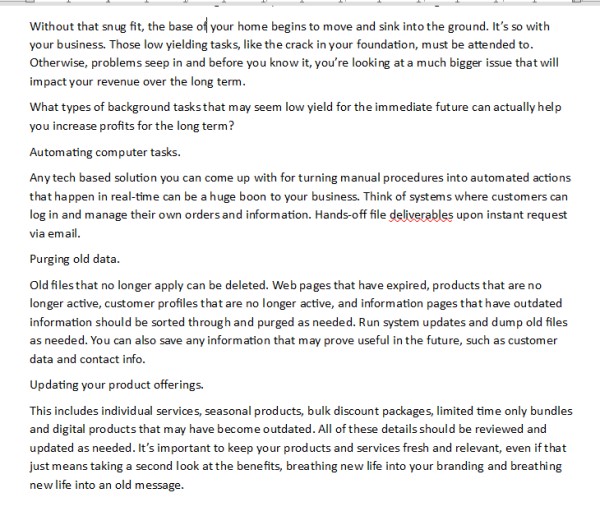 March: Business Tax Tips for 2020 PLR - 8500+ words - NOW INSIDE OF YOUR MEMBER ACCOUNT
(that's over 2K extra words FREE)
Income Tax Filing Tips for Business Owners in 2020: Best Practices, Plus Don't Miss These CARES Act 2020 Coronavirus Relief Tax Benefits
Includes more than 8500 words covering the following content topics:

Income Taxes for Businesses: the Basics
• Q: What is self employment tax?
• Q: How to determine if you're self employed?
• Net Profit, or Net Loss?
• Reduced Tax Rates for C-Corps
• What to Do if You Owe Back Taxes as a Business Owner
CARES Act of 2020: What Taxpayers Need to Know
Tips for Business Owners to Use Taxes to Their Financial Advantage
Coronavirus Relief for IRA Distributions and Loans
• Q: Does your IRA distribution qualify for coronavirus related relief from the 10% tax penalty for early withdrawal?
• Q: What Kind of Loan Relief is Offered in 2020 as Related to the Impact of Coronavirus?
• Q: What Type of Proof is Needed to Take Coronavirus Related Tax Benefits?
• Paycheck Protection Program (PPP) Loans Under the CARES Act
Coronavirus Related Relief for Retirement Plans and IRAs
• Q: Has there been a tax extension created for individuals who have taken coronavirus-related distributions?
• Q: If I take a coronavirus-related distribution, can I repay it?
• Q: Does a coronavirus-related hardship qualify you to take an early distribution on your 401(k), 403(b) or 457(b) plan?
• Q: If an eligible retirement plan does not accept rollover contributions, does that stipulation change if a qualified individual wishes to repay a coronavirus-related distribution:
• Q: What is the process for reporting Coronavirus-related IRA distributions and redistributions?
• Q: What is the maximum amount that you can report on your 2020 federal income taxes with regard to the coronavirus-related early distribution of retirement funds?
• Try out the Tax Credit Calculator from Turbo Tax
Summary of the New Coronavirus Relief Package for 2021
• Q: What is AGI?
• New Unemployment Allowance for Self Employed Freelancers in 2020
• Earned Income Credit Revised to Accommodate Lower Wages in 2020
• Paycheck Program Expanded for Small Businesses and Eligible Non-Profits
• Coronavirus Relief: Paid Leave for Contractors
Coronavirus-Related Distributions and Loans from Retirement Plans Under the CARES Act
• Q: How may retirement plans report coronavirus-related distributions?
• Q: How may individuals report these distributions on their federal income tax returns?
• Q: Distributions: What retirement plans does the CARES act apply to?
Business Tax Tips for 2020 Filing with Coronavirus Tax Relief
Small Business Tips: Filing Your 2020 Income Taxes
• Q: When are federal income taxes due in 2021?
• Q: When are your state taxes due?
• Q: When are quarterly estimated taxes due in 2021?
• Employment tax changes for 2020 filing:
• Q: When should paper tax forms be distributed to employees in 2021 for the 2020 tax year?
• Q: What is the Deadline for a Business to Submit Paper and Electronic Employee Forms?
Federal Income Taxes: Payment Options
• Direct Pay Using Your Bank Account:
• Pay by Credit or Debit Card
• What About an Individual Payment Plan?
• EFTPS (Electronic Federal Tax Payment System)
• Electronic Funds Withdrawal Payment:
• Same-Day Wire
Q: Should a Small Business Owner File for an EIN?
Coronavirus Tax Relief for Businesses
Credit for Sick and Family Leave
• Caring for Someone With Coronavirus
• Caring for Children Due to Daycare or School Closure
Tips for Filing Federal Income Taxes Using Form 1040 or 1040-SE and Associated Forms
Form 1040: US Individual Income Tax Return
• Schedule A: Itemized Deductions
• Coronavirus Taxpayer Relief for Form Deadlines
• Schedule B: Interest and Ordinary Dividends
• Schedule C: Itemized Deductions
• Form 1099-misc
Earned Income Credit and Coronavirus Relief
Business and Individual Tax Preparation Checklist
CLOSING REMARKS
February 2021: Online Coach Success Strategies - 16 Articles Total - and More than 10,200 words! (that's over 3K extra words FREE) - now inside of your paid member account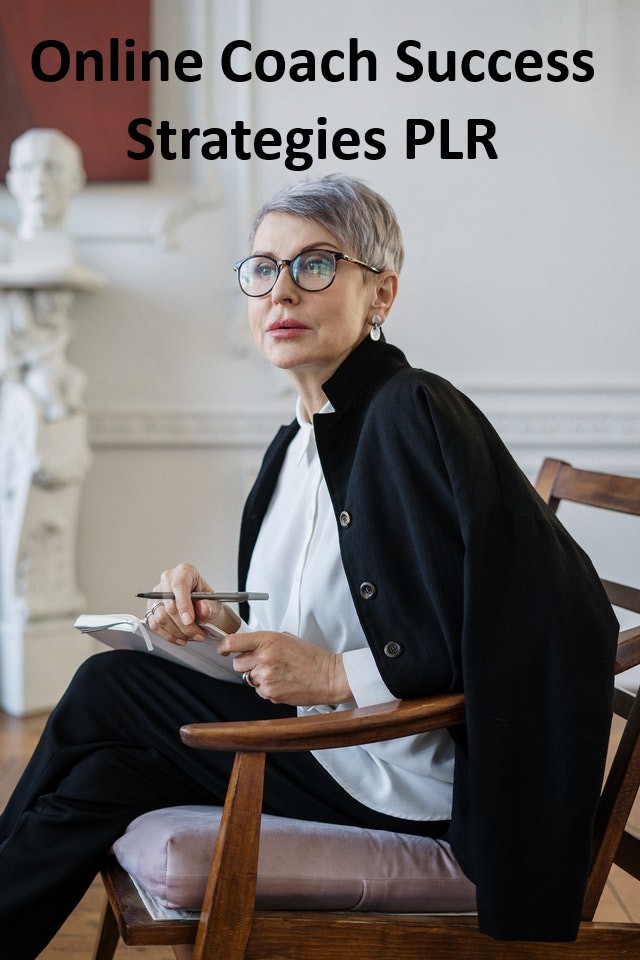 Includes the following titles:
What Kind of Coach Can You Be?
How to Be a Coach Who Loves What You Do Every Day
How to Raise the Quality of Your Social Media Conversations as a Coach or Expert
Good Practices to Nail Down as a Work from Home Coach
Make Your Coaching Content Go the Distance
If You Want to be a Coach in Charge, Communicate Like a Boss
Coach Marketing: Keeping Things Fresh and Lively
Coaching for Multiple Niches Can be Confusing. Should You Have a Home Base for Your Coaching Business Online?
Things to Get Good at if You Want to Build an Email List
How to Get People to Read and Respond to Your Coaching Emails
How to Automate the Daily Functions of Your Coaching Business Online
Winning Strategies for Marketing Coaches Who Want to Stand Out
How to Be a Whiz About Publishing Your Coaching Content
Should a Business Coach Barter Services?
Set Up Your Coaching Home Office for Success
When It Comes to Selling Digital Coaching Products, Think Out of the Box
January PLR Articles: Set Up a Niche Website to Make You Money Year After Year PLR Articles -7900+ words total - download from your paid member area
Titles include:
Intro
Initial Steps for Setting Up a Niche Website
Basic Content Elements of a Niche Website
What Will Your Ebook or Course Be About?
Finding a Problem to Solve With Your Ebook or Course
Brand Your Niche Site
Creating Your Ebook or Course
Emotional Factors to Consider When Creating a Niche Targeted Ebook
Ebook or Digital Product Creation: FAQ
Setting Up Your Ebook for Sale on a Product Page
Covert Web Searches = Ebook and Course Sales for You
Embarrassing Problems Are Your Bread and Butter When it Comes to Ebook Sales
Brand Your Niche Site
Creating Your Ebook or Course
Ebook or Digital Product Creation: FAQ
Setting Up Your Ebook for Sale on a Product Page
Set Up Automated Orders of Your Digital Product
Content Placement Strategy to Help You Get Ebook or Course Sales

Also... this membership is exponentially awesome.
What that means is that my members receive new content each month PLUS they get "back issues" of PLR that I had released under the same level of membership prior to their joining.
Here's a list of back released content packs that you'll instantly receive when you sign up for this membership in 2021:
Blogging for Profits - 15 PLR Articles
Copy and Design Must-Haves - 15 PLR Articles Total
Creating a Course in Teachable PLR - 8K+ words total
Email Newsletter Success Strategies - 15 Articles Total - 9K words
Facebook Business Strategy PLR - 15 Articles
Launch a VA Business PLR Articles - 15 Total
Online Coaching Success Strategies PLR - 16 articles and 10,800 words (that's a BONUS of 3K words free)
Set Up a Killer Affiliate Program PLR - 15 Articles
Small Business Success Tips PLR - 15 Articles Total - 8400+ words
The Content Game: Sourcing, Creating, Sharing and Selling Content Online - PLR Content - 7300+ words
So if you opt to stick with Wordfeeder for the long haul, you will be able to download a mind boggling amount of high quality content!
Ready to give us a whirl? Remember, this is brand new and "in a beta testing phase." If you find things along the way that can use improvement, please reach out to me. I'll likely need and appreciate your feedback!
Download Your Done-for-You Life Coaching, Business PLR articles Now.
Click "Buy Now" to make your selection of our monthly PLR memberships now


Current Price for our PLR Monthly is $11.97 per month
FREE PLR as an Added Bonus

Did You Know? You also get a TON of FREE PLR articles inside your Wordfeeder member area. Once you check out, be sure to log in and look in the top menu under FREE PLR.
How to Access Your PLR Articles:
File arrives via email upon receipt of online payment. Download again and again from your member account for the lifetime of your membership which is free to sign up. THANKS for supporting my freelance business. CHEERS to you in yours!
PLEASE NOTE: DO TO THE UNRETURNABLE NATURE OF THIS DIGITAL PRODUCT, WE DO NOT OFFER REFUNDS ON CONTENT PURCHASES. However, we ARE generous with coupon codes.