Call to Coaches: Get Savvy About Online Business...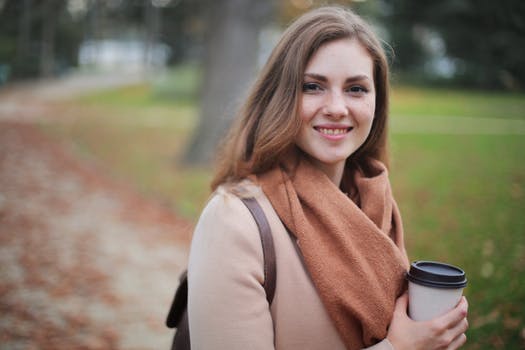 Done-for-You Coaching Content Will Help You Slide Right into the 6- and 7-Figure Earning Realm. Work FAR Less Yet Make MUCH More!
Our High Quality Coaching Content is Ready for You to Plug into Profit and Teach Your Followers How to Do the Same
Hey, Hardworking Coach or Online Expert!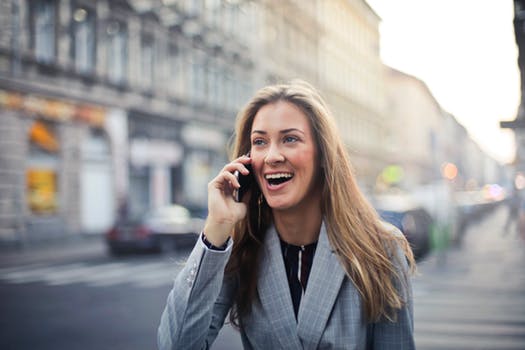 Are you so done with slaving away at the computer for hours upon hours to create all of your ecourses and online products from scratch?


Do you want to spend FAR less time stuck in the daily functions of business, and much MORE time enjoying all the joy and beauty that life has to offer? Like, how about as soon as this season?


Are you FINALLY ready to practice what you preach to your clients: that there are much SMARTER ways to work that will greatly compound your income while freeing up your time, energy and resources?
Hi, I'm Dina. My Writer Friends and I Have So Much To Teach You About Pre-Written Content and Done-for-You Online Courses!
It's really nice to "meet" you! My name is Dina, my site is Wordfeeder, and my expertise covers writing web content for coaches and online experts.
Back in the early to mid '00s, I had a full roster of coaches from various fields on my list: business coaches, life coaches, health coaches, and more. These busy professionals relied on my wordsmithing skills to make them look great.
But yet... back then, neither my coaching clients nor I had quite mastered the meaning of maximizing your profit online. So we were still doing it the hard way - custom-creating everything, starting from the beginning for each new project. Not only is this time-consuming and repetitive, but it's sure to rack up a high bill for writing services.
Well, guess what? I FINALLY got smart about online business, and now I'm inviting you to join me in success.
These days, as a busy mom and wife I don't have the leisure of working long hours from sun-up to sun-down and well into the late shift. And besides, I don't want to be a slave to my business, and I'm sure that you don't, either.
That's why I created a private member area on Wordfeeder. Sign up for free, and enjoy instant access to TONS of Free and low-priced coaching content.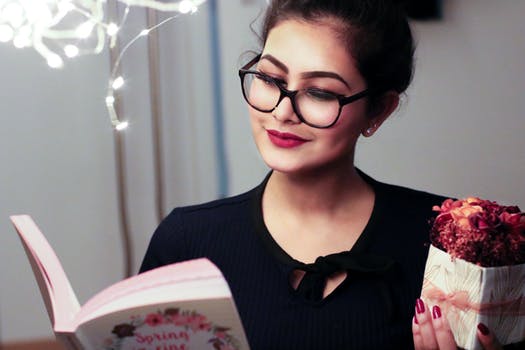 Re-brand the articles under your own name, and you can create pretty much any type of online product that produces profit, in a fraction of the time it would take you to do it from scratch.
This time around, I'm paying close attention to what the content masters of online business are doing, and teaming up with skilled, experienced experts. Not only will you find thoughtfully-written information-rich articles and content to fill your info product pipeline... but you'll also get recommendation of other, trusted coaching content providers when you hop on my list.
I'm going to make it SO easy for you to benefit financially from our association... you won't believe the dearth and breadth of information out there with private label publishing rights, that will help you build a rich and robust learning experience for your clients, fans and followers.
I'm also going to expertly guide you in what types of content and online publishing practices to steer clear of... because nobody wants to be on their clients' bad side as a result of something silly, like lack of knowledge.
You're Invited... Sign up for a Wordfeeder PLR (Private Label Rights) Content Membership Right now.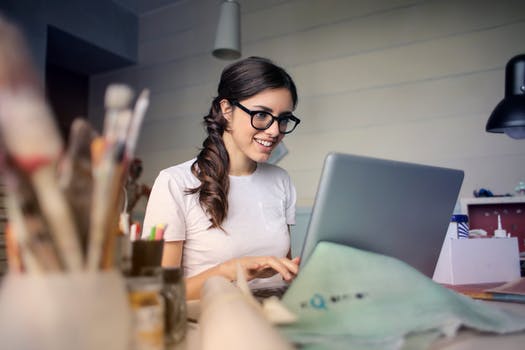 It's free, and so are many of the articles available for instant download inside!
I'd like to invite you to explore the inner world of Wordfeeder... where you can sign up for a FREE private membership that gets you instant access to all kinds of terrific content to help you EASILY create online courses, ebooks, workshops and much more.
Here are just a few inspiring ideas on what you can create and sell using pre-written, done-for-you coaching content:

E-books and e-guides. It's up to you how long or short you want your ebook to be. With pre-written content, it's super simple to add or delete chapters as needed. You can develop a comprehensive e-guide that you charge a premium for, then create free, smaller reports that give readers a taste of what's to come.

Blog posts and website articles. When the content's already researched and written for you, it only takes a short time to pop done-for-you articles into blog posts. An active blog that's updated frequently drives targeted traffic your way. So you'll always have new subscribers coming into the fold who already want what you sell!

Newsletter and email marketing content. With private label rights articles at the ready, you can choose from a wide selection of tips, hints and how-tos to educate your reader on any given topic. Put your name on this content, edit as needed, and publish in your monthly newsletter to create a connection with readers and drive more ebook and ecourse sales.

Done-for-You Ecourse Content, Workshops and Coaching Planners. These are the big ticket content purchases that, while you may need a bit of fundage up front to get started, are still much more economical than shelling out thousands for a copywriter or ghostwriter, editor or VA. You will ONLY hear about top-notch, first-rate coaching content providers here on Wordfeeder.

Done-for-you tips, social media teasers, Tweets and even high quality images. I will even hook you up with trusted designers who know their way around the web and have done-for-you image packs. The web's competitive in 2018, and you'll need these short bits of information content to get heads turning your way. Lead people to your list and your product sales pages with a "read more" link.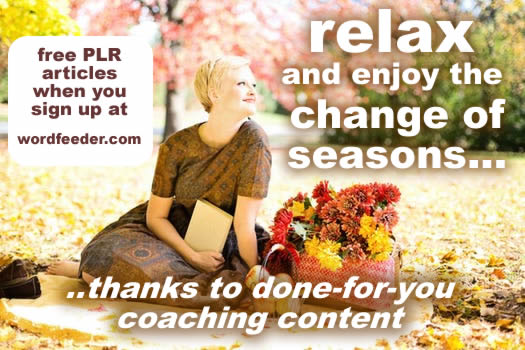 I could continue telling you about all the amazing things you can create and profit from when you put pre-researched, pre-written private label rights content to work for your business.
But rather than telling you, how about I just show you? Here are a couple of freebies to kick off your NEW mission of creating MORE sellable info products in LESS time
FREE Coach's Brainstorm: 43 Awesome Ideas for Your Next Coaching Ecourse

FREE "About Page Copywriting" Template for Your Personal Use or for Sharing With Clients

FREE Ecourse Creation Tutorial for Coaches and Experts
Again, this is just a taste of all the free stuff you get when you sign up for a Wordfeeder membership. You ALSO get free PLR articles to publish in all kinds of hot, sought-after niches... low priced content deals that you'll only find on the inside... recommendation to other, trusted PLR content providers and more.
Sign up for your FREE PLR Coaching Content Membership right now:

Sample the FREE articles that are available for download right from the FREE PLR area at the top of your member area once you log in. Try publishing one or two of the articles on your blog. Try making a quick ebook and setting it up as an opt-in freebie!
Then, be sure to start opening my mails where I will share with you everything I know about how to use done-for-you content to take your coaching business into the next level of productivity and profit. Check the top menu and look under FREE PLR to see what's offered.
THANKS for supporting my freelance business. CHEERS to you in yours!
---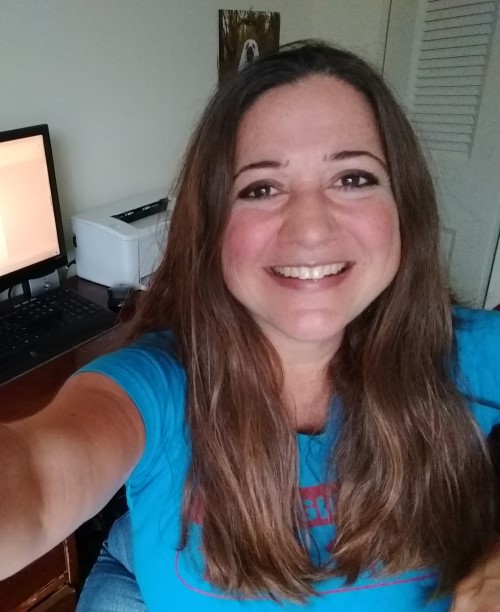 Hey, Dina here! Did you miss today's email? Sign up here. You get FREE articles from the top menu of your account!
DUE TO THE UNRETURNABLE NATURE OF THIS PRODUCT, WE DO NOT OFFER REFUNDS. We are generous with coupons, however. :)
Check Out our Money- and Time-Saving PLR Monthly Memberships