Essential Oils Aromatherapy PLR | Essential Oils Blends, Recipes, Tips | Wordfeeder
Need some new essential oils and aromatherapy content, including blends, recipes, uses, benefits and tips, to share with your natural health readers this fall?
NEW! Essential Oils Aromatherapy PLR - Skincare Recipes, Natural Cleaning Recipes and Amazon Products - 4K words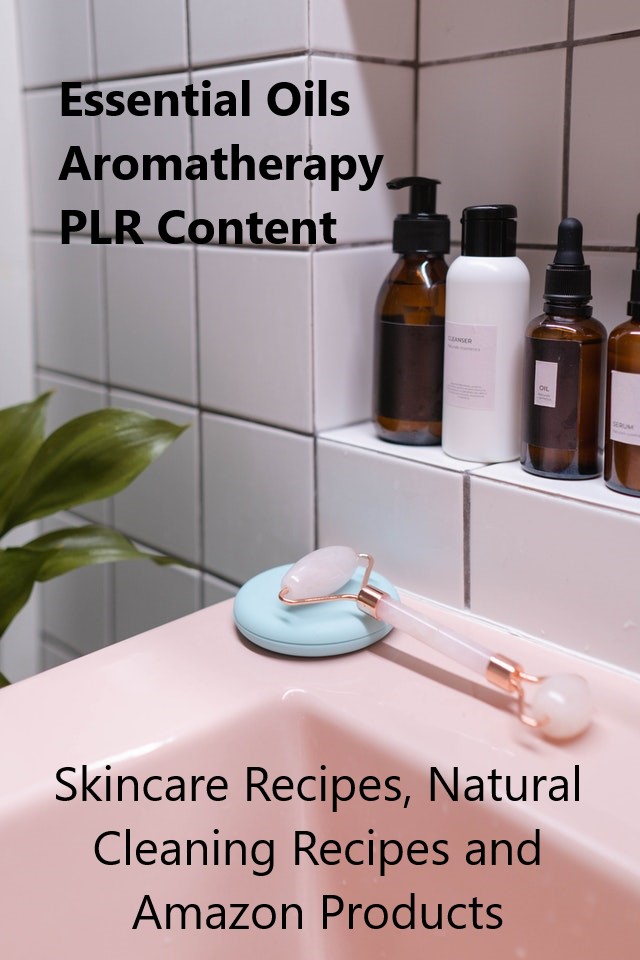 (Includes Amazon Jars and Bottles to Promote with Your Affiliate Link) - 4,000+ words total
Content includes:
Essential Oils – Storage, Safety and Other Tips
Essential oils safety tips
How to store your essential oils and EO mixes
What to look for in essential oils storage bottles
Silicone droppers
Orifice reducers
Spill-proof caps
Storage tray, box or basket
About Carrier Oils and Essential Oils
Q: What is fractioned coconut oil?
Q: What's the ratio of essential oil to carrier oil in homemade natural skincare recipes
Carrier Oils - Most Common, and Benefits of Each
Essential Oils Natural Skincare Recipes
Essential Oil Dandruff Treatment
Insect Bite Itch Relief
Hair Moisturizer and Split End Treatment
Lavender and Rosemary Shampoo Treatment
Anti-Wrinkle Facial Treatment
Yummy Facial Moisturizer
Simple Essential Oil Perfume Formula
Essential Oils in Homemade Cleaning Recipes
Yoga Mat Spray Recipe
Classic Germ-Fighting Essential Oil Spray
Abrasive Cleaning Mix
Patio Furniture Cleaning Spray
Easy Ant Deterrant
Homemade Laundry Detergent
Essential Oils: Amazon Product Descriptions
Essential Oils 2ml Amber Glass Bottles – 36 total
Cobalt Blue 1-oz Essential Oil Dropper Bottles – pack of 120 bottles with caps total
Set of 12 1-oz Amber Glass Dropper Bottles for Essential Oils
MYO Aromatherapy Natural Cleaning Solutions and Sprays – Bottle Kit of 12 Roller Bottles, 12 Essential Oil Bottles in 3 sizes, Labels
Cobalt Blue Glass Bottles - Various Sizes for Homemade Cleaning and Skincare Applications
Cobalt Blue Glass Cosmetic Jars - 12-pack with Lids
24oz. Amber Glass Jars with Lids - 24-pack
Regularly $37
"Happy Fall" Essential Oil Diffuser Blends, Soy Candle Making PLR - 2,768 words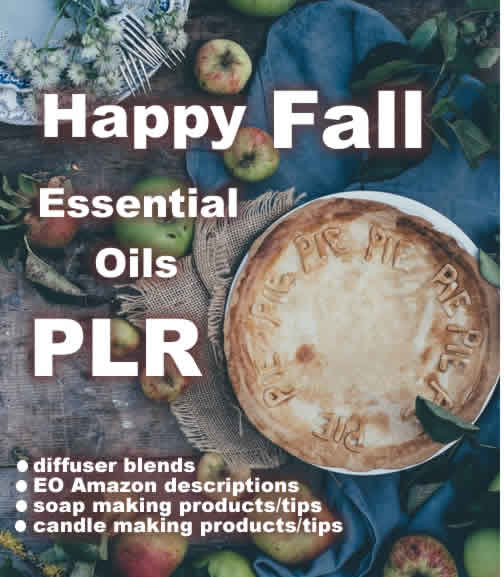 Essential Oils PLR covering fall diffuser blends, candle-making tips and some benefits of essential oils such as cinnamon, clove, cardamom, orange, lemon and others.
Contents Include:
Essential Oils Fall Diffuser Blends
About Diffusers
Favorite Essential Oil Diffuser Blends for Fall
Best Brands of Essential Oils - Autumn Aromatherapy
More About Thieves Blend
Make Soy Candles at Home Using Essential Oils
To Make Natural Soy Candles You Will Need:
Soy Candle Making FAQs
Flash Points of Fall Essential Oils
Tips for Essential Oil Candle Scents that Last
Regularly $17
Non-Toxic Essential Oil Based Cleaning Recipes and Homemade Skincare Recipes with Private Label Rights - 2200+ words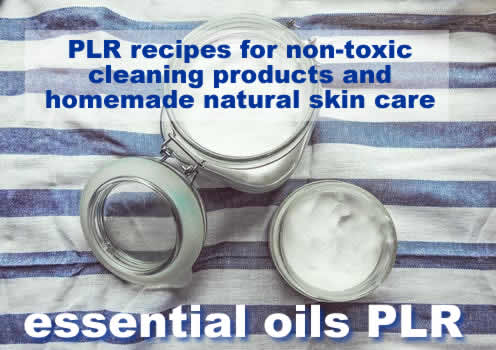 PART 1: Sanitize, Deodorize With All Natural Cleaning Recipes Using Essential Oils
All Natural Lunch Box Disinfectant
Natural Garbage Pail Deodorizer and Disinfectant
Homemade Glass Cleaner for Windows, Mirrors and Picture Frames
Essential Oil Based Furniture Polish
Homemade Natural Wood Floor Cleaner
All Natural Room Air Freshener
Doggy Deodorizer
Homemade Nontoxic Abrasive Cleaner
PART 2: Essential Oils for Personal Use - Make Bath Products, Skincare Treatments, Facial Cleansers
Clary Sage Eye Compress
Coconut Oil Facial Cleanser
Oatmeal, Coconut Oil and Lavender Skin Soother
Lavender, Rose and Oatmeal Bath Soak
Essential Oil Bath Salts for Muscle Pain Relief
Homemade Clay Based Facial Cleanser or Mud Masks
All Natural, Homemade Cucumber Facial Cleanser
Homemade Apricot Almond Exfoliant Recipe
Honey Turmeric Facial Cleanser Recipe
Carrier Oil Facial Moisturizer Recipe
Banana Lemon Facial Cleanser Recipe
Regularly $10
"Pumpkin Everything" Essential Oils Healing Aromatherapy Blends PLR for Fall - 5 Recipes, 7 Articles - 2,823 words total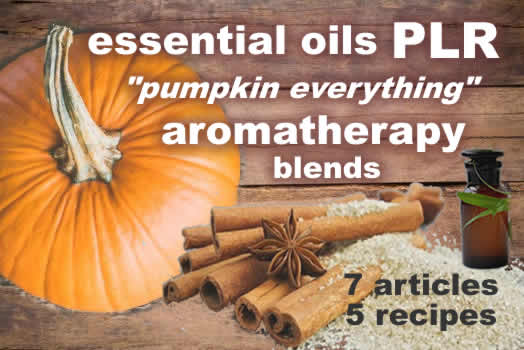 Content package includes:
RECIPE: Orange Spice Diffuser Blend
ARTICLE: Health Benefits of Orange Oil
ARTICLE: Benefits of Clove Oil
RECIPE: Vanilla Pumpkin Diffuser Blend
ARTICLE: Vanilla Oil Healing Properties
RECIPE: Apple Crisp Diffuser Blend
ARTICLE: Benefits of Cinnamon Oil
ARTICLE: Lemon Essential Oil Benefits
RECIPE: Nutmeg Chai Diffuser Blend
ARTICLE: Benefits of Nutmeg
RECIPE: Ginger Spice Diffuser Blend
ARTICLE: Ginger Essential Oil for Health
Regularly $12
Essential Oils Immune Boosting PLR - 3300+ words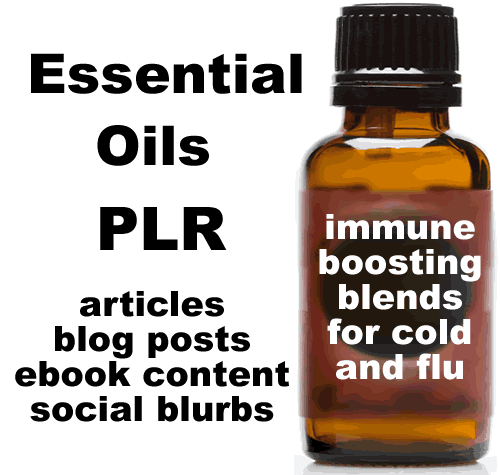 Content includes:
Essential Oils Overview
Best Germ Fighting Essential Oils - Derived from Common Garden Herbs
Rosemary Oil as an Immune Booster
Rosemary Oil Diffuser Blend Immune Boosting Recipe
Rosemary Oil Foot Rub to Fight Cold and Flu
Clary Sage Oil as an Immune Booster
Clary Sage Massage Oil for the Body and Feet
Clary Sage Diffuser Blend for Immune Support
Thyme Oil as an Immune Booster
Thyme Oil Foot Rub - "Immune Assist" Blend
Thyme Oil "Cold and Flu" Diffuser Blend
Oregano Oil as an Immune Booster
Oregano Oil Diffuser Blend - Boosts Immunity Naturally
Basil Oil as an Immune Booster
Basil Oil Sinus Rub
Basil Oil Diffuser Blend for Cold and Flu
Even More Germ Fighting Essential Oils - Derived from Popular Kitchen Spices
Clove Oil as an Immune Booster
Clove, Cinnamon and Lemon Oils - Immune Protectant Diffuser Blend
Ginger Oil as an Immune Booster
Cinnamon Essential Oil as an Immune Booster
Nutmeg Oil for Immune Boosting Benefits
Orange Nutmeg Eucalyptus Foot Rub
Orange Nutmeg and Eucalyptus Diffuser Blend for Sinus Congestion, Cough, Fever and General Malaise
Regularly $16
"How to Make Scented Candles Using Essential Oils" PLR | Beeswax Candle Making PLR - 1500+ words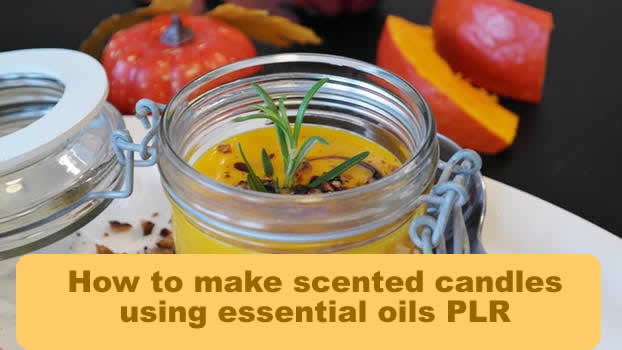 Content includes:
How to Make Scented Candles Using Essential Oils
Essential Oil Candle Aromatherapy Really Works
What is Needed to Make Candles at Home (Things to Know About Beeswax and Wicks)
What Types of Candle Containers to Use in Your Homemade Essential Oil Candles
Types of Candle Wicks
Candle Making Supplies
How to Make Beeswax Candles in Seven Easy Steps
Add Some Festive Holiday Touches to Your Homemade Beeswax Candles
Regularly $10
Pick and choose from the above essential oils and aromatherapy PLR packs in time for fall publishing!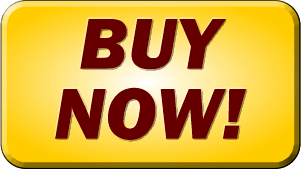 Buy now opens up to a new checkout window so you won't lose this one.