Essential Oils PLR Publish-and-Profit Project: PLR Pack 1 - Amazon Products and Descriptive Content with Full, Private Label Publishing Rights.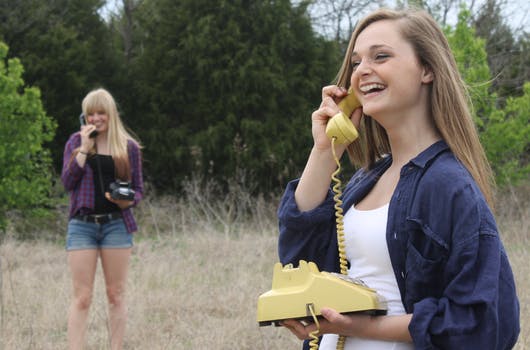 Hey, friends! Dina from Wordfeeder here. You asked for essential oils Amazon product descriptions, I delivered. This content is all dressed up and ready to go into your blog and ebooks. Full private label rights is granted with purchase,
PLR PACK 1: Essential Oils Products to Profit From Online- All from Amazon - 3,718 words
If you've already purchased the awesome, pre-written essential oils content from Wordfeeder, I've got great news for you. This is a brand new pack of even more high quality written content that covers specific essential oils products on Amazon.
Put your name on this content... or don't. Publish in your blog or in an ebook that you offer your health and wellness readers. The whole point is to link to Amazon products using your affiliate ID so you can make money each time someone buys one of the below listed essential oils products.
For my Amazon product selections, I chose essential oils that I myself purchase or would purchase because I'm familiar with the companies and have bought other oils from them already.
I do not currently shop with private companies like DoTerra or Young Living, but many people do. So you can use these descriptions to publish links to your own company of choice, OR just go with publishing the Amazon products that I listed below (but be sure to replace the links with your own!)
Don't forget your legal disclaimers
As with all essential oils content, you should legally disclaim on every page, ad or publication. Include the line "This information is not meant to serve as medical advice. If you have any concerns or are experiencing symptoms of any kind, please consult with your physician."
Please check with whatever essential oils company you are a rep for, in case there may be specific disclaimers that you are required to include along with your written content.
Why Publish Essential Oils Content in Your Natural Health Blog?

Essential Oils has been a consistently popular and sought-after topic with the natural health and home remedies crowd, and popularity is only increasing with time. Let's face it, people are becoming more and more aware of aromatherapy and how just a few drops of a single oil, or a combination of several of them, can so drastically impact one's health and well being for the better.
Let's Get Started Publishing Essential Oils Content TODAY
I was thinking that if you already have essential oils content in your files that you haven't gotten around to publishing, maybe you need a little support to get you motivated. And even if you have NOT yet bought the content needed to make some bank in this burgeoning niche... I've got the content for you, too! I just put a whole bunch of essential oils PLR packs on sale, so catch the savings if you're in the market for some high quality content to publish and profit from.
Within this MS Word document that's free to download, you'll find a nice, long list of essential oils products that go perfectly with the type of essential oils article and tips content we offer here on Wordfeeder. (Or even if you bought PLR from another seller, that's cool... our list of Amazon products will definitely come in handy!)
Which Essential Oils Amazon Products Will Work for Your Natural Health Readers?
Essential Oils Diffusers and Humidifiers. Essential oils are probably best known for their ability to cleanse the air and leave a fresh scent that can alter the mood of your home while delivering aromatherapy benefits to the body. No oils collector would want to be without a high quality diffuser. Some also offer a humidifier feature!

Essential Oils. Individual bottles of all the most commonly used oils. I chose popular brands that I have purchased and enjoyed personally.
Essential Oils. Blends for specific purposes. Bug repellent is a good one for the upcoming spring! Relaxation blends are also highly sought-after.
Essential Oils Bulk Packs. Your readers can save a lot on smaller bottles. This can be good if they're just getting into oils, and would like a sampler pack.
Here's Exactly What's Included in This Written Content Pack of Essential Oils Descriptive Product Copy With Private Label Rights:
Ultrasonic Aroma Cool Mist Humidifier - DESCRIPTIVE COPY AND LINK TO PRODUCT

ArtNaturals Aromatherapy Essential Oils and Diffuser Gift Set - 150ml Tank and Top 8 Oils) - DESCRIPTIVE COPY AND LINK TO PRODUCT


URPOWER Cool Mist Humidifier and Essential Oils Diffuser - Square Design, Cube Shape
Essential Oils Multi Packs - DESCRIPTIVE COPY AND LINK TO PRODUCT

Plus DESCRIPTIVE COPY AND LINK TO PRODUCTS on all of the below oils:

BASIL OIL
CEDAR WOOD OIL
CINNAMON OIL
CLARY SAGE OIL
CLOVE OIL
EUCALYPTUS OIL
FRANKINCENSE OIL
GINGER OIL
GRAPEFRUIT OIL
LAVENDER OIL
LEMON OIL
LEMONGRASS OIL
LIME OIL
JASMINE OIL
PATCHOULI OIL
PEPPERMINT OIL
ROSE GERANIUM OIL
ROSE ABSOLUTE OIL
ROSEMARY OIL
SWEET ORANGE OIL
TEA TREE OIL
THYME OIL
VANILLA OIL
WINTERGREEN OIL
YLANG YLANG OIL

Here's a screen shot sample of the content for your review: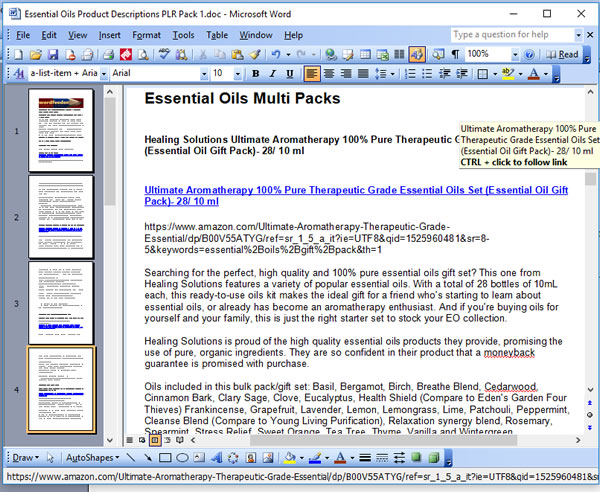 PLEASE NOTE: More content on carrier oils, essential oils bottles and other accessories will be released soon! If you'd like to get a head start by linking to other items that people who make their own cleaning products and essential oil based natural skincare, hair care, personal products and perfumes would buy, then grab this freebie that contains the Amazon links inside.
For now, grab all 3,718 words of this high quality PLR pack containing Amazon Products and Descriptions Your ESsential Oils fans Want and need!
NOW $24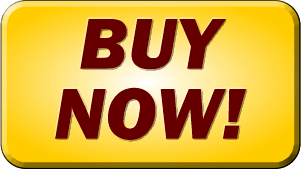 Please note: the checkout page already has this product checked off and ready to order. You'll see it when you scroll down.
Free PLR Articles Just for Being a Member
PS: Did you know that we have a ton of FREE PLR content that I add to on a regular basis? Once you check out via PayPal, you'll be able to log into your Wordfeeder member account to access this plus ALL the extra free content I throw in just for being on my list. Simply go to the top menu and look under FREE PLR to see a list of awesome content to download right now!
THANKS for purchasing PLR content from Wordfeeder. I hope you find value in this excellent quality essential oils content that I've created for you. And THANK YOU for supporting my freelance business. CHEERS to you in yours!