Flu PLR Articles - 12 Total
"What to Do About the Flu?" - PLR Content is Prewritten and Ready to Publish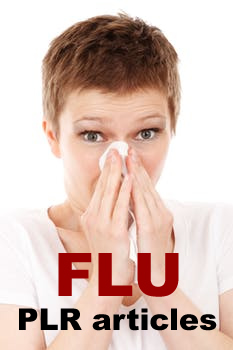 Health and Wellness Bloggers... are you in search of high quality private label rights Flu Articles to publish in your blog and on social media, offer as ebooks to sell or give away, and share in your newsletter?
Sad to say, flu season is officially here. People are stuck at home, sniffling, sneezing, coughing, suffering with their aches, pains and fever... and guess what they're Googling? Flu, of course.
They want to know about the influenza virus. They want quick cures to ease their miserable condition. They want to know if this thing is going to take down everyone in the family and run its course through their workplace.
Can the flu be stopped? Flu shots abound... yet the flu rages on. Don't let the flu come for you. Or your readers, actually. These articles on the flu are the perfect answer to all of their questions and concerns on the nasty, dastardly influenza bug. And we're offering you a chance to grab them to publish in your blog this winter... for $3 off with coupon!
Wordfeeder Has Your Flu PLR Articles... at a Great Price
This flu content comes from our writer friend, Dee Power
Titles include:

Flu Symptoms and How it Spreads - 425 words

After You Come Down With the Flu - 402 words

Flu Prevention: Does Vitamin C Prevent the Flu? - 420 words

Decrease Stress and Decrease the Odds of Getting the Flu - 407 words
3 Ways to Cut Down the Chances of Getting the Flu - 411 words
Influenza: Stay Informed and Ready - 444 words
Preventing the Spread of the Flu - 414 words
Hand Washing Number 1 in Preventing the Flu - 414 words
What to Do If A Family Member Comes Down With the Flu - 448 words
Is the Flu Virus Killed by Ultraviolet light? - 433 words
Keep The Flu Virus at Bay With a Healthy Lifestyle - 409 words
Avoiding--and Dealing With--Flu in the Workplace - 503 words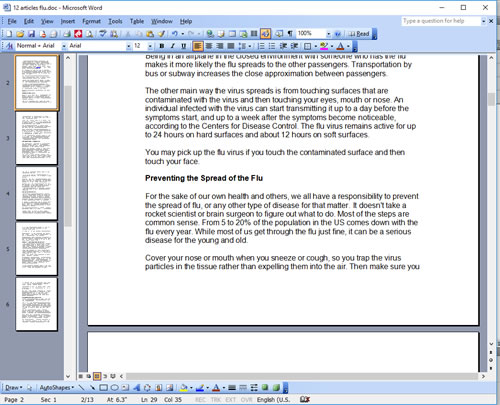 Here's a screen shot of a writing sample so you can be sure that you're getting top quality writing.
Q: What Can You With These High Quality Influenza Articles?
A: Once purchased, these articles are yours to publish however you like.
You may edit this content to your liking, including deleting any parts that don't necessarily reflect or represent your views; adding your own examples and stories, or cutting and pasting different sections of text into different spots.
The one exception is that we do not offer resell rights to the articles themselves. You may, however, brand this content with your name, company name, logo and images, and then set up to sell in an ecourse or ebook.
Other Ideas for Publishing These Articles or Blog Posts:

Set up as one stand-alone ebook, or a section of an ebook that covers a more broad scope of subject matter. Sell the ebook, or give it away to readers in exchange for their contact information.

Add the articles to your blog to help drive targeted traffic and get more signups for your programs and membership if that is what you offer.

Publish them in your monthly newsletter to create a connection with readers

Paste snippets of the text into social media posts with a "read more" link that goes back to your blog

Offer as an autoresponder course that you can charge a fee for.

Add to your library of reading materials that members can sign up for a paid subscription to access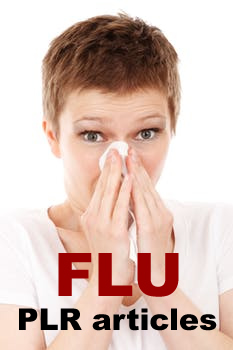 How Much for This High Quality Content?
It would cost you likely hundreds to have a copywriter create these articles exclusively for you. But because you are purchasing the RIGHTS to publish this content as your own, you get them for a small fraction of the cost.
Now $12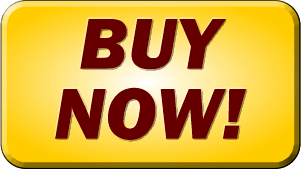 How to Access Your PLR Articles:
Once you click BUY NOW, you will be prompted to make a purchase selection and input payment details. After your order processes, please check your email. You will receive an email from Wordfeeder that contains an MS Word file with all of the articles inside it. Please save this file to your computer. Additionally, you will have received a login to the member area of our site. Each time you log in, you can access your articles and download them from your user account.
Free PLR Articles With Your Membership

PS: Don't forget! In addition to these high quality articles, you also get a TON of free content once you log into the Wordfeeder member area. Check the top menu and look under FREE PLR to see what's offered.

THANKS for supporting my freelance business. CHEERS to you in yours! If you have any questions, please contact us via email. Thanks for supporting my freelance business! CHEERS to you in yours.