UPDATE: You will be able to purchase and sell an ebook created from our Reverse Aging content! We'll update you as soon as it's available. For now, download our "free sample" of Reverse Aging PLR now!
FREE PLR! Sample Our Life Coaching and Self Help Articles Right Now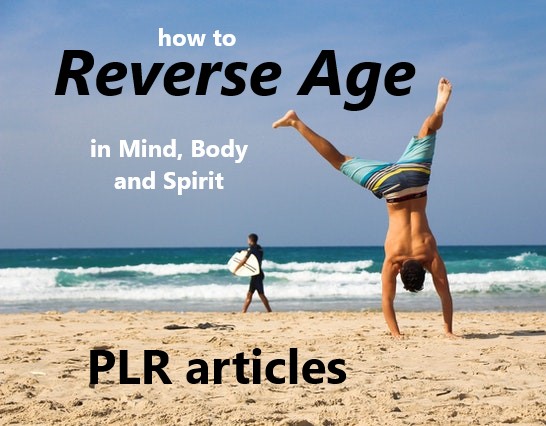 Life Coaches LOVE our content so much that I decided to create a 15-article PLR monthly deliverable for them. So far the membership's been a big hit with my customers! Topic areas we cover include...

Positive Psychology


Marital Challenges


Family Dynamics


Motivation and Self Help


Positive Thinking


Relationship Help


Stress Management


Self Coaching
The FREE Article included here works for the following audiences, not just life coaches!

Self Help

Wellness

Self Care

Anti-Aging
Here's a screen shot of the free article: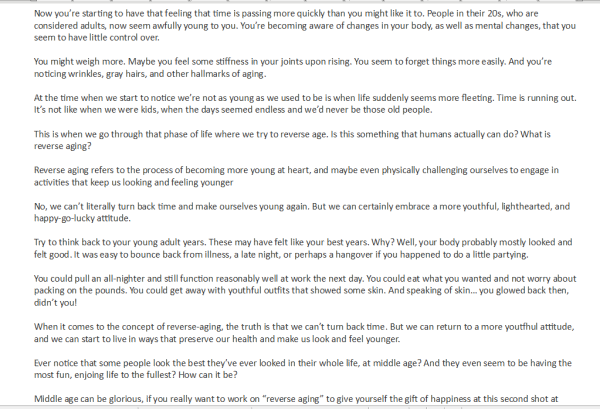 The rest of the below titles are coming very soon! Stay tuned... once you sign up we'll email you when they're ready.
Here's what you'll get in the paid version of this:
What Might Reverse-Aging Look Like for You?
Youthful Vigor, Wonder, Curiosity and Delight at the Heart of Reverse-Aging
What Happens to Your Brain as You Age?
How Does Your Outlook Affect Activity Levels as You Age?
Why Would You Want to Seem Younger?
Young at Heart does NOT Mean Immature
You Can Still be Wise and Careful While Embracing a Youthful Outlook
What Exercises Help Your Body Stay Limber as You Age?
What Foods Can You Eat to Help You "Reverse Age?"
What is the Midlife Crisis Really About?
Activities to Keep Your Mind Active
What to Think About so You Can Stay Mentally Flexible
Want the Vigor of Youth? Get a Healthy Lifestyle
Kick the Bad Habits that Are Aging You Prematurely
Yoga for Youthfulness, Inner Peace and Joy
Six Healthy Practices to Increase Youthful Feelings and Appearance