FREE Weight Loss Images - 45 Total with Private Label Rights
For Wordfeeder's Active Weight Loss PLR Monthly Members
Do you publish weight loss tips? Do you sell weight loss programs, memberships, courses, ebooks and consulting packages?
Your weight loss website can never have enough content. Just when you think you can take a break and stop posting... you need even MORE content to attract new visitors who will want that course you just launched, or the new membership you just announced to your list.
Wordfeeder has the weight loss content you need to connect with your perfect weight-loss and healthy lifestyle-seeking reader.
Just try out our Weight Loss PLR Monthly and see what a difference it makes to have a ton of high value content for one tiny price. You can do so much with the content we create, including but not limited to...
Creating and selling weight loss ebooks
Adding helpful articles for your members to download
Posting articles on your blog to attract new readership
Creating special reports to use as an opt-in gift to get more sign-ups
Combining ebooks to form a bigger course that you sell
Making weight loss videos - slide shows and tutorials
Handing out helpful pamphletts to your in-person clients
Sharing recipes that we give you - to make online healthy cookbooks, printable recipe collections, blog posts with affiliate links to great products like veggie slicers, food scales and much more
In addition to the monthly deliverable of 15 new articles or recipes OR a total of 7K words on a themed weight loss topic, you also get occasional freebies just for being a Weight Loss Monthly member here at Wordfeeder.
Our newest freebie (Oct 7, 2021) gives you 45 high quality images to download. These are 45 weight loss themed images including pictures of people exercising, doing yoga, lifting weights, cardio, healthy food including veggies, salad, salmon, avocado, mediterranean, soup and more.
These images happen to match well with the Sensible Weight Loss PLR articles and recipes that came with our October 2021 Weight Loss Monthly deliverable. But they will also work with any weight loss themed content.
Images are medium .JPG files, around 1200 across or so.
Here's a screen shot of the images: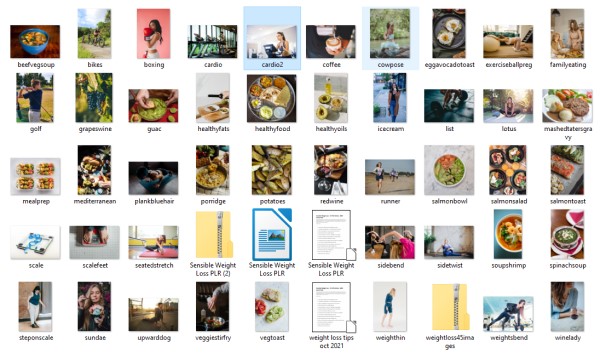 FREE to Active Weight Loss PLR Monthly Members on Wordfeeder.com
If you're not already a current Weight Loss PLR Monthly member, you can sign up here. If you're active, log in and download your images now.
Sign up takes you to a checkout page in a new window. You'll see some other great PLR packs that I've listed for you there. Plus, if you love our content, there's even an option to sign up for our Weight Loss PLR Monthly... best value yet!
How to Access Your PLR Content:
Once your order processes, you will be asked to create a login to the Wordfeeder member site. Do this, then check your email for a confirmation, plus another email containing your delivery of the files.
If you have any questions or trouble with your download, email me and I'll get back to you as quickly as possible.
PS: Don't forget! In addition to these high quality articles, you also get a TON of free content once you log into the Wordfeeder member area. Check the top menu and look under FREE PLR to see what's offered.

THANKS for supporting my freelance business. CHEERS to you in yours!