NEW! GErm Fighting PLR - 4500 words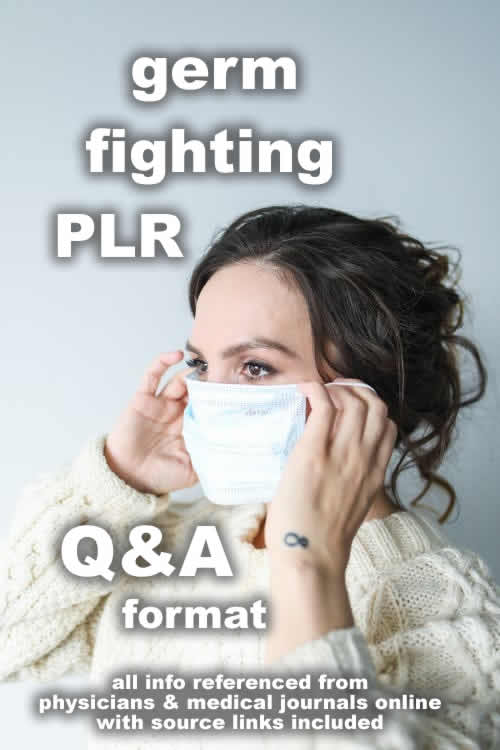 Publish This to Help People Survive the Coronavirus Scare
Hi, Dina from Wordfeeder here. Sending thoughts of good health and calm circumstances your way.
How are things in your corner of the globe?
Let's face it, people are getting a little stir crazy with all of the media coverage of Coronavirus of late, and the school and business closings that will happen over the coming weeks. Rumors and memes are flying; parents are trapped in their homes with restless children and virtual schoolwork assignments looming.
Most of the content that's getting passed around on social media are either snarky memes, near-frantic pleas for people to stay home and maintain social distance... or statistic filled charts and graphs attempting to make predictions about who will be affected by coronavirus and when.
You might call this a few steps shy of panicking. It's certainly obsessive thinking, and that doesn't really feel good to most of us.
Because: do we feel good after we spend fifteen minutes scrolling and clicking Facebook looking at pictures of little colored balls with spikes coming out of them?
3 Types of People Reacting to the Constant Coronavirus Updates
So far, from what I've seen, you have THREE types already covered on social media.
The Alarmists who think we're all doomed
The Deniers who are busy making snarky memes
And... let's not forget The Preppers. These are the ones who desperately want information, and YOU can be the one to give it to them.
I'm going to tell you right now what people need so They Can stop feeling anxious and obsessed.
They Need To Feel Like They're Helping Somehow
The best way to reach your audience of eager readers who currently feel powerless and like they don't know how to help, is by publishing information that is both practical and useful.
And in order for you to accomplish that without having to write your fingers to the bone, I've done the work already for you.
In light of recent world health situations, I thought it was important for someone to compile some sound and sane advice on the following topics:
how to prevent the spread of germs
how to keep your home clean using both disinfectants and the basics
how to keep your immune system strong
how to recover from illness more quickly
All of the above mentioned PLR topics come to you with our brand new content pack, "Germ Fighting PLR."
This content is written in Q&A format and cited with medical journal references and quotes from medical experts with direct links to each article.
I learned a LOT researching and reading this... now you and your readers can discover what I learned, and hopefully stay healthy in the process.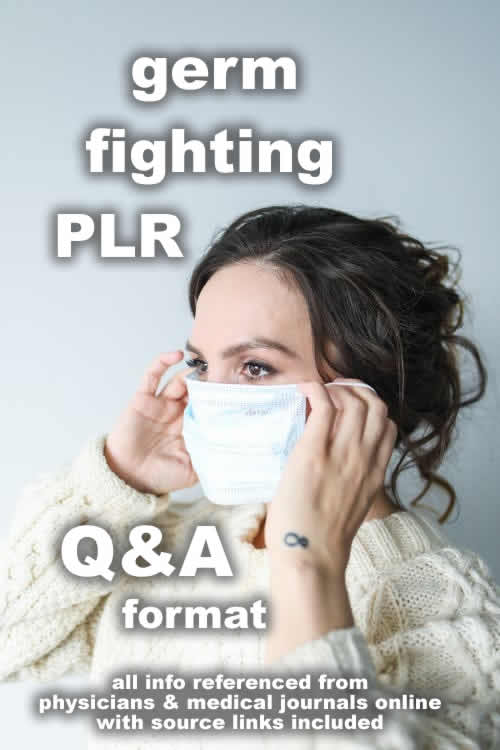 What to Do With Your Germ Fighting PLR?
I would recommend publishing these tips in your blog. You might also make an ebook from them and offer it free in exchange for new signups, or as an affordable paid product.

IMPORTANT: Any health related content that you publish should be disclaimed:

"This information is not intended to serve as medical advice. If you are experiencing symptoms of any kind, please consult with your physician."
This high quality health and wellness content can make the following online publishing and marketing tasks simple and stress-free:
Blog posting
Affiliate product linking
Ebook sharing and selling
Newsletter publishing
Social media posting to drive traffic?
Special report giveaways to grow your list and increase your income exponentially?
...and more?
Here's What's Included:
What's in the recipe for soap?

Where can I get a good recipe for soap?

Why is soap made from fat?
What is a fatty acid and how do they help the body?
What is lye and why is it used in soap?
Does common bar soap kill bacteria and viruses?
Does a used bar of soap contain germs?
Ways to minimize the spread of germs when using bar soap
Is bar soap effective at eliminating germs?
Why is liquid soap more popular than bar soap?
Make your own Windex
Does ammonia kill viruses?
Does vinegar kill viruses?
Does salt kill bacteria?
Do any types of bacteria thrive in salt water?
Are you sure salt doesn't kill bacteria?
Does chlorine bleach kill viruses and bacteria?
Can you disinfect drinking water using bleach?
How to disinfect well water using chlorine bleach:
Why do we run a fever when our body has come down with a viral or bacterial illness?
What types of hygiene and household cleaning applications utilize salt to reduce bacteria?
Does saline help to remove germs from your mouth and nose?
Nasal Saline Solution Recipe
Vinegar and Baking Soda Abrasive Cleaning Spray Recipe
How does a humidifier or vaporizer help a cough?
Can steam from the shower help a cough?
Does honey really help cure a sore throat and cough?
Do antibiotics work for the flu?
Do acids kill viruses?
How does vitamin C help a cold?
Is there scientific evidence that vitamin C helps people get over a cold virus quickly and with less symptoms?
Does zinc work to cure viruses and bacteria?
How to prevent the spread of germs?
How to stop viruses from spreading from person to person:
How to boost your immunity so you heal more quickly when you do catch a cold or the flu?
Here's a Screen Shot Sample of the Content so You Can Get an Idea of The Quality: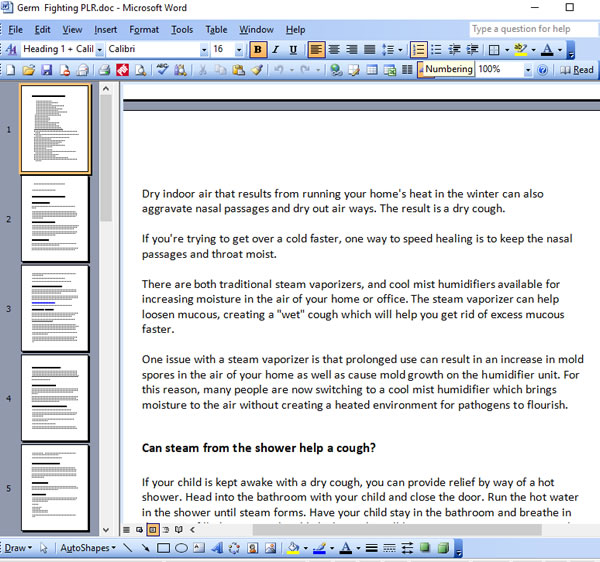 This content covers all the questions that nervous, germ-fearing citizens burn to know.
This content would cost you hundreds to have written from scratch. Today you get it for less than $20!!

Use coupon code NOGERMS for $10 off this pack. NO Expiration Date! (But of course you'll want to publish this as SOON as possible.
NOW ONLY $12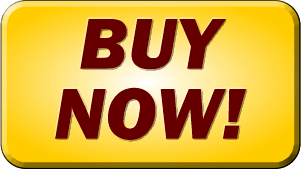 You Also Get FREE Articles Just for Signing Up
PS: Don't forget! In addition to these high quality articles, you also get a TON of free content once you log into the Wordfeeder member area. Check the top menu and look under FREE PLR to see what's offered.

THANKS for supporting my freelance business. Wishing you good health, prosperity and safety for you and your loved ones at this chaotic and uncertain time in world history.