Healthy Soup for Weight Loss PLR Articles & Recipes | 7200+ words total - Articles and Recipes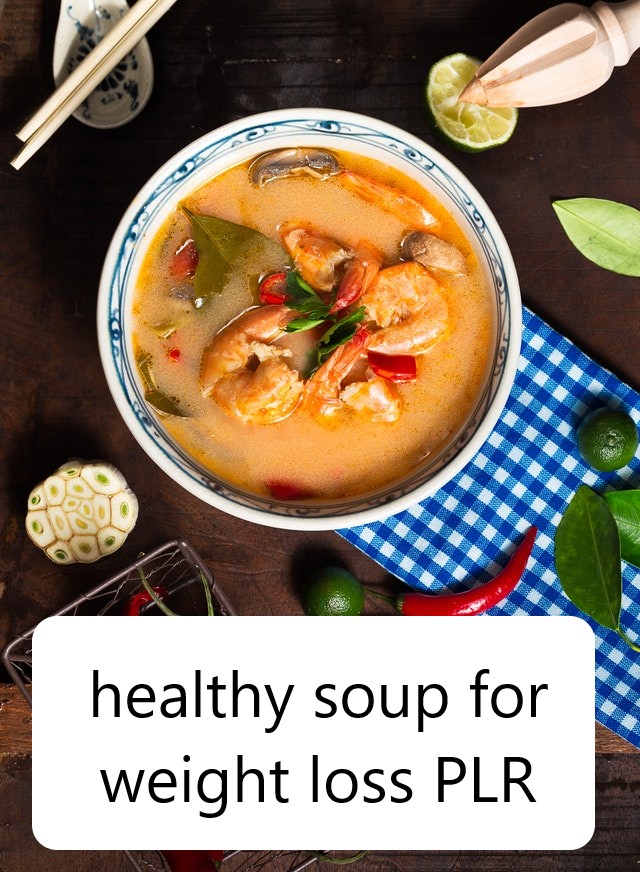 Need articles on stress and weight loss and how to manage for success? This pack of high quality content comes with private label rights to share or sell as your own. Lots of resources and expert quotes in here, so grab this one up because it's super high quality info!
UPDATE! In addition to the Articles and Recipes, this PLR Pack now comes with 13 free stock images
Here's a screen shot of the images: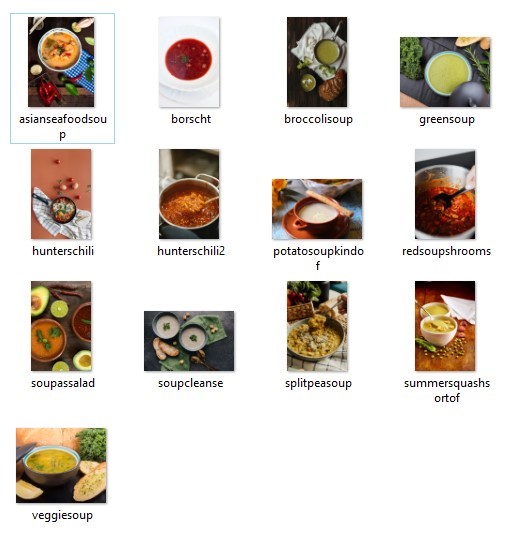 Highest Quality Writing - Impressive Price. Order ala carte or via our paid PLR Membership
Your Weight Loss and Fitness Readers Will Appreciate This Information!
Weight Loss Publishers! This coming winter's going to be stressful. Even if it wasn't the tail end of the coronavirus pandemic, winter's always a struggle for people trying to lose weight, stay fit and eat healthy. Most people were stressed before the quarantine, only it was easier to ignore than it is now. So that's why this is one HOT topic that your weight loss readers will be looking to dive into and read up on.
Hook them up with soime valuable tips, support and weight loss love thanks to these articles that are heavy on the information and light on the price!
Will your Weight Loss Blog be getting clicks, signups and sales this season?
It definitely will with this weight loss themed content on your side. These motivational articles are packed with good information and perfect for sharing as blog posts and then posting the links on social media.
Just pop in the intro, add a compelling image, and share the link to your blog post where people can read more and sign up for your list. Included with the articles are some recommendations for certain, weight loss related products. Look up each one and promote on your blog!
DON'T FORGET TO INCLUDE YOUR AMAZON AFFILIATE ID WITH EACH PRODUCT so you can make some sweet bank by sharing this!
Use this to make and sell an ebook.
More than 7300 words at a great value! Want to use these to create legit cash flow? Add some images and branding to this document, turn into a PDF and sell it as an ebook. The more people on your list, the more you profit.
Or... give away the ebook as a way to get more people to join your Weight Loss and Healthy LIfestyle membership.
Here's a screen shot of the content so you can get an idea of the quality: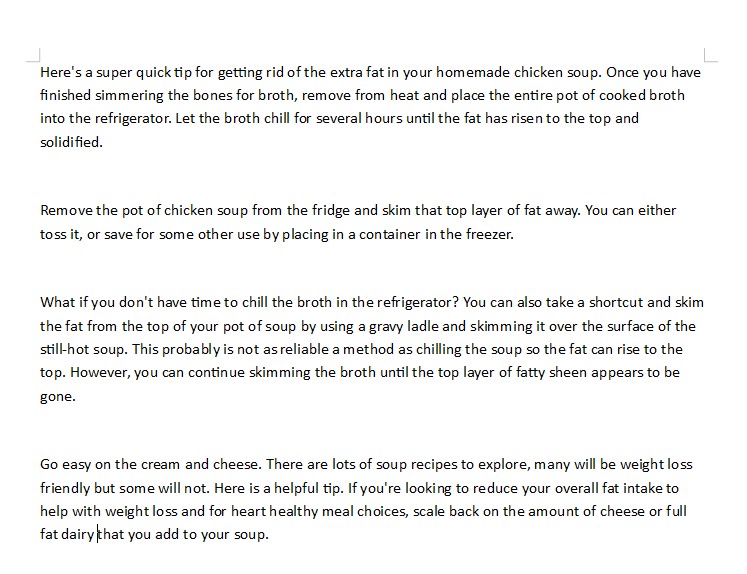 How can you use this content to grow your weight loss audience and create profits?
These articles are being sold as PLR - Private Label Rights Content. That means that you get to edit, change, brand, and publish them under your own name in the following ways:

As blog posts or website articles. Posting a series on a single topic that you cover for a full month is a great way to get targeted readers. Share links to your blog on social as well!

As posts shared on social media. If you host a group online, it helps to post information your readers want and need. Post your recipes and articles there with a link back to your blog.

As an ebook that you share to grow your list. An opt-in gift is a common way to get more people interested in you and what you do.

As a PDF download that you sell under your own brand name.

As a fitness series or course sent via email or hosted privately in an online conference room or private social media group such as Facebook
What's Included with Healthy Soup for Weight Loss PLR Articles & Recipes | 7200+ words total - Articles and Recipes
Total word count is 7200+ and the included titles are:
ARTICLE: Soup for Weight Loss
ARTICLE: What Makes Soup Nutritious?
ARTICLE: How to Make Sure Your Soup Meals Stay Weight Loss Friendly
ARTICLE: Soup Ideas for Winter Weight Loss
ARTICLE: How to Make Sure Your Soup Meals Stay Weight Loss Friendly
ARTICLE: Let's Talk Lentils and Legume Soups for Weight Loss
ARTICLE: Seafood Soups Are Great for Your Health
RECIPE: Bountiful Borscht
RECIPE: Healthy Split Pea Soup
RECIPE: Garden Vegetable Soup
RECIPE: "Soup Cleanse" - Pureed Potato, Celery and Broccoli Soup
RECIPE: Hunter's Chili
RECIPE: Swiss Chard, Turkey Sausage and Potato Soup
RECIPE: Creamy Spinach and Broccoli Soup
RECIPE: Asian Inspired Seafood Soup
RECIPE: "Salad in a Bowl" Soup
RECIPE: Summer Squash Soup
Here's how much you save...
| | | | |
| --- | --- | --- | --- |
| PLR PRODUCT | HOURS TO CREATE FROM SCRATCH | COST IF HIRING A PRO TO CUSTOM CREATE THIS | PRICE AS PLR |
| Healthy Soup for Weight Loss PLR Recipes & Articles | 20 hours to write from scratch | 20 hours at $50 per hour = $1000.00 | This content is regularly priced at $27 so you get it for less than the cost of a new yoga mat! |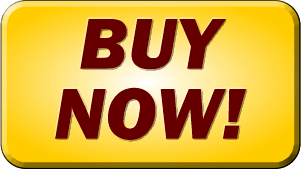 "Buy Now" by clicking the link or using the button above. Opens to a new checkout window so you won't lose this page. :)
How to Access Your PLR Content:
Once your order processes, you will be asked to create a login to the Wordfeeder member site. Do this, then check your email for a confirmation, plus another email containing your delivery of the files.
If you have any questions or trouble with your download, email me and I'll get back to you as quickly as possible.
PS: Don't forget! In addition to these high quality articles, you also get a TON of free content once you log into the Wordfeeder member area. Check the top menu and look under FREE PLR to see what's offered.

THANKS for supporting my freelance business. CHEERS to you in yours!