Fall and the holidays will be here before you know it. The publishing theme is planning and organizing. Your readers will need tips, guidance and inspiration. Will your content hit the social networks to get you new sign-ups and sales?
Don't miss our NEW Fall Home Organization and Holiday Planning PLR Articles and Images (sold separately)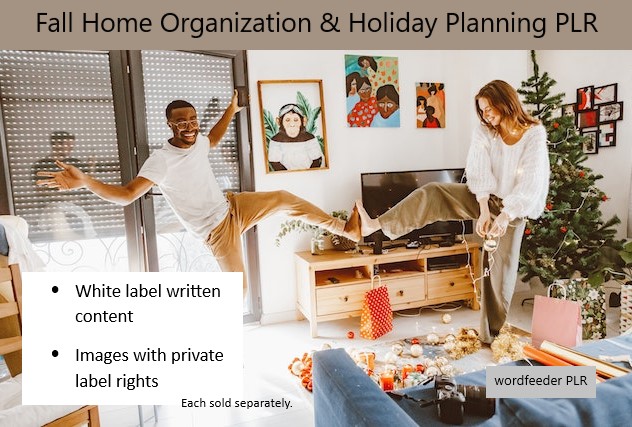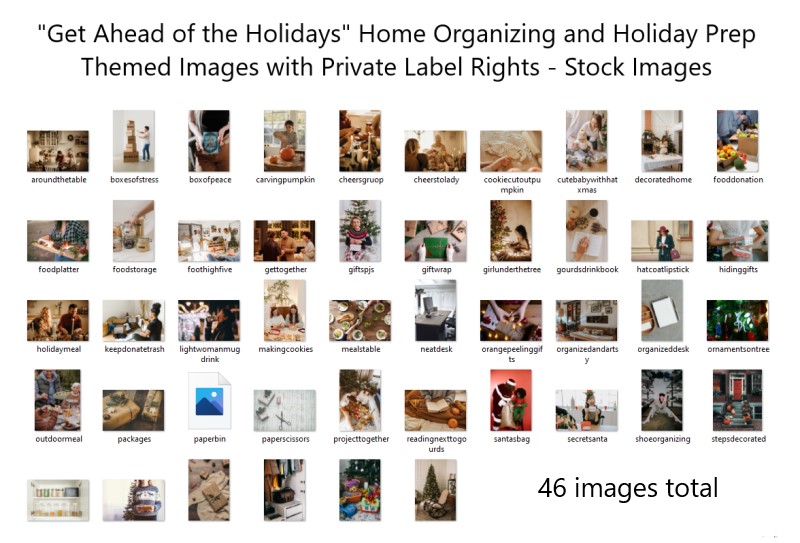 Publish these images along with Get Way Ahead of the Holidays PLR articles - written content (6500 words, sold separately) OR in your own projects.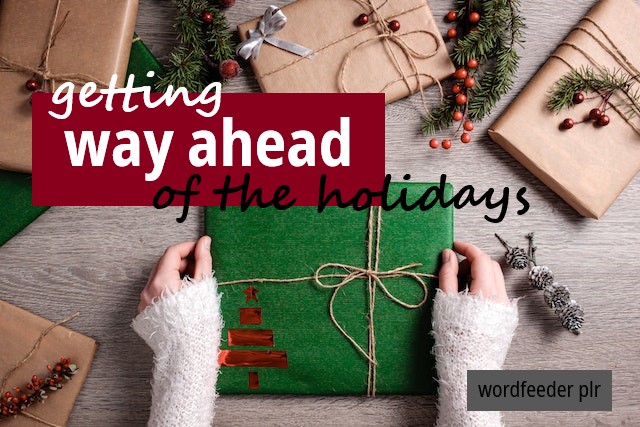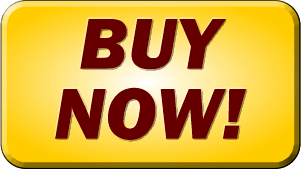 Buy now opens to a new page so you won't lose this one.
Get the images for immediate download when you sign up for our Pot Luck PLR membership (HUGE value - many more content files included)
"Home for the Holidays" Video Slide Show or Ebook Content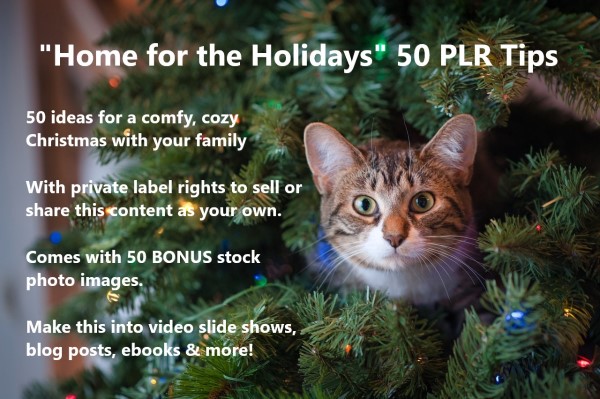 Help Them Discover the True Spirit of the Holiday Season.
Be one of the first to grab this done-for-you content, and get to publishing!
What to do with this content? Just a few ideas...

Make into an ebook giveaway to get more people on your list

Create a video slide show to attract more traffic to your website (Video is having a BIG effect on search engine right now)

Set up an Email Tip Per Day autoresponder and invite your readers to sign up!

Share the tips on your social page and in your groups to get a cozy holiday feeling going and give people hope!

All of the above! (yes, you can recycle content to place here and there and everywhere
---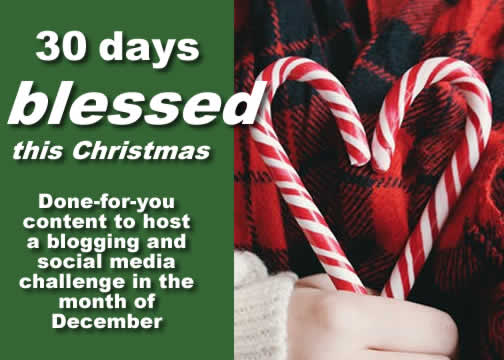 30 Days Blessed This Christmas 30-Day Challenge With Guided Gratitude Journaling Exercises
This Comes with 30 Ready-to-Email Intros, 30 Articles and 30 Journaling Exercises - a Total of 17,000+ words!
Here's a sample of the text: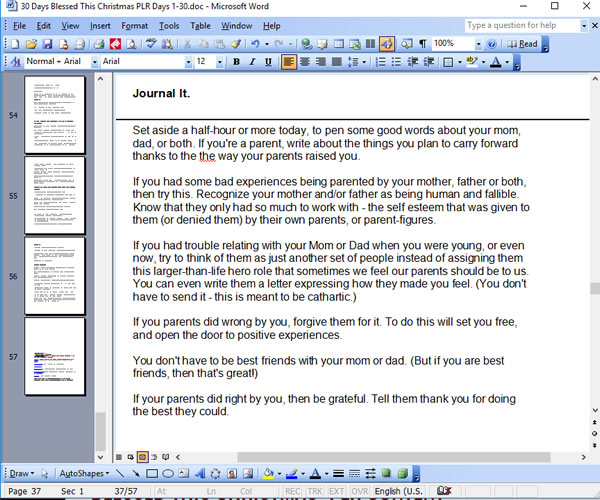 BONUS: Order now, and receive total of 4 seasonal-themed versions of this done-for-you email challenge. Launch 30 days of gratitude journaling any time of year.
If you don't get a chance to run it this December, you can offer it any time of the year as the following:
30 Days Blessed This Christmas Challenge
New Year, New You 30-Day Positivity Challenge
30 Days to a More Optimistic You Positivity Challenge
Attitude of Gratitude 30-Day Thanksgiving Challenge
After you check out, just log in and you will see these files in your Wordfeeder member account. Run this amazing course any time of year!
You also get 5 free images to sample from my talented designer friend Michele. Here's one of the images!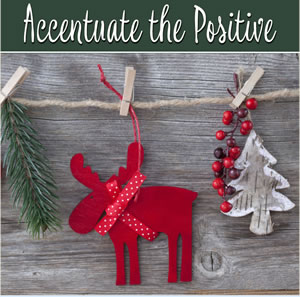 And here's a screen shot of ALL the images (sold separately)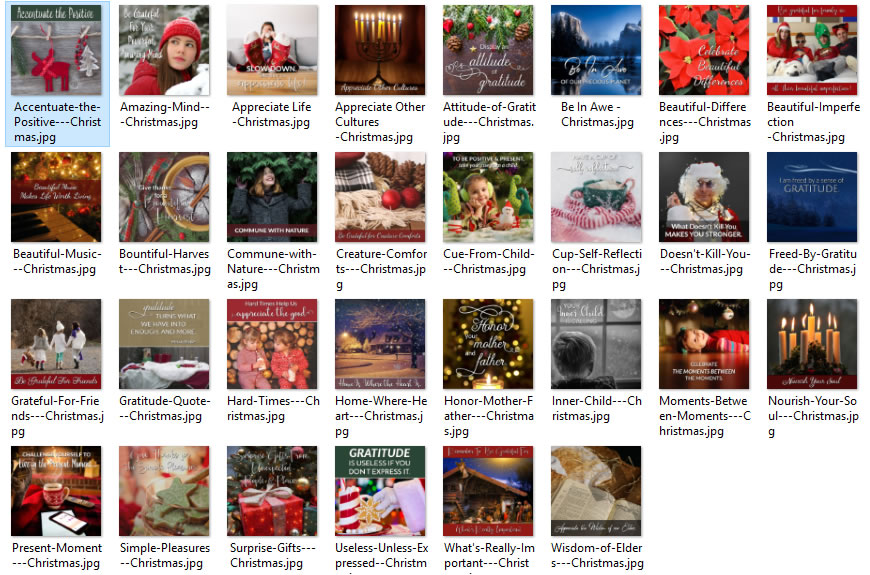 If you love them, sign up at checkout to order the full 30 images that come with this pack!
---
"Peaceful Holiday Season" PLR - 15 Articles - 7,438 words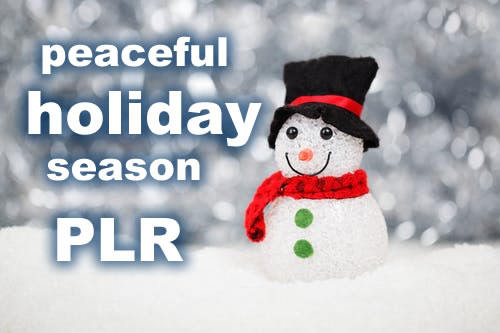 Titles include:
1. What Does Peace Mean to You?
2. Why Has Peacefulness Become Such a Challenge?
3. Seeking Peace for the Holidays
4. 5 Ways to Cultivate Peace in Your Family
5. 5 Ways to Create Peace in Your Neighborhood
6. How to Communicate Peacefully
7. Find Peace in the Great Outdoors
8. 5 Habits of Peaceful People
9. Can Pets Help Us Discover Peace?
10. Practice Mindful Conversations in the Name of Peace
11. How to Lessen the Chaos and Increase the Peace in Your Home
12. Share Peace During a Meal
13. Follow Your Heart to Peaceful People
14. Help Kids Spread Peace
15. Self Care Keeps Us Peaceful Inside
---
Done-for-You Peaceful Christmas 10-Day Journaling Challenge.
No time to run a 30-day email or social media challenge? Here's a shorter version to help you bring peace to your people. This beautiful ebook- or e-course ready material can be yours to customize and sell or offer as an opt-in gift! Order now and you'll be set for December publishing.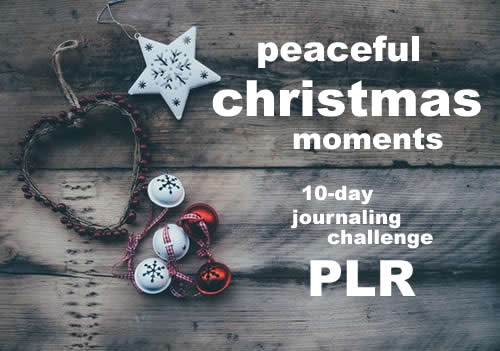 Your content's already written. this is just what your readers need to slow down and do the holidays just right.
EACH Day includes one article, 1 exercise, 1 journal prompt and 1 intention.
For a FULLY immersive experience that is just as good as if you offered 10 days of one-on-one coaching on how to create a more peaceful life.
Screen shot of the content: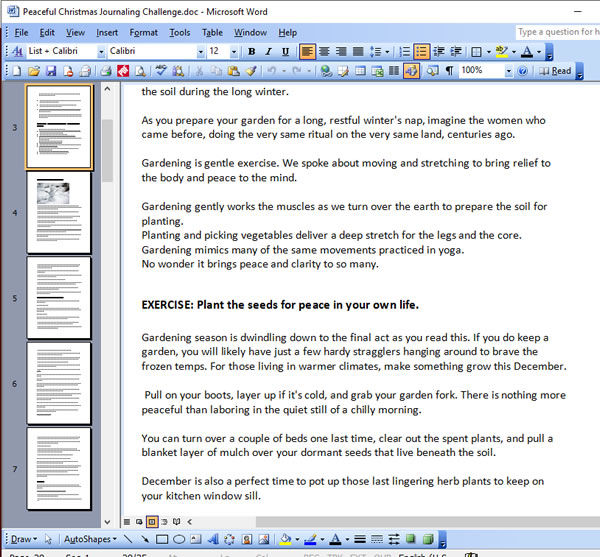 ---
The "30 Days Thankful" Challenge Rebrandable, Teachable Email Course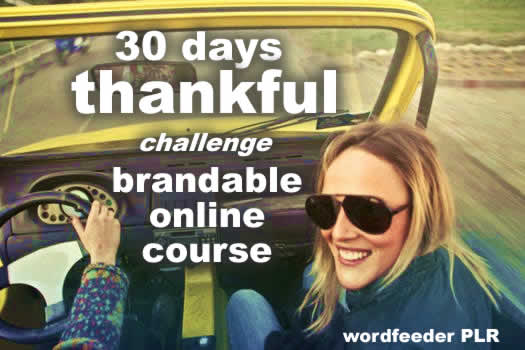 Host a Gratitude Challenge This November or December. Wordfeeder has your private label rights content all written and ready to go!
This content includes 30 ready-to-email ruminations to focus on gratitude over the course of a month.
Here's a Screen Shot Sample: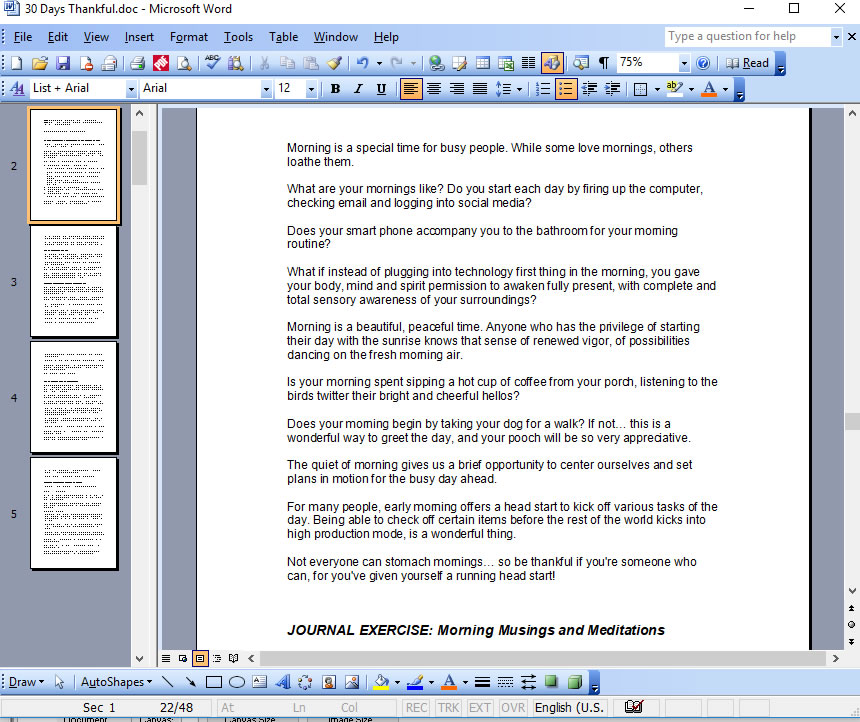 ---
"50 Ways to Offer Your Love to the World This Christmas Season" - PLR Ebook Content - 2676 words total

This would work well as social blurbs, a tip a day by email, or video slide show content!
Why not use it to create all three?
Here's a screen shot: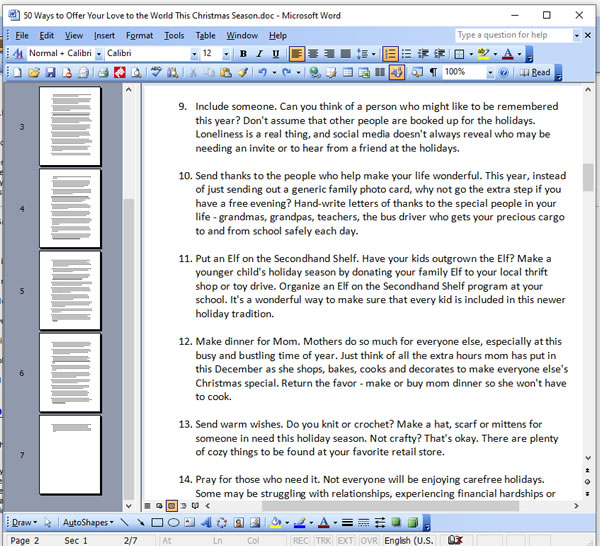 ---
Next we have...
"Holiday Stress" PLR Articles: Because Christmas Posting Doesn't Have to be Stressful.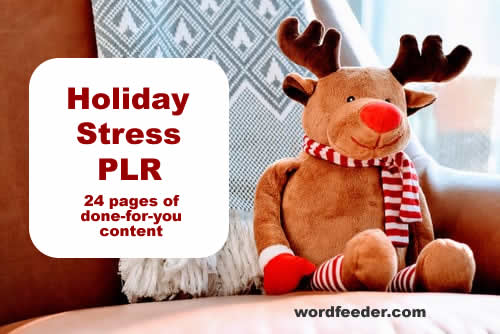 Holiday Stress Articles - 10 Total - 10,230 words
Here's what's included:
1. Finding it in Our Hearts to be Kind This Christmas Season
2. Married Christmas: Coping with Spousal Stress This Holiday Season
3. Holiday Stress Coping Skills and Great Ideas for Working Moms
4. Holiday Stress Survival Tips for Introverts - 1,412 words
5. How Much is Too Much Holiday Fun? Setting Limits During the Busiest Time of Year So We Can Enjoy More and Stress Less
6. How to Ease Family Stress Around the Holidays
7. Just Say No to Holiday Stress
8. Self Care Rituals to Unwind During the Busy Holiday Season
9. Surefire Ways to Avoid Holiday Gift Related Stress and Confusion
10. Take the Stress Out of Christmas Shopping
Screen shot of the writing:

We Also Have Some Terrific Essential Oils Holiday Themed Packs
Here are the individual content pack titles, each pack sold separately. See details at checkout:
Homemade Gifts Using Essential Oils
Essential Oils MYO Bath Products
How to Make Scented Candles Using Essential Oils
Essential Oils Holiday Diffuser Blends and Skincare Recipes
---
Finally, cooking and baking are HUGE This year... so don't miss...
Classic Christmas Cookie Recipe PLR - 15 Recipes total and 3,400+ Words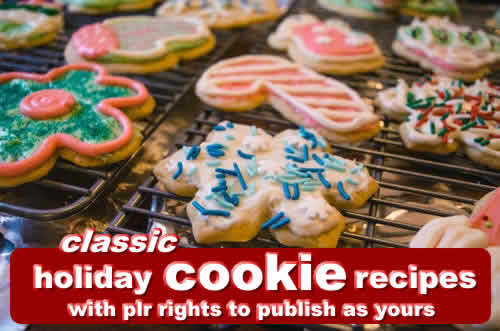 You'll see the list of cookie recipes at checkout. Includes images set into the ebook content for most of the cookie recipes! Sugar cookies, gingerbread, kiffles, snickerdoodles, chocolate chip, more. All your holiday favorites.
---
Stay in touch with your readers this holiday season! Reach out. Connect!
Host a fun, inspired Christmas or Gratitude challenge. Offer hope, encouragement and support. Wordfeeder has some absolutely beautiful and heartwarming sentiments written for you to customize and share or sell as your own.
Here are a few ideas of how you can use Wordfeeder's private label rights content:


Make into an ebook that new subscribers get as a free gift in exchange for signing up to be on your list

Sell the ebook at an affordable price point for your audience who may need a lower priced option than therapy or coaching

Use our content to share with life coaching or therapy clients who would like to work on problems and enjoy a greater sense of peace and contentment in their lives.

Add to your private library of member resources - adds value and helps people!

Sell or offer free as an autoresponder series delivered one article at a time via email

Drive targeted traffic to your website or blog by posting each "day" of a positivity, peacefulness, or gratitude challenge.

Use as workbook material for your next in-person support group

Incorporate into a helpful video slide show or tutorial that you share with subscribers who may want to sign up for your coaching or counseling services

Add to a more comprehensive guide or webinar that you may be creating

Anything else you can think of!
Stock up on Holiday and Christmas PLR Packs NOW! I've listed all the best ones at checkout, below: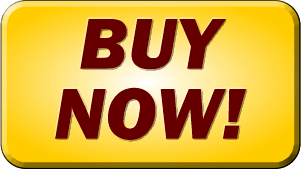 Buy Now button opens in a new window so you won't lose this one!