How a Food Blogger can Use Canva to Quickly Create an Opt-in Gift or Paid Online Cookbook
Are you a food blogger looking to grow your list? Recipe sharing will never go out of style. Ideas for quick, healthy, meals made with fresh ingredients will be a perennial favorite with people worldwide. Rich or poor, fancy or plain, healthy or indulgent... there's always a reason to make and eat food.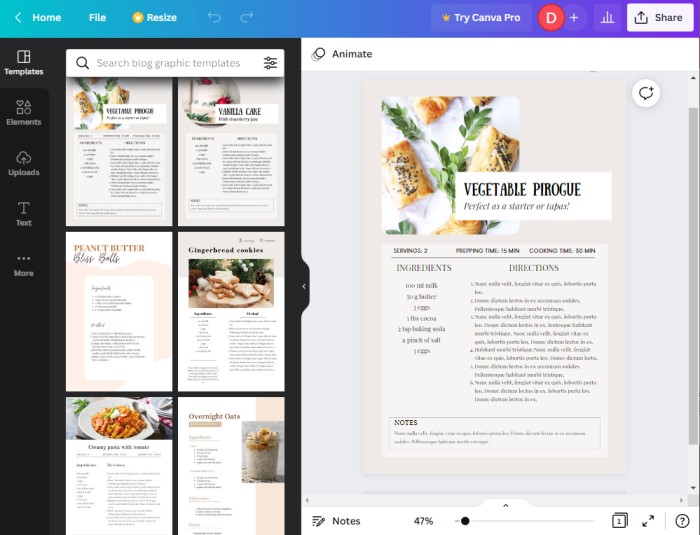 How to Monetize Your Food Blog:
Step 1: Start staging and sharing recipes on your blog.
Step 2: Create categories of the types of recipes you offer.
Step 3: Find a source of PLR (private label rights) recipe content so you don't have to do all the work yourself
Step 4: Collect email addressses. Make a beautiful online cookbook to give away. Could be five recipes, could be ten.
Step 5. Create bio copy about yourself so people can get to know and like you as a source of cooking information and inspiration.
Step 7: Use Canva to quickly and efficiently create and upload a PDF cookbook so you can offer it as an opt-in gift to people interested in staying in touch via email.
How to Use Canva to Create Your Online Recipe Book
Step 1: Make and name a folder on your computer or remote storage that will house the content for this particular publication.
Step 2: Gather or write all written recipes. The recipes can be from your collection, or you can use recipes that you purchase with private label rights.
Step 3: Collect images. Best if you prepare the recipes in-house (in your own house) and take photos of all the steps.
Step 4: Launch Canva. Do a quick search for cookbook. A variety of design templates will pop up.
Step 5. Choose a template and open it up to edit the existing content and sub in your own for what's there.
Step 6: Upload your recipe images to the images area of Canva.
Step 7: Open your document of written recipe content. Copy and paste each recipe into the alloted space for content inside the Canva template. Edit as needed.
Step 8: For each recipe page, add your chosen images and resize to fit the layout.
Step 9: Proofread all recipes, including titles, any captions you may have added to the images.
Step 10: Add your bio, head shot and company logo if you have one.
Step 11: Add an upsell to the back of the book. The last page can be a promotional offer or invitation. You can keep it short by adding a headline, bulleting out the main benefits of joining or signing up or buying. Then issues the call to action, with a link to sign up that opens to a new window.
It's easier than ever to create beautiful designs in Canva.
Want done-for-you recipe content? Sign up at Kitchen Bloggers now.