Essential Oils Aromatherapy PLR - Skincare Recipes, Natural Cleaning Recipes and Amazon Products - 4K words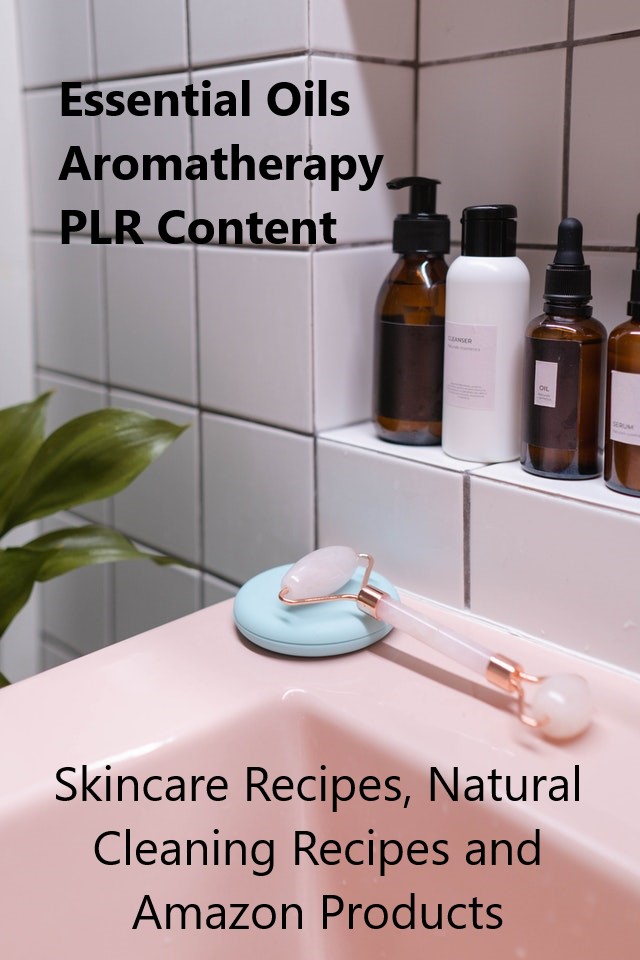 (Includes Amazon Jars and Bottles to Promote with Your Affiliate Link) - 4,000+ words total
Searching for high quality aromatherapy and essential oils PLR? We have a terrific mix of natural skincare and homemade cleaning recipes for you to monetize your blog and share with your essential oils customers. 4,000 words total with private label rights to sell as a digital product or share under your own brand name. Make into blog posts, ebook content, infographics, video slide show content, social posts, more!
Essential Oils Aromatherapy PLR - Skincare Recipes, Natural Cleaning Recipes and Amazon Products (Jars and Bottles to Promote with Your Affiliate Link) - 4,000+ words total
Content includes:
Essential Oils – Storage, Safety and Other Tips
Essential oils safety tips
How to store your essential oils and EO mixes
What to look for in essential oils storage bottles
Silicone droppers
Orifice reducers
Spill-proof caps
Storage tray, box or basket
About Carrier Oils and Essential Oils
Q: What is fractioned coconut oil?
Q: What's the ratio of essential oil to carrier oil in homemade natural skincare recipes
Carrier Oils - Most Common, and Benefits of Each
Essential Oils Natural Skincare Recipes
Essential Oil Dandruff Treatment
Insect Bite Itch Relief
Hair Moisturizer and Split End Treatment
Lavender and Rosemary Shampoo Treatment
Anti-Wrinkle Facial Treatment
Yummy Facial Moisturizer
Simple Essential Oil Perfume Formula
Essential Oils in Homemade Cleaning Recipes
Yoga Mat Spray Recipe
Classic Germ-Fighting Essential Oil Spray
Abrasive Cleaning Mix
Patio Furniture Cleaning Spray
Easy Ant Deterrant
Homemade Laundry Detergent
Essential Oils: Amazon Product Descriptions
Essential Oils 2ml Amber Glass Bottles – 36 total
Cobalt Blue 1-oz Essential Oil Dropper Bottles – pack of 120 bottles with caps total
Set of 12 1-oz Amber Glass Dropper Bottles for Essential Oils
MYO Aromatherapy Natural Cleaning Solutions and Sprays – Bottle Kit of 12 Roller Bottles, 12 Essential Oil Bottles in 3 sizes, Labels
Cobalt Blue Glass Bottles - Various Sizes for Homemade Cleaning and Skincare Applications
Cobalt Blue Glass Cosmetic Jars - 12-pack with Lids
24oz. Amber Glass Jars with Lids - 24-pack
Screen shot sample: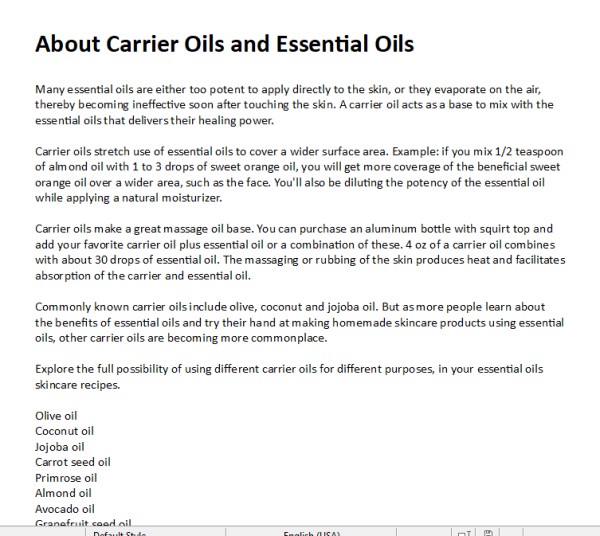 Another Screen Shot: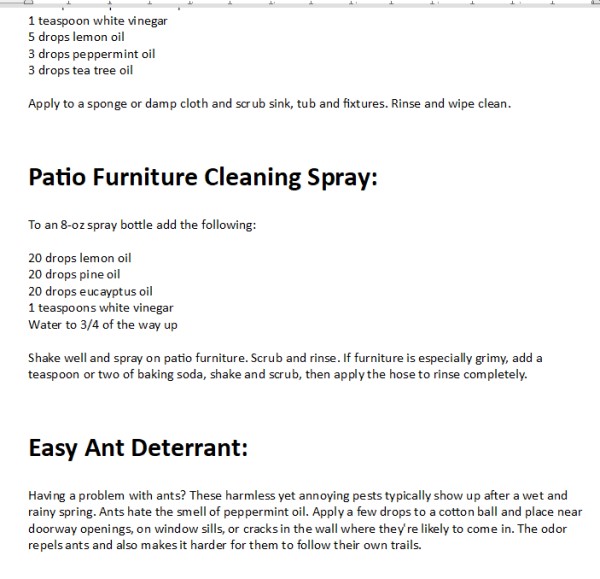 This Digital Product is Offered as PLR: Private Label Rights Content. Use it to Create Profits for Your Coaching Business or Niche Website.


Create and launch digital products & coaching programs. Help people solve problems and live better, affordably.

Offer PDF courses by email or hosted privately.

Launch a multi-media course on a site like Teachable

Create a paid video course

Launch an email course or challenge.

Make into client learning materials.




Get new signups and connect with your fans and followers.

Offer an ebook, whitepaper, special report or series of tips as an opt-in gift.

Turn into an article feature for your email newsletter.

Use the content to make a short, free webinar to give your followers a taste of what's to come.



Grow your brand and increase your reach by publishing authoritative content.

Share as blog posts or web articles.

Post the articles on social media with a link back to your blog or sign-up page.

Make video talks, slide shows or tutorials to share on your channel.

Add to Pinterest pins to drive traffic back to your blog.

RULES: Edit, brand, copy, cut, paste, add to and change this any way you like. Do not publish originator's name. Do not resell as PLR. You may offer personal rights to your customers.
Work SMARTER, Not Harder

NO paying a writer to create this from scratch for hundreds of dollars

NO more slaving away at the computer for weeks and weeks to create this on your own

YES this can be branded with your name and business details. You can edit it, add to it, change it, and publish any way you like - give away, sell as an ebook, it's up to YOU.