Searching for Something Meaningful to Share this Christmas Season of Quarantine?
You can make a video just like this one to drive more traffic and sales...
OR purchase this very same video in MP4 format, to upload to your own YouTube channel and add your own branding using YouTube's "add a slide" feature. Read on for details!!
Here's some brand new "Quarantine Christmas" PLR content from Wordfeeder! Be one of the first to publish this high quality holiday content!
Make these 50 "Home for the Holidays" Tips into Video Slide Shows, Ebooks and More - to Drive More Traffic to Your Website
Christmas and the 2020 Holiday Season's going to be a little different than what we're used to....
as a Publisher and influencer, you're going to want to spread some good vibes and offer some guidance.
Give your anxious audience some ideas for how to slow down, chill out, hunker down and enjoy some Christmas quality time together while staying Home for the Holidays.
Therapists, Coaches, Counselors... are you in need of done-for-you content to connect with the people on your list, get more signups, and continue educating your readers? Heads up if you publish content to the following audiences:

Life coaching

Health and wellness

Home and family/parenting

Mental Health/psych

Relationships

Self improvement/self help
Wordfeeder's got a jump on what's coming up. Use this package of 50 helpful tips to encouage your readers to make the best of the Christmas season in 2020. We're being offered a precious gift this year. It's the gift of time. Permission to slow down, and be fully in the moment with our families through the meaningful holiday season.
Give the Gift of Christmas Presence...
...with this pre-written, ready-to-go content with private label rights. The little elves of Wordfeeder have even put together a special pack of 103 images to make content creation super simple, fast and fun for you.
You barely even have to think to use this content. Just open up your video editor and turn this into a series of slides for a video that gets you driving traffic this December.
Don't think - just publish! I know for a fact that you can create a video to upload to YouTube and embed into the code of your website in less than half a day.

Here are some quick instructions for doing it FAST!
Save the written content into a folder onto your computer named Home for the Holidays.
Save the folder of images to the same spot.
Launch your video editing software.
Make a story board of about 20 slides.
Pop in a single tip and matching image (sorry, these are not exact - I did the best I could with stock photos) for your 20 slides. Make a few quick tweaks of text placement.
Set your slide show to holiday music.
Export as an MP4 file and upload to your YouTube channel.
Embed the video's HTML code into a page of your website. Title the page Home for the Holidays.
Go back to the document containing your written text. Paste the same 20 tips that you used in the video into the page and style as needed. Add images to make it super cute and festive.
Hit publish on your new page or post!
Next steps, shout it out on all your social profiles.
Use the rest of the tips and images for things like...
...making a fun, PDF download of Home for the Holidays Ideas (you can even post all 50 of them in there if you like!) and set it up as an opt-in gift to get more people on your list.
Post about five or so tips at a time each in their own blog post. If you do this with all 50 tips, you've got 10 blog posts!
Send out "a tip a day" via email using 30 of the tips and images.
Post the tips in your social groups and pages, too!
This is a perfect way to connect with your followers, fans and clients this December.
Attract Positive Attention to Your Business... Establish Yourself as The Go-To Expert in Your Field... Get More Subscribers. This Content is Yours to Edit, Add to, Launch and Sell or Share.
Here are a few ideas of how you can use Wordfeeder's private label rights content to get more signups, sales and passive income:


Make into an ebook that new subscribers get as a free gift in exchange for signing up to be on your list

Sell the ebook at an affordable price point for your audience who may need a lower priced option than therapy or coaching

Use this content to share with life coaching or therapy clients who would like to work on decreasing stress and enjoy a greater sense of peace and contentment in their lives.

Add this content to your private library of member resources - adds value and helps people!

Sell or offer this free as an autoresponder series delivered one article at a time via email

Drive targeted traffic to your website or blog by posting each "day" of the challenge for 10 days.

Use this as workbook material for your next in-person support group

Incorporate this into a helpful video that you share with subscribers who may want to sign up for your coaching or counseling services

Add this to a more comprehensive guide or webinar that you may be creating

Anything else you can think of!
Here's What's Included:

50 done-for-you ideas on what to do with family while staying Home for the Holidays

103 "Home for the Holidays" Stock Images - Medium .jpg files!
Here's a Sample of One of the Tips:
"Have an ornament painting party. Get some blank Christmas balls and acrylic paints at your neighborhood craft store. Set up an art table and put out cookies and cocoa. Paint your ornaments with Santa hats, candy canes, mini trees, kids' names, and anything else you can think of!"
Here's a Screen Shot writing sample: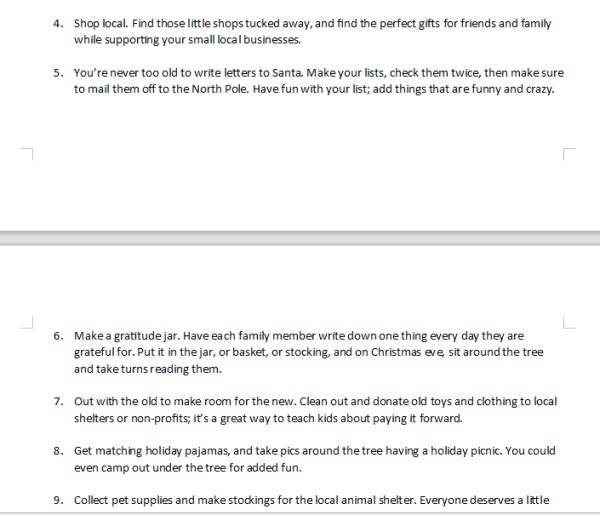 Here's a screen shot of the 50 Images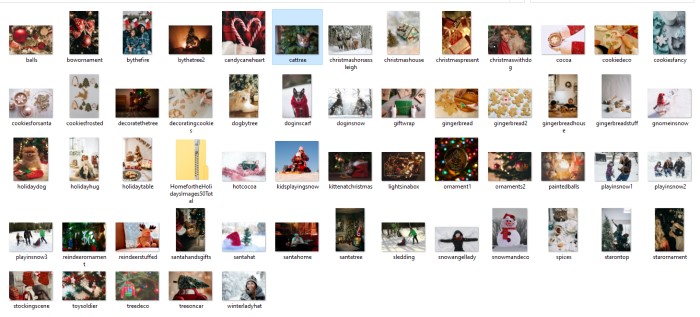 UPDATE: 53 MORE Images Have Been Added to this Pack for FREE. *Most* of the images match a specific message out of the 50 included tips.
Here's a screen shot of some of the EXTRA Images added to the Wordfeeder member database for you to have: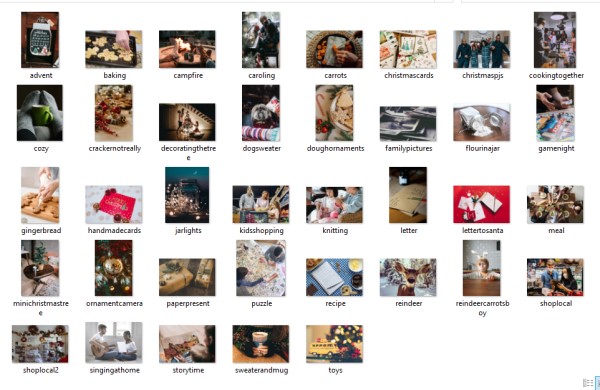 Savings Breakdown:
| | | | |
| --- | --- | --- | --- |
| PLR PRODUCT | HOURS TO CREATE FROM SCRATCH | COST IF HIRING A PRO TO CUSTOM CREATE THIS | PRICE AS PLR |
| 50 Home for the Holidays PLR Tips + 103 Bonus Images for Quick Slide Show Creation or Other Use | 20 hours | 20 hours at $50 per hour = $1000.00 | This content is regularly priced at $37- less than you'd pay for an artificial Christmas tree! |
PS: Do you want to just download the slide show in MP4 format? This video slide show is ready to upload to your website.
Or you can just order the files and make your own slide show that you can brand with your company name and URL if you like! 
Here's a screen shot (as of Dec 2020) of the YouTube creator area where you can brand the video with your company name and brand by adding extra cover and end slides. EASY.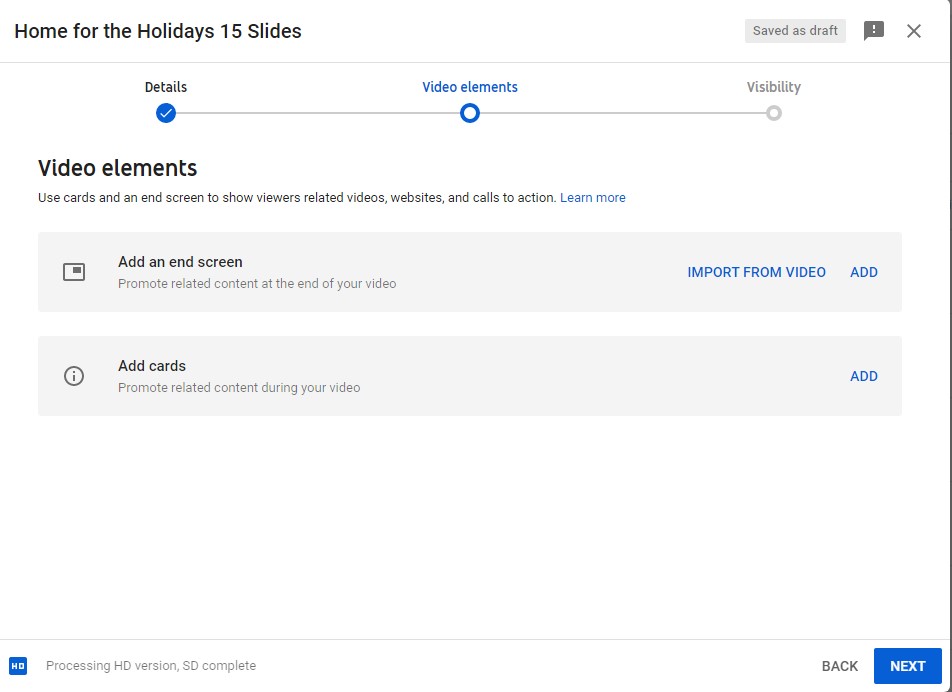 PPS: I've added ANOTHER slide show product as of December 6, 2020!
You may like this one even better. It contains 15 ideas, plus the cover and end slide. I've also shortened a few of the messages and made the fonts bigger in this version.
Your choices in this pack are:

Text & Images PLR: Text document containing 15 ideas. Includes 2 folders of images containing a total of 103 images to a make a slide show, several of them, AND an ebook if you like!

Video Slide Show with 50 slides plus cover and end slide. (MP4 file -YouTube ready, just add your own cover and end slide in YouTube to brand with your company name and URL)

Video Slide Show with 15 slides plus cover and end slide. Messages were shortened and fonts were made bigger in this version. (MP4 file -YouTube ready, just add your own cover and end slide in YouTube to brand with your company name and URL)
This Digital Product is Offered as PLR: Private Label Rights Content. Use it to Create Profits for Your Coaching Business or Niche Website.


Create and launch digital products & coaching programs. Help people solve problems and live better, affordably.

Offer PDF courses by email or hosted privately.

Launch a multi-media course on a site like Teachable

Create a paid video course

Launch an email course or challenge.

Make into client learning materials.




Get new signups and connect with your fans and followers.

Offer an ebook, whitepaper, special report or series of tips as an opt-in gift.

Turn into an article feature for your email newsletter.

Use the content to make a short, free webinar to give your followers a taste of what's to come.



Grow your brand and increase your reach by publishing authoritative content.

Share as blog posts or web articles.

Post the articles on social media with a link back to your blog or sign-up page.

Make video talks, slide shows or tutorials to share on your channel.

Add to Pinterest pins to drive traffic back to your blog.

RULES: Edit, brand, copy, cut, paste, add to and change this any way you like. Do not publish originator's name. Do not resell as PLR. You may offer personal rights to your customers.
Work SMARTER, Not Harder

NO paying a writer to create this from scratch for hundreds of dollars

NO more slaving away at the computer for weeks and weeks to create this on your own

YES this can be branded with your name and business details. You can edit it, add to it, change it, and publish any way you like - give away, sell as an ebook, it's up to YOU.