NEW! "Let's Get Healthy" 10-Day Social Distancing Weight Loss Challenge PLR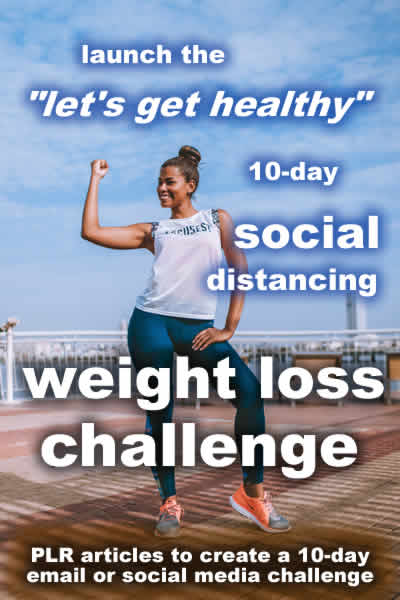 Order this Done-for-You Weight Loss Content to Launch as an Email Course or social Media Challenge
Are you searching for high quality weight loss tips that are already written, for you to feed your list and run with publishing... without having to start content creating from scratch?
It's the time of the Coronavirus pandemic, and social distancing is throwing off the entire world in a major way. One thing we are seeing is people exercising at the park... in droves. If your readers are not aware of the fitness revolution that is happening as a result of the at-home order, they will soon become aware.
Will you be a leader in the field of weight loss, fitness and healthy eating?
You can be if you use this content to attract more readers to your list, and sell this as your own! Email challenges are HOT, and 10 days is a great number - just long enough to engage and commit to the suggestions, but not so long that they lose interest.
Here's a terrific, high quality pack of PLR articles (it's actually a 10-Day Challenge) for you to download and begin using immediately, any way you like.
Will your weight loss blog be getting clicks, signups and sales this season?
It definitely will with this weight loss themed content on your side. This is the motivation that your confused, discouraged and socially distanced audience of healthy hopefuls has been yearning for. Not only are the tips high quality and offer great and useful information, but there are plenty of opportunities to add your affiliate links to Amazon products throughout.
Again, if you launch this 10-Day Let's Get Healthy Challenge, DON'T FORGET TO INCLUDE YOUR AMAZON AFFILIATE ID WITH EACH SUGGESTED PRODUCT so you can make some sweet bank by sharing this and helping others get healthy and live better.
Use this to make and sell an ebook.
More than 9900 words at a great value! Want to use this to create legit cash flow? Add some images and branding to this document, turn into a PDF and sell it as an ebook. The more people on your list, the more you profit.
Or... give away the ebook as a way to get more people to join your Weight Loss and Healthy LIfestyle membership.
Here's a screen shot of the content so you can get an idea of the quality:

What can you do with this and other content that we share on Wordfeeder?
These 10 articles are being sold as PLR - Private Label Rights Content. That means that you get to edit, change, brand, and publish them under your own name in the following ways:

As blog posts or website articles. Posting a series on a single topic that you cover for a full month is a great way to get targeted readers. Share links to your blog on social as well!

As posts shared on social media. If you host a group online, it helps to post information your readers want and need. Post your recipes and articles there with a link back to your blog.

As an ebook that you share to grow your list. An opt-in gift is a common way to get more people interested in you and what you do.

As a PDF download that you sell under your own brand name.

As a fitness series or course sent via email or hosted privately in an online conference room or private social media group such as Facebook


The PLR articles that you receive from Wordfeeder will help you accomplish the above publishing goals and more!
This exceptional quality content from Wordfeeder includes private label rights to publish this content as your own. Titles include:
Day 1: Can Social Distancing Help with Weight Loss?
Your Challenge: List 5 Simple Habits to Change on Your Path to Better Health

Day 2: Why Being Around Other People Makes it Harder to Lose Weight
Your Challenge: Set 5 Simple Weight Loss Goals This Week
Day 3: Less Trips to the Store Means Less Temptation
Your Challenge: Plan Healthy Choices for Your Next Grocery Shopping Trip

Day 4: Social Distancing Means More Time to Menu Plan
Your Challenge: Give Your Favorite Recipe a Healthy Makeover

Day 5: Just Add Vegetables: They Keep You Healthy
Your Challenge: Add 2 Veggies to Each Meal You Serve Today

Day 6: Social Distancing = More Time for Exercise
Your Challenge: Pick a Workout and Commit to Doing It

Day 7: Together at the Park, Keeping 6 Feet Apart
Your Challenge: Get Outside and Move

Day 8: Smaller Portions Means Fewer Trips to the Grocery Store
Your Challenge: Healthify Leftovers, Stretch Your Meals

Day 9: Social Distancing and Emotional Eating: Rise Above the Struggle
Your Challenge: Grow in Awareness of Your Emotional Eating Tendencies

Day 10: Being Healthy Means a Stronger Immune System
Your Challenge: Check In With Your Healthy Habits
Add this entire pack of 10 motivating weight loss, fitness and healthy eating articles, set up as a 10-Day Email Challenge, to your content collection or insider's membership right now.
Don't wait! If you do, you will miss your chance to turn this content into profit While the getting is good!
| | | | |
| --- | --- | --- | --- |
| PLR PRODUCT | HOURS TO CREATE FROM SCRATCH | COST IF HIRING A PRO TO CUSTOM CREATE THIS | PRICE AS PLR |
| "Let's Get Healthy 10-Day Email or Social Media Challenge | 30 hours to write from scratch | 30 hours at $50 per hour = $1500.00 | This content is regularly priced at $27 so you get it for less than the cost of a new yoga mat! |
This Digital Product is Offered as PLR: Private Label Rights Content. Use it to Create Profits for Your Coaching Business or Niche Website.


Create and launch digital products & coaching programs. Help people solve problems and live better, affordably.

Offer PDF courses by email or hosted privately.

Launch a multi-media course on a site like Teachable

Create a paid video course

Launch an email course or challenge.

Make into client learning materials.




Get new signups and connect with your fans and followers.

Offer an ebook, whitepaper, special report or series of tips as an opt-in gift.

Turn into an article feature for your email newsletter.

Use the content to make a short, free webinar to give your followers a taste of what's to come.



Grow your brand and increase your reach by publishing authoritative content.

Share as blog posts or web articles.

Post the articles on social media with a link back to your blog or sign-up page.

Make video talks, slide shows or tutorials to share on your channel.

Add to Pinterest pins to drive traffic back to your blog.

RULES: Edit, brand, copy, cut, paste, add to and change this any way you like. Do not publish originator's name. Do not resell as PLR. You may offer personal rights to your customers.
Work SMARTER, Not Harder

NO paying a writer to create this from scratch for hundreds of dollars

NO more slaving away at the computer for weeks and weeks to create this on your own

YES this can be branded with your name and business details. You can edit it, add to it, change it, and publish any way you like - give away, sell as an ebook, it's up to YOU.