---
"Relieve Stress, Relax and Be Fully Present" 30-Day Challenge PLR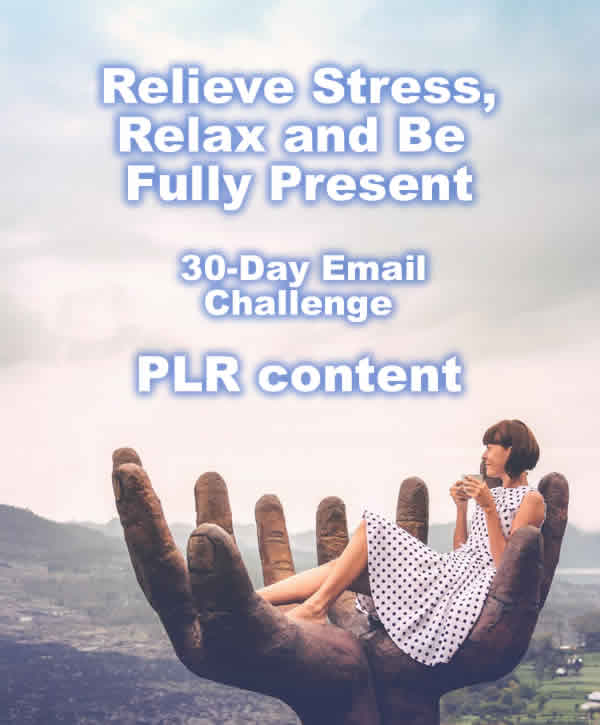 Prewritten 30-Day Challenge for Life Coaches and Psych professionals to Publish as Your Own!
Twenty THOUSAND words of high quality content on how to relieve stress, relax and enjoy each day to its fullest can be yours for less than $50... less than $40... even less than $30 when you order this before the offer on the sales page expires.
Turn this into an email or social media challenge... your coaching clients, fans and followers will LOVE being a part of this initiative with you! These types of affordable challenges work GREAT for clients who need a break from booking hourly. Plus you get to run them year after year to a new set of customers. Brilliant!
Regularly $37
NOW $27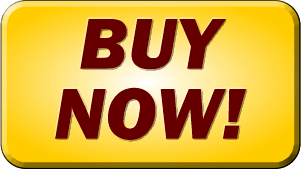 Use coupon code NOSTRESS2 for your $10 off. Expires June 17, 2020.
"Buy now" opens up to a new checkout window so you won't lose this one.
NEW! 30 Free Images added to this pack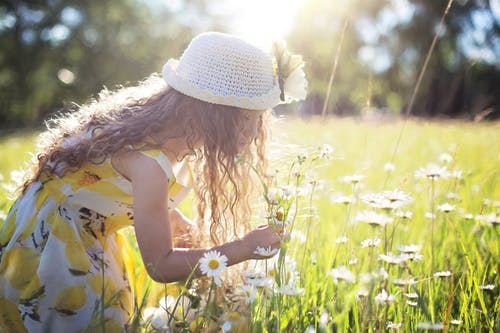 This beautiful set of ruminations is just what your readers need to slow down and do "summer" just right. Grab your private label rights copy and publish as soon as next week.
Give them permission to let go of stress, ease their troubled minds, and enjoy a slower, more mindful summer full of peaceful moments.
NOW $36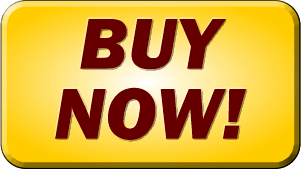 ---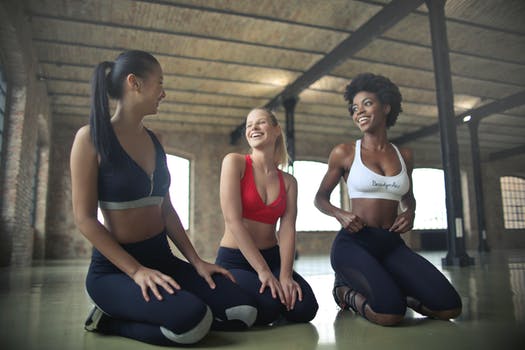 Long to launch a yoga course, but you're just not up for the writing or content creation? Your 30-day yoga course is all packaged up and ready to run with!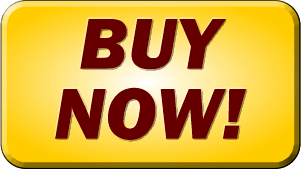 "Buy Now" opens up to the sales page where you can learn more and order.
---
---
Wordfeeder offers 3 PLR Monthly Memberships. Our PLR is TOP QUALITY, unmatched by very few PLR sites.
Make this content work for you! Turn it into digital products and more. You'll save thousands per year and tons of time.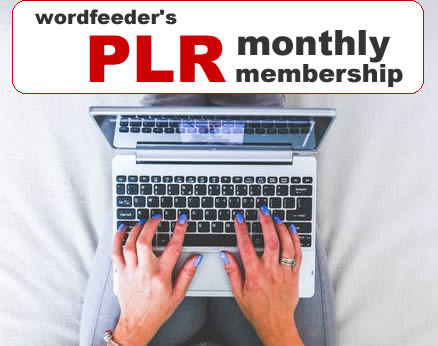 Current choices for our PLR Monthly Memberships include:
Life Coaching/Self Help PLR Membership
Business PLR Membership
Weight Loss PLR Membership
NEW Monthly Deliverable for ALL Memberships: 15 articles per month.... Price: 11.97 per month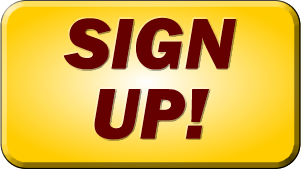 Once your order goes through, you will gain instant access to a Starter Set of 10 article packs in that category. In addition to those articles, a new article set of 15 articles will arrive in your paid account each month. It is your responsibility to download the content to your computer if you decide to cancel your membership. The content will return to your member area any time you re-activate your paid member account.
Thanks for your support of my freelance writing business! Your purchase helps me continue to offer incredible quality PLR at incredibly low prices.
Go here to read all details about our PLR Monthly Memberships