NEW Keto Comfort Foods PLR | Keto-Friendly Recipes with Private Label Rights

Need some fall and winter recipes to share with your keto-loving crowd? Grilling season is dwindling down, kids are back to school, and busy moms want quick, flavorful, healthy and comforting keto friendly recipes. They want one-pot keto dinner solutions that will simmer away in the crock pot while they're busy working all day. They want to roast their favorite fall meat recipes and not miss the carb-rich potatoes and carrots that typically go aong with these hearty meals.
Give them what they want! Delicious, nutritious, keto-friendly comfort foods. Here are ten brand-new recipes for you to try and share in your blog. All with private label rights to make ebooks, publish blog posts, turn into an email series, add images and pin... whatever you can think of!
If you want to give them some Keto PLR Recipes to devour and come back for seconds, thirds and more…
then help yourself to a slice of multi-billion-dollar profit potential with this PLR pack of ebook, article, ecourse or blog content containing mouthwatering, healthy recipes.
Ketogenic Diet, Facts and Stats:
Officially trending with Silicon Valley's Elite as of spring 2017
Named one of the hottest health and wellness trends to watch for in 2017
Touted as a dieting alternative for diabetics and obesity
Introducing "Keto Friendly Comfort Foods" for Fall.
A total of 10 original recipes - 2,682 words of PLR keto recipe content with private label rights to publish as your own. File deliverable is an MS Word document, arriving instantly via email upon receipt of online payment. Log in to your Wordfeeder PLR membership account any time to re-download this or any other file in your account!
here's What's Included:
Keto Beef Stew with Turnips and Mushrooms
Keto Baked Chicken With Cruciferous Vegetables
Keto Pork Roast With Mushrooms, Parsley and Spinach
Keto Spaghetti Squash and Meatballs
Keto Eggplant "Lasagna" with Spinach, Peppers and Portobell
Keto Pork Ribs in the Slow Cooker with Low-Carb Coleslaw
Savory Keto Pork Chops with Mushroom Sausage Stuffing
Keto Sausage Stuffed Peppers with Eggplant, Olives and Celery
Keto Pot Roast With Turnips, Celery and Kale
Keto Chicken Paprikash with Noodles
(Sorry, I do not stage or take pictures of the recipes but you are welcome to customize this content and do so yourself!)
Here's a screen shot sample of the content you'll be receiving: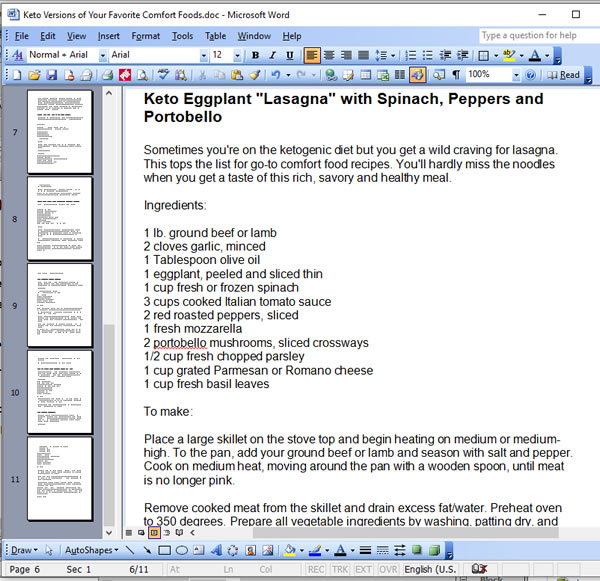 Why Publish Ketogenic Diet Rcipes and Articles?

This is a HOT, HOT topic! The response I got when I put the word out that the Let's Go Keto! articles were ready was IMMEDIATE. Be sure you're on my list to hear when ALL the keto content is ready for you to customize and share on your own blog, or as ebooks.
Sign up for my free Wordfeeder membership if you haven't already.
Right now I have this wonderful, brand new recipe content for you to sell or give away as an ebook, set up as an autoresponder recipe series, publish on your blog and make affiliate income.
Here are some other ideas for GREAT Amazon products that your keto readers will be interested in ordering...


Ketogenic Diet books and videos
Books on No Carb and Low Carb eating
No Carb and Low Carb Cookbooks
Mineral supplements
Keto test strips
Supplies like mini coolers, freezer packs, glass storage containers
Digital scales
Xylitol sugar substitute
Good oils like coconut, avocado, olive and others
Mirataki noodles
Meat thermometers
Slow cookers and crock pots; Instant Pots and off-brands of other electric cookers
How to Access Your Keto PLR Recipes:
File delivery is a single, MS Word document, zipped and delivered via email. Once your order is processed, you will receive an email asking you to confirm your membership, and another email that contains the file/content you just paid for. Your file will also be available from the member area of our Wordfeeder website. So don't forget to put your login info in a safe place!
Now $22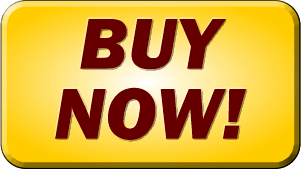 FREE PLR Articles When You Sign Up
Don't forget! In addition to these high quality written recipes and tips, you also get a TON of free content once you log into the Wordfeeder member area. Check the top menu and look under FREE PLR to see what's offered.


THANKS for purchasing PLR content from Wordfeeder. I hope you find value in this excellent quality Ketogenic Diet content that I've created for you. And THANK YOU for supporting my freelance business. CHEERS to you in yours!
Healthy Weight Loss and Low Carb PLR Articles, Recipes, Product Descriptions
---
Wordfeeder offers 3 PLR Monthly Memberships. Our PLR is TOP QUALITY, unmatched by very few PLR sites.
Make this content work for you! Turn it into digital products and more. You'll save thousands per year and tons of time.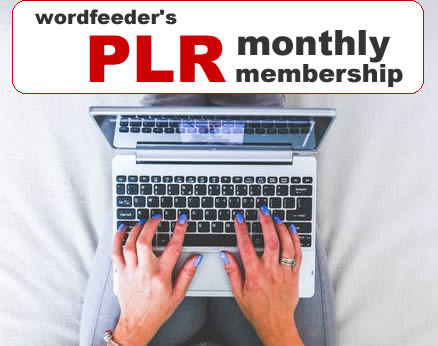 Current choices for our PLR Monthly Memberships include:
Life Coaching/Self Help PLR Membership
Business PLR Membership
Weight Loss PLR Membership
NEW Monthly Deliverable for ALL Memberships: 15 articles per month.... Price: 11.97 per month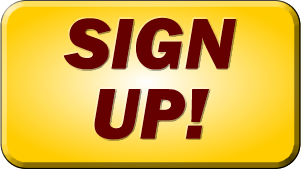 Once your order goes through, you will gain instant access to a Starter Set of 10 article packs in that category. In addition to those articles, a new article set of 15 articles will arrive in your paid account each month. It is your responsibility to download the content to your computer if you decide to cancel your membership. The content will return to your member area any time you re-activate your paid member account.
Thanks for your support of my freelance writing business! Your purchase helps me continue to offer incredible quality PLR at incredibly low prices.
Go here to read all details about our PLR Monthly Memberships