NEW! Grab This Powerful Positive Body Image Series to Present a Poignant PowerPoint Presentation to Your Readers
**Please Note: This was originally created for Valentine's Day but each slide can be easily edited for another holiday, theme or purpose of your own choosing. The current draft contains just ONE mention of Valentine's Day on each editable PowerPoint slide.**
Hey, friend! Are you in search of some done-for-you body image content to share a positive message for Valentine's week? Are you a coach, counselor, educator, parent, or someone else who would like to help young women cultivate healthy self esteem?
I'm Dina, and my writer friends and I create amazing, high quality content for you to publish in your website, share with your list, and print out to use with clients.
If you'd like to send a message of self love and acceptance to your positive body image audience on Valentine's week, then this content will definitely work for you and your dear readers!
Introducing our first-ever PowerPoint Slide Series from Wordfeeder...
Love Your Body, Love Your Self - 20 Beautifully Designed Slides in All to Send a Positive Body Image Message to Women All Over the World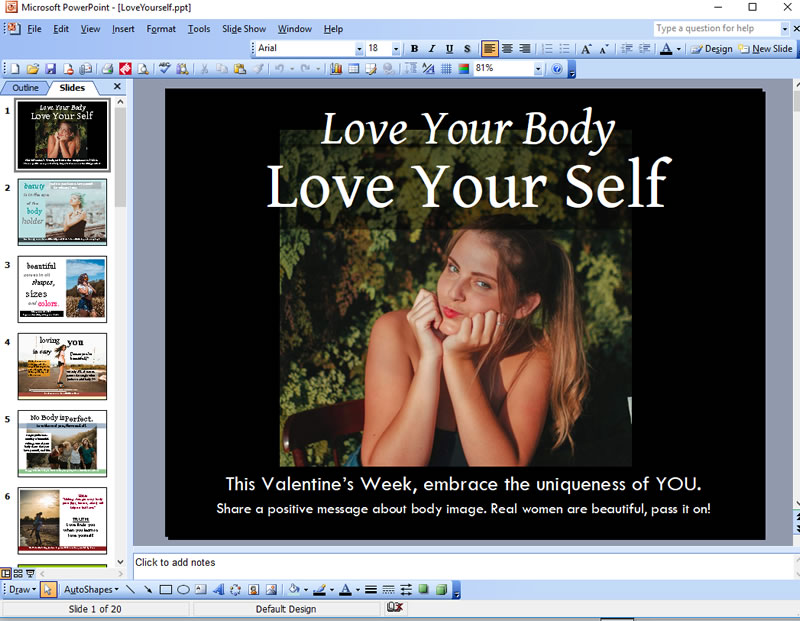 What's included with this private label rights Body Image content?
This is a fully designed series of PowerPoint slides containing 20 images and 20 Positive Body messages for women to support each other.
Here's an image of one of the slides: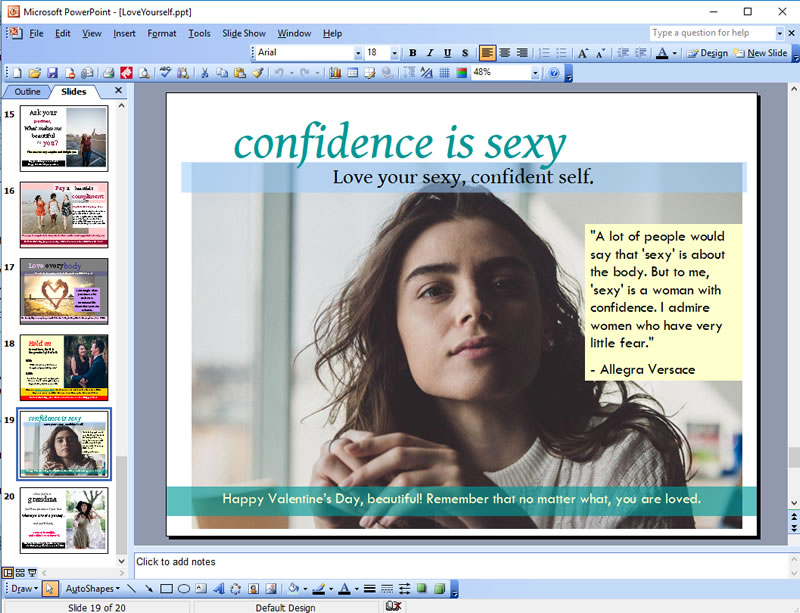 The running theme is "Love Yourself... Real Women are Beautiful", Pass it On.
Each slide shares an encouraging message of love, or a meaningful quote, or a sobering statistic about how body image impacts our self esteem.
Perfect for the Day of Love, this content can be shared with your coaching clients, health and wellness readers, counseling patients, blog followers, self help members, and more.
I kicked off an awesome brainstorm... now I'm handing it off to you!
This content can be yours to add your own logo, call to action, or even swap out headlines or switch to another powerful set of images. Make this yours, share the love!
What can you do with this content on Valentine's Week?
Upload to your web server and share with your subscribers via email.
Print off to present at your next in-person health coaching workshop.
Turn into a PDF slide show and make it go viral on social media.
Add to your private member area to share some inspiration with your readers.
Make this into a video slide presentation. (You may need to purchase additional files)
...anything else you can think of to use it to spread positivity as you reach out to others with a message of love.
Here's a screen shot of the PowerPoint slides - 20 in total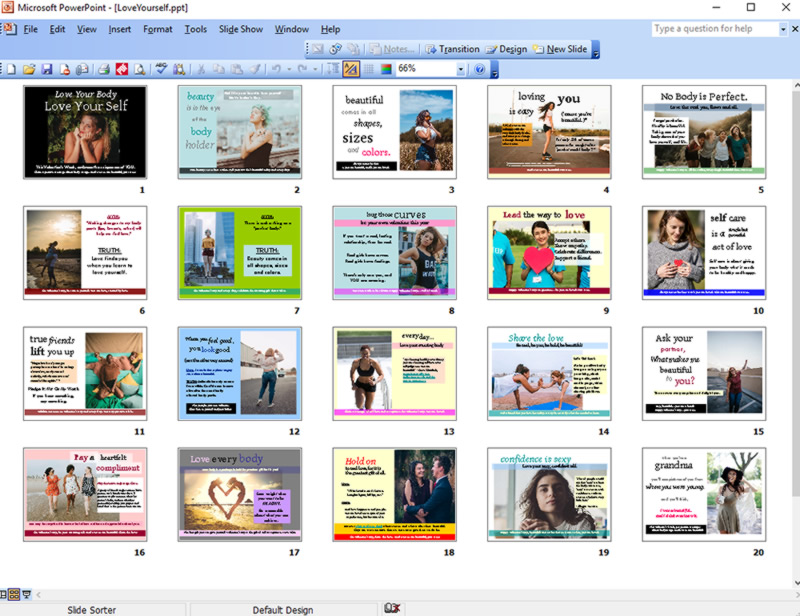 NOW $29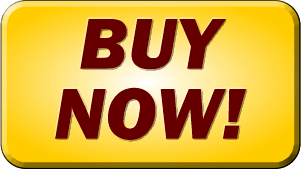 Want to see EXACTLY what you're getting with this? I take you for a run-through of this slide presentation with my recently created video that shows the document on screen. (Please excuse my video production skills or lack thereof. I'm a writer, this is the important part!) Click that link to view the video... YouTube will open in a new window, so you won't lose this one if you decide you'd like to order.
PLEASE NOTE, ALL OF THE MESSAGES ON THE BOTTOM STRIP OF EACH SLIDE HAVE BEEN CHANGED FROM WHAT THEY WERE ON THE VIDEO. They are now a series of nurturing messages to share with women of the world.
How to Access Your PLR Content:
Once your order processes, you will be asked to create a login to the Wordfeeder member site. Do this, then check your email for a confirmation, plus another email containing your delivery of the files.
If you have any questions or trouble with your download, email me and I'll get back to you as quickly as possible.
PS: Don't forget! In addition to this high quality slide presentation, you also get a TON of free content once you log into the Wordfeeder member area. Check the top menu and look under FREE PLR to see what's offered.

THANKS for supporting my freelance business. CHEERS to you in yours!